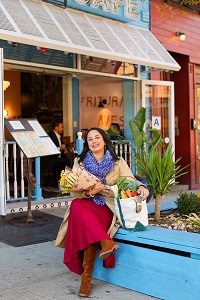 People sometimes ask me why I write about food. Is it because I love to cook and eat? I'm sure this is partially true, but of course I know there is much more to it than that. I recently watched the movie, "The Lion," and was struck particularly by a powerful scene, which further solidified my reasons for turning to food in my writing.
When Saroo, the main character, is at a gathering with friends, a visceral feeling comes over him when he sees jalebi, a sticky, sweet Indian dessert. With the sight of the jalebi—colored orange from the addition of saffron—Saroo remembers a long forgotten but poignant memory of his lost youth. In that moment, layers of faded memories begin to reveal themselves.
Food is powerful that way. I believe that food can transport, remind, nurture, unite and fuel us. When Saroo, who was adopted at age five, remembers watching the jalebi frying in a large pan in the street of his hometown, he is at once motivated to find out about his past. At the party, the vision of that humble dessert, made of flour and spices, sets Saroo off on an important journey.
In other movies and in novels, too, food is a force, whether subtle or straightforward. There are the movies Like Water for Chocolate and Eat, Drink, Man, Woman; The movies Chocolat or The Hundred Foot Journey, both of which were adapted from novels;The novels Sweetbitter and The City Baker's Guide to Country Living.
What we see people eating can tell us a lot about a character, so if you are feeling stuck in your writing process or need a dose of inspiration, consider what the character likes to eat or cook (or maybe they hate cooking?). Is he eating the same thing for dinner again? Is she skipping breakfast?
What dishes were served at the dinner party? Are the parents preparing fresh food for their family? Do they reach for the packaged cheese or the triple cream from France? Does a character eat alone every night? Are they vegetarian? Like dessert? Can't live without chocolate?
There are many ways in which the answers to these questions can tell us, the reader, about the characters: who they are, their motivations, their dreams, their feelings, and an immense amount of other characteristics.
In my recently completed novel, The Patisserie of Dreams, food is interwoven throughout the narrative. In the French bakery, which the main character inherited from the maternal side of her family—whom she never met—the chocolate croissants aren't just layers of buttery goodness filled with melted chocolate. The Madeleines aren't just shell-shaped cake-like cookies with a hint of lemon. The éclair is much more than a pastry filled with luscious cream.
They are tools for remembering, for relating, for forging relationships, with others and with one's self. The main character, Chloe, is fueled to learn how to bake so she can be closer to the mother she never met. During the process of baking she learns more about herself, too
In one scene of The Patisserie of Dreams, Chloe attempts to bake again, as she'd been failing thus far.
Chloe made a vow to herself to try baking again, this time with deeper conviction, and the pods of vanilla splayed on the cover of the food magazine enticed her. She turned to the article about vanilla and read that they are derived from the vanilla genus of orchids, and that vanilla is the second most expensive spice after saffron. And the different types—Madagascar, Mexican, Tahitian—sounded so alluring that Chloe felt inspired to make something with these pods right away. The humble act of baking had started to seep its way into her subconscious; ideas and recipes were replacing thoughts of artifacts and discoveries from her previous job. Even when she was asleep Chloe dreamt of cakes and cookies and tarts.
In another scene, Chloe had just learned how to make Madeleine cookies, which were her mother's favorite sweet. In Chloe's journey of learning to bake, this was one of the first occasions that she felt some comfort.
Chloe put the bowls into the dishwasher, washed the pots by hand, and wiped down the counters that were covered in flour, sugar and batter that hadn't made it into the oven. All the scents swirling throughout the bakery that day—cinnamon rising from warm sweet bread, the invigorating aroma of espresso filling the air, sweet vanilla custard, chocolate melting in croissants, the delicate citrus-infused Madeleines—were mesmerizing like an enchanting incense, so much so that Chloe felt an overwhelming sense of comfort.
I believe that food can be magical and transformative in the stories we tell and also in day-to-day life. Taking ingredients and combining, blending, and mixing them together into wondrous meals to share and nurture our loved ones is one of life's simple yet profound activities. I've taken that notion across genres. While I started out writing fiction, it's my cookbook, The NYC Kitchen, that has come to fruition first. In this cookbook, I satiate my wanderlust through spices and ingredients I find when I venture around the city where I live.
Food is an essential part of everyone's lives and I've embraced it in the books I've chosen to write. But I can't help it: for me, food—and gathering, creating, experimenting, and writing about it—is an enchanting experience.
—
Tracey Ceurvels is a food and travel journalist and the creator of popular cooking and lifestyle blog The NYC Kitchen. She has been published in the Boston Globe, the New York Times, the New York Daily News, Relish, and Time Out, among other places. Tracey resides in Brooklyn, New York, with her daughter, Sabrina.
Visit her at http://newyorkcity.kitchen/
Tracey Ceurvels has recently completed the novel, The Patisserie of Dreams, and is the author of The NYC Kitchen Cookbook, out with Skyhorse Publishing, August 2017.
Instagram: @traceyceurvels
Facebook: www.facebook.com/thenyckitchen
Twitter: @traceyceurvels
ABOUT THE NYC COOKBOOK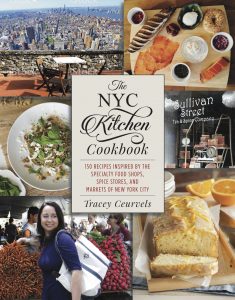 Satiate your sense of wanderlust and take an edible journey around New York City with food and travel journalist Tracey Ceurvels. In 
The NYC Kitchen Cookbook
, Tracey shares her tasty adventures with foodie fans nationwide and explains how to use the flavorful ingredients found in NYC to make simple yet sensational meals for any occasion.
The NYC Kitchen Cookbook draws inspiration from food stores and markets that make NYC one of the most diverse and appetizing destinations of the world. Unique ingredients and the NYC shops they're sourced from are the stars of Tracey's recipes. But even if NYC shops are miles away, ingredients can also be found in markets nationwide and online, making The NYC Kitchen Cookbook a convenient and diverse recipe guide for every day of the week. NYC-inspired recipes include:
Squash Soup Spiked with Cider
Roasted Red Pepper Dip
Cumin-Roasted Eggplant
Lobster Ravioli with Orange-Tarragon Butter
Wasabi Mashed Potatoes
Earl Grey Panna Cotta
Lychee Rice Pudding
And more!
Category: Contemporary Women Writers, On Writing