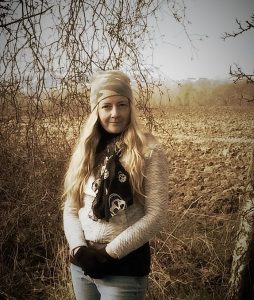 I can see a cohesive thread appearing in my work, a pattern, if you will. Locations, upon which I wrote a recent post for Women Writers, was always clear, but the historical element is a part of my writing that crept up. A surprise even to me, the author.
I can at least pinpoint where this may have blossomed from. Many years ago I read The James Version, by Ruth Dugdall. Based upon the Red Barn Murder in Polstead, Suffolk, Ruth fictionalised the true life account of the tragedy. These days, I'm honoured to call Ruth my mentor and my friend, and I know now she got access to all of the court papers on the 18th century murder and went through all of the information on what was a very high profile case.
I loved the concept of this, of taking an event and looking at it from a different angle, of finding a potential rhyme or reason for the how or the why. Similarly, Ira Levin's novel, The Boys from Brazil, uses this practice, concocting an all too possible scenario involving Doctor Josef Mengele and the terrible medical procedures he was famous for during World War II.This process struck a chord with me, and more and more I find myself seeking out cases to use in my own novels.
Most recently, and my best known work to date, is basing my crime fiction novel, Exclusion Zone, on the 1986 Chernobyl Nuclear Disaster. For a research lover such as myself, I couldn't have picked a better subject matter. The book was released in February 2016 and even though I have bulging files of paperwork, I still feel like I've only scratched the surface.
During my research I came across the Babushka's, a group of women who simply refused to leave their homes, or, if they did, soon returned under the cover of darkness. This led me to thinking about the people who did stay. Who were they? What were their stories? Why would they choose to remain in a contaminated land? These questions that I asked myself led to the creation of some of my favourite characters in Exclusion Zone; Sol, Klim, Knor, Sissy and Afia. Sol especially, was almost an afterthought, but I adore his character, his background, his mannerisms and his own story of how he came to be in Pripyat.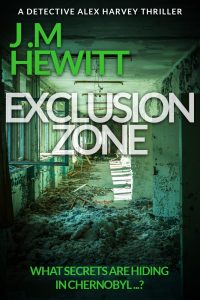 The sequel to Exclusion Zone is called Reckoning point, and this is based in Scheveningen, a Dutch seaside resort that I personally love to visit. Being crime fiction, and incorporating my love of real life cases, I was eager to base the story around a true crime. It was actually very difficult to find one – crime is low in Scheveningen!
Eventually, I came across one by scouring old newspapers, and this one, single case made up for the lack of criminal activity in this location. It is in quite recent history, the year 2000, and it really was horrific. Three Irish men; two brothers and a friend, came to work and live in Scheveningen. They had fun, a lot of fun.
Entangled in illegal drugs, prostitution and alcohol, maybe they had too much fun. The three Irish brothers were Morgan, Vincent and Damian, unfortunately, the fun was about to come to an end. Michael Braxhoofden was a Dutch drug addict and deviant thrill-seeker and it was inevitable that he would begin to lose his grip on reality. The actual event has been likened many times in the media to a Quentin Tarantino film.
Braxhoofden, after experiencing a psychiatric episode, taped a gun to his arm and returned to apartment 1058. With calculated aim, he shot Morgan and then Vincent in the head. As Damien lunched for the gun, Braxhoofden then shot him too, before retrieving a second gun and shooting all three a second time. It wasn't over, Braxhoofden's accomplice, Van Bommel, turned on Vincent, stabbing him through the neck.
It caused enormous blood loss, sadly telling the attending forces that Vincent was still alive at the time. Over the next two days attempts were made by the pair to dismember their bodies and eventually they tried to burn them and blow up the apartment. When the fire department found the bodies, it took weeks before they were identified.
The sadism of Michael Braxhoofden reminded me of serial killer Jeffrey Dahmer and I was aware of a particular victim of Dahmer's, 14 year old Konerak Sinthasomphone who was lured back to Dahmer's home where Jeffrey drilled a hole in the boy's head and injected hydrochloric acid to keep his victim alive, but subdued and compliant. The events of Sinthasomphone, Dahmer's and Braxhoofden had such an impact on me when I was researching; I knew I had to have fictionalised accounts in Reckoning Point.
It's not all horror, however. In The Intelligence of Ravens, my as yet unpublished World War II epic, I've used a lot of locations from 20th century London which inevitably come with their own history. The Windmill Theatre, for example, is among my favourite. Boastful of the tagline 'we never closed' (during the war) the theatre is rich with colourful characters and events.
The Intelligence of Ravens depicts the trials of a Polish brother and sister separated upon the invasion of their ghetto. It's very loosely based upon my own family history, where my grandfather, a pilot in the Polish airforce, was called to war. While he was imprisoned in a P.O.W camp his entire family were forced out of their home (which is now in Ukraine) and moved hundreds of kilometres across the other side of Poland.
He was never to see them or hear from them again as he sadly died when my mother (his daughter) was only nineteen. In fact it would take around fifty years and a few generations before we located them. It was a memorable occasion when my parents visited their Polish cousins for the first time, and were able to present them with my grandfather's war medals.
And perhaps this is how the bittersweet memories come about in my novels, because often they are bittersweet. Real life – much like history – doesn't always have a happy, fairytale ending. But it deserves to be acknowledged, recorded in a manuscript and, hopefully, passed along for future generations to learn from. From Dugdall's The James Version the tree grew, and perhaps it was my own family history that sowed the seed…
—
In 2008 J.M Hewitt won the Silver Prize in the author v author competition (supported by the National Literary Trust)
She was shortlisted for the Inspire and Mentor Campaign – selected by Jojo Moyes 2012 and had two books independently published – Freedom First Peace Later (2010) and Worlds Apart (2013) –Bluewood Publishing.
In 2015 the author was long listed for the Retreat West First Chapter Competition and was the winner of the BritCrime Pitch Competition 2015
J.M Hewitt is a finalist in the Twisted 50 Short Story Competition 2016 and will be appearing at the Felixstowe Book Festival in 2015 and 2016 and the East Anglia Author Festival 2016. In April 2016, the author was a guest curator for BritCrime, the online festival that she holds responsible for kick-starting her crime writing career.
She is a member of the CWA, ITW and East Anglian Authors.
Exclusion Zone is the first in the Detective Alex Harvey series and was published by Endeavour Press in 2016.
Buy Exclusion Zone HERE
Find out more about J.M Hewitt on her website:  www.jmhewitt.com
Facebook: www.facebook.com/j.mhewittauthor
Follow her on Twitter: @jmhewitt
Category: Contemporary Women Writers, On Writing