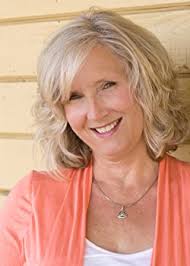 I've long been a historical fiction junkie; it's my favorite genre to read as well as my favorite in which to write. For me, fiction that that transports me backward in time lets me see in a very unique way not only where we have been but what it timelessly true about us. The past shows us what we love and fear, what we're willing to live for and die for. For those reasons historical events that changed the face of humanity simply shouldn't fade from memory.
When I began researching to write As Bright As Heaven, a novel set against the backdrop of the Spanish Flu pandemic of 1918, I knew only that there had been such a plague. I was aware it had been global, deadly, and unstoppable. What I hadn't known, and surprisingly enough neither did most people I talked to during the writing, was its impact on humanity. As many as fifty million people worldwide died of this disease; more than the total number of those killed in World War 1, which ran concurrent with it. It is arguably the second deadliest epidemic of all time, with the Black Death of medieval times perhaps surpassing it. Half a million died in the U.S. alone, and yet, one hundred years later, the Spanish Flu pandemic is nearly forgotten.
Imagine what it was like to begin to research this event and to read account after account after account of how insidious the Spanish Flu was, that it could kill you within 72 hours of contracting it, that you would literally drown in the fluid building in your lungs, that it affected young and old, fit and infirm, with equal results. Of parents losing all their children, of children losing both parents. Of the shortage of caskets and undertakers to care for the dead and no room at city morgues or hospitals. Imagine stumbling upon those statistics and the knowledge that it happened only a hundred years ago, and that no one really talks about it. Fifty million people dead. I hadn't come across one untold story; it was like landing on 50 million untold stories.
I chose one American city from among the many I could have picked for the setting for this book. Philadelphia was one of the harder hit places, with more than twelve thousand dead in less than a month's time. Historians point to a Liberty Loan parade held in downtown Philly in late September 1918, where thousands upon thousands stood in close contact on city sidewalks. The flu had already been rampant in Europe at the time, and now it was in the U.S., showing up mainly in army and naval bases. It wasn't fully known yet the degree to which it was out among the public on the day of the parade, and when two hundred thousand Philadelphians stood shoulder to shoulder to watch it, they were unaware the virus was fully among them. They were breathing it onto each other. I picked Philadelphia in which to set this book because, for this city, the deadly plague began with a hopeful parade meant to fund and end the war. What followed was wholly different than what had been expected.
Three days after the parade, more than one hundred were dead from the flu. That number would increase exponentially by the day, such that within just ten days, thousands upon thousands of Philadelphians were sick and hundreds were dying every day. And this was just Philadelphia. This scenario was happening everywhere. Writing this book allowed me to honor the lives lost even while maintaining the artful illusion that my story was just that, a story. The tragedy of the Spanish Flu pandemic became more than just the backdrop then, it became the soul of the book; the part that transcends the fictional tale.
Tragedies such as these show us the true depths of our humanity because they nearly always ask us to be braver than we think we can be, stronger than we think we are, and kinder than we usually find ourselves on an ordinary day. As a novelist, I'm drawn to revisit tragedies of yesteryear because in them I see the tenacity of human love and courage and goodness, even amid great suffering. That inspires me. I want to craft a tale that if the tragedy itself had a voice, it would say, yes, it was like that.
My goal every time I decide to weave a fictional tale that involves a life-defining event is to be mindful of the facts of what really happened, but also to mindful of the truth that we all possess intrinsic worth. Life is precious. When life is dealt a tragic blow on a large scale, we need to honor it with remembrance.
There are other ways to become knowledgeable of what happened in the past; certainly those who have written of the historicity of Spanish Flu from the nonfiction standpoint deserve to be read, and should be read, especially now as we stand on the threshold of the pandemic's 100th anniversary.
But I'm so very glad writers of historical fiction can offer another medium for remembering what shouldn't be forgotten. And not just remembering it for memory's sake, but so that we might learn from it.
—
Susan Meissner writes historical fiction for Berkley Publishing, an imprint of Penguin Random House. Her novels include As Bright as Heaven, which received a starred review from Library Journal; Secrets of a Charmed Life (a 2015 Goodreads Choice award finalist); and A Fall of Marigolds, named to Booklist's Top Ten women's fiction titles for 2014. She is also RITA finalist and Christy Award and Carol Award winner. A California native, she attended Point Loma Nazarene University and is also a writing workshop volunteer for Words Alive, a San Diego non-profit dedicated to helping at-risk youth foster a love for reading and writing.
Visit Susan at her website: susanmeissner.com on Twitter at @SusanMeissner or at www.facebook.com/susan.meissner
About AS BRIGHT AS HEAVEN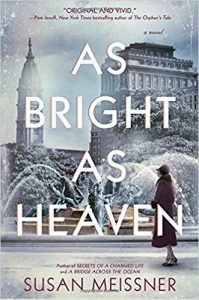 From the acclaimed author of Secrets of a Charmed Life and A Bridge Across the Ocean comes a new novel set in Philadelphia during the Spanish flu epidemic of 1918, which tells the story of a family reborn through loss and love.
In 1918, Philadelphia was a city teeming with promise. Even as its young men went off to fight in the Great War, there were opportunities for a fresh start on its cobblestone streets. Into this bustling town, came Pauline Bright and her husband, filled with hope that they could now give their three daughters–Evelyn, Maggie, and Willa–a chance at a better life.
But just months after they arrive, the Spanish Flu reaches the shores of America. As the pandemic claims more than twelve thousand victims in their adopted city, they find their lives left with a world that looks nothing like the one they knew. But even as they lose loved ones, they take in a baby orphaned by the disease who becomes their single source of hope. Amidst the tragedy and challenges, they learn what they cannot live without–and what they are willing to do about it.
As Bright as Heaven is the compelling story of a mother and her daughters who find themselves in a harsh world not of their making, which will either crush their resolve to survive or purify it.
Category: Contemporary Women Writers, How To and Tips