E
ver since I was little I've been inspired by how empowering stories and books can be when they hit the right chord within you. I also knew from a very young age that I wanted to be a professional writer.
I started dictating stories to my parents when I was three, tried my hand at my first novel at seven (it didn't come out very well) and became a professional journalist while I was in high school. The work with journalism led me to writing for MTV, CNN, The Onion, the Los Angeles Times and other places, but while I worked with factual stories, I was always trying to be a professional novelist. I got lots of rejections and doors closed in my face, but I knew what I wanted and I kept pushing for it. One of the things that kept me inspired was reading about literary women who never gave up.
This past year, after selling a manga art guide, I received an opportunity from a publisher to write Minecraft novels for them. Minecraft, for the uninitiated, is a blocky video game that lets you build to your heart's content and fight off monsters if you so choose. (And it has gotten a good section of the population addicted to it.) The publisher asked me if I could come up with a pitch for their consideration, and with the popularity of Minecraft, I thought I could really do something with this.
I wanted to write an adventure novel for kids, and since it's inspired by a video game, there would have to be lots of action and excitement. But I also wanted there to be a deeper layer to it, and I wanted girls who read it to feel empowered.
There were already Minecraft books on the market, and even though I knew both boys and girls loved playing Minecraft, all the books seemed to be about boys and aimed for boys. I wanted to write a book with a male and female lead, and I wanted to make sure the female lead didn't play second fiddle to the male lead. I wanted them both to be on pretty equal footing, with talents that would complement each other.
The result was the first book in my middle grade Minecraft series, Escape from the Overworld. In it, Minecraft is a real world, and Stevie is an eleven-year-old boy who's living in it. He finds a portal to our world, and there he meets a girl his same age named Maison. Maison is smart, sporty, strong-willed and someone Stevie soon learns to admire. She knows what she wants and she keeps pushing toward it. Maison really takes Stevie under her wing and shows him around this new world, and when monsters from Stevie's world get through the portal and attack, it's Stevie and Maison together who fight them off.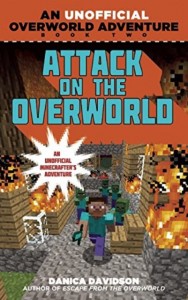 The second book, Attack on the Overworld, was just released, and it continues the adventures of Stevie and Maison. This time cyberbullies hack into Maison's computer and find the portal to Stevie's world and decide to bring all sorts of terror and chaos to it. The cyberbullies had started out just harassing Maison online, and this is a real world issue that many girls and boys deal with. The book is definitely a very creative take on cyberbullying, but I also talk about the realities of cyberbullying and what kids can do about it. I'm hoping it can start a dialogue and people feel less scared and alone about cyberbullies.
Various news reports I've read have said that while everyone can be harassed by cyberbullies, girls seem to be the victims more than boys. Because of the angle of girl empowerment and fighting cyberbullying, my books are being included in work done by the girl-power and anti-bullying group Saving Our Daughters, which is one of three nonprofits being honored this year by Glamour and Investigation Discovery's Inspire a Difference.
When I tell people about the setup for my books, they often act excited and surprised that I wanted to add depth to what could be just a one-note adventure story. But I didn't see working on a franchise as an easy way to tell an easy story — I saw it as a way to reach an audience with a fun story that also includes a good message. It's really touching when I see boys and girls get wrapped up in Maison's adventures and have parents tell me they're so glad to get their kids a book that will entertain them and has a strong girl lead. The third book in the series, The Rise of Herobrine, has Stevie's female cousin Alex also join the group, and she's an excellent explorer and warrior with her bows and arrows. That book will be released in the next few months.
I know we've all read books that have inspired and empowered us. I don't think every book out there has to be written with extra meaning (sometimes a straightforward book is fun enough in its own right), but there can be something very special reading a book that makes you feel less alone or encourages you to be yourself. I also know you don't have to write a very complex book to do this, and you can find inspiration in the most surprising places. There was always something to inspire me to keep writing, even in the face of rejection letters and people who scoffed at my goals of becoming a writer. I think it's important we keep our lights of inspiration alive, and that we encourage and support young girls to help them do the same.
—
Danica Davidson is the author of Escape from the Overworld and Attack on the Overworld, plus the soon to be released The Rise of Herobrine and Manga Art For Beginners. She has written for MTV, The Onion, Women's Health, CNN, Publishers Weekly and Booklist. Her work at MTV earned her a Webby honor with a small group of writers for Best Youth Writing. She is represented by the James Fitzgerald Agency.
Follow her on Twitter @DanicaDavidson.
Find out more about her on her website www.danicadavidson.com
Category: Contemporary Women Writers, On Writing