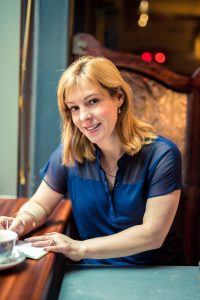 It's always hard to know, isn't it, which came first? The chicken or the egg.
And that's how I feel about my life as a crime writer, and my previous one as a probation officer.
Let's say my probation career was the chicken. I went into the job in my early twenties, burning with a desire to change the world or at least the people who would be allocated to me. I sought out the messiest, most bizarre; my first ever pre-sentence report was on a pensioner who had bitten off his wife's ear. And it was whilst I was working on a prison unit for teenagers who had committed the most serious of crimes that I began writing my first novel. So let's call my writing career the egg.
What motivates my writing is exactly the same thing that motivated me as a probation officer: a need to know what makes people tick, and an appetite for exploring the darker side of human behaviour. Sometimes people say it was a strange move, from probation officer to novelist, but I can't think of anything more natural. The much-maligned probation officer has more face-to-face contact with criminals than any other professional, so they are well-placed to write about them. And the day job involves tugging the spaghetti of motivations and distortions that are found in the criminal brain, trying to make sense of it, in the same way an author must construct a character and red herrings in an authentic, cogent way.
At the end, the reader wants answers and so does the probation officer.
Freud was heavily influenced by fiction when he developed his theories, and the link between literature and the psychology of human behaviour has always been strong. I remember, when I was a social work student, the mental health expert Herschel Prins backed up every one of his talks on various mental health conditions with case studies from Shakespeare. We analysed Hamlet (personality disorder) and Lady Macbeth (psychopath) and never once did anyone question that fiction was not the same as fact. Because it is: all of human life exists in novels.
I have always loved books, and first announced that I wanted to be a writer at the tender age of twelve (so my best friend from secondary school tells me). When I was fifteen I spent two weeks on work experience with the local newspaper. The best day? Sat in a court room, taking notes on the cases to be heard before the judge. I wanted to be a journalist years before I even knew what a probation officer was, and studying my English Literature degree was bliss, to be immersed in books for three years was wonderful! Egg came first, then.
My novels have inevitably changed as I have. I'm a writer who uses whatever is going on in my life in my novels, so when I wrote The Woman before Me, which is about a new mother who becomes obsessed with a woman she met on the maternity ward, I myself had a new baby. The idea for the book came to me in the hours after giving birth and I wrote the first draft on my maternity leave.
The way I think about crime has changed over the years, and one reason for this is because I am no longer a practicing probation officer. After I left the probation service I did want to keep in touch with the criminal justice system, but I needed a job to fit with the deadlines, so I trained as a Crisis Worker, supporting rape victims as they were interviewed and medically examined. I'd worked with several rapists, but never directly with victims before, so this was a totally different angle. Or so you'd think; most criminals are victims too, and the vicious cycle of abused to abuse is one I saw sadly often.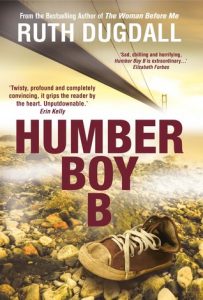 But as a Crisis Worker I didn't have to think about challenging distorted thinking, or the risk to the public, I was simply able to listen and be present for the victim. I was working on Humber Boy B at the time and it's no accident that the victim's voice is very present in this book. Ben (Humber Boy B) has thrown his best friend, Noah, off the Humber Bridge and to his death when both boys were just ten. In the novel, set eight years later when Ben is released with a new identity, Noah's mother is bent on finding him and bringing him to justice.
I have a probation officer, Cate Austin, who features in four of my five novels, and I'm proud to have done my small bit in making the career more widely known. Probation officers are often absent from crime novels and films, few people even know what they really do.
A big challenge for me was writing my latest book, Nowhere Girl, set in Luxembourg where I was living at the time. It was to be a Cate Austin book, but as a British national she couldn`t actually practice in Luxembourg. Plus, for me as the writer, I didn't know about the probation service there and how it operates. Instead, I placed Cate in the same situation as myself – a trailing spouse – and had her coming upon a kidnapping, and becoming involved. Rather as I heard about attempted kidnappings in the area, just as I was dropping of my children at school, and needed to know more…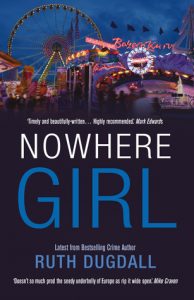 Researching the novel, I starting from zero. Luckily, local police and social workers were happy to share their knowledge, and I began volunteering at the Luxembourg prison so that my crime book felt authentic – always important to me.
So, chicken or egg? Am I crime writer because I was a probation officer, or did I train to become a probation officer because of an interest in books that sparked a fascination with life's underbelly?
I don't really know, all I can do is follow this path and see where it takes me next. I'm excited for the stories to come, and always grateful to the readers who make it happen.
—
Ruth Dugdall is an award-winning British crime novelist. Her best-selling novel The Woman Before Me won the prestigious CWA Debut Dagger and the Luke Bitmead Bursary. Her novels have been described as "authentic psychological thrillers" and have been published around the world. 
Twitter: @ruthdugdall
Facebook: Ruth Dugdall author
Category: On Writing