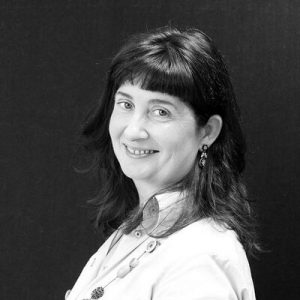 THINGS happen in threes. Seriously. Scientific fact. One based on years of meticulous research and general observation by me. And my mother. And her mother before her. And, er, all my friends.
Births, for example. You never hear of a single birth. Start any conversation about babies, and before the topic has been exhausted, you'll know of three newcomers to the world. Seed, breed and generation.
Deaths are the same. A certain dread, here, mind you. Great aunt passed away? You'll be shaking out the good black coat for two more funerals before a fortnight is up. Because you'll only have to mention your great aunt, and there'll be tea and sympathy and details of another funeral. You've met the person twice, but you go. You hold your breath and wait for the third death. No matter who it is, no matter how tenuous the connection, you make it count. Three. Done now. No more.
It's no wonder we are obsessed. Everything from fairy tales (Four Little Pigs, anyone?) to interior design (nobody advises arranging things in twos). Such thinking seeps into the pores of everyday life. Until we make the belief a reality. Too deep? Moving on. Where was I?
Things happening in threes. Right. The problem with that theory, is it starts to encompass everything. And it obstructs whatever the hell you're trying to do. Like writing.
So, let's get one thing straight. If you've a family, you'll know what weekends are like: a massive black hole. All your plans, sense of order, concentration, odd socks, time itself, are sucked in, never to be seen again. It's mentally damaging to expect too much. If you do find an hour here or there, it's a gift. A thing of joy. If you don't, c'est le weekend.
Mondays are different. Chez nous (that's all the French I know) the husband goes back to work. The offspring (did I mention there are three?) go back to school and college. In a recent, typical week, Monday stretches ahead, hour after potential hour. I start to write, tucked away at my desk at one end of my kitchen, and during screen breaks, I make the dinner. By mid-morning, the casserole is ready to be cooked. I open the oven door and it falls off, crashing to the tiled floor.
Oh dear, I think. Or words to that effect. Granted, the door's been wobbly for a while. I've had to be gentle with it. Coaxing it into place. But the oven is 20 years old. I take measurements and head to the nearest electrical shop to buy a new one.
"You paying for delivery and installation?" asks the man in the shop.
"Ah no, I thought I'd do that myself." A beat. "Of course."
On Tuesday, the new oven arrives. The old one is wheeled out. "Need to clean the floor before the new one goes in," I say. "Work away," says the man. I start, then pause, mid-wipe. There is a gulley, running behind the oven, where a water pipe should have been laid, then didn't fit, and was tacked along the wall instead. And here's Problem One: the gulley is full of water. We both stare at it. "Leave the new oven exactly where it is," I say. "I'm phoning a plumber."
"I think I know what's wrong," says the plumber. "I'll be out tomorrow."
It's Wednesday. "Be prepared for the smell," he says. He opens the outside shore, where previous builders apparently dumped bits of broken pipe and dirt. Add some grease, mix together, and drainage from the kitchen sink and dishwasher have nowhere to go. After he clears it, he pulls out the kickboards under the kitchen cupboards, and I begin three days of cleaning. There's no permanent damage.
He's gone when I run the dishwasher and I discover Problem Two. Now the kickboards are out, I realise that as it drains, water gushes all over the floor. I phone the plumber again. He returns, to find the hose on our 20 year old dishwasher has burst.
"We'll install it," says the man who sold me the oven. The nice man who installed the oven returns. "How's the water problem?" he asks. "About to be sorted," I say. He pops the dishwasher on a test cycle and leaves.
And I discover Problem Three. Now there's no leaky hose, as the dishwasher drains, the water gushes out the top of the main pipe and soaks the inside of the under-the-sink cupboard. When I phone the plumber, I can sense his disbelief. "Send me a photo of the pipe," says he. I do. "Now, put me on speaker phone and I'll talk you through it." WHAT? But with lots of guidance, I take apart and unblock the pipe. When I put it all back together, it leaks slightly. "I'll fix it tomorrow," he says. Finally, on Friday evening, all is dry.
As I face the weekend, I'm amazed I got any writing done this week. Despite the reassurance of Three, I cannot relate to those Little Pigs. Were my life a fairy tale, I'd be the Shoemaker: the one who never finds time to make new shoes. Paradoxically, I'd also be the helpful elves who sew by night.
Meantime, if anyone needs their u-bend sorted, I'm your woman.
—
Sharon Black trained as a journalist and worked for The Evening Herald and The Irish Examiner. She has had short stories published and she won the 2010 Dromineer Literary Festival short story competition. She lives in Dublin with her husband and their three children.                                                                 *
Blog: https://sharonblackauthor.blogspot.ie/
Twitter: https://twitter.com/AuthorSharonb
Tirgearr Publishing: tirpub.com/gatype 
Facebook: https://www.facebook.com/SharonBlackAuthorPage/
About GOING AGAINST TYPE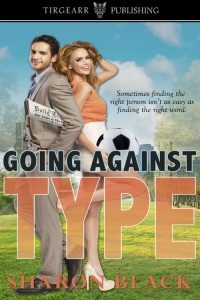 Some would say Charlotte 'Charlie' Regan has it all. Beautiful, smart, athletic, and a great job working as a journalist – in the almost exclusively male sports department. But Charlotte is not quite so sure as she seem. Recently split from her overbearing boyfriend, she escapes for weekends surfing in the Atlantic, and spends her free nights watching sports, roaring at the TV.
Derry Cullinane is a fashion writer, gossip columnist, and sophisticated man-about-town – The go-to guy for any woman seeking expert advice on what fabulous outfit to wear for any given occasion. He's also tall, dark, good looking . . . and straight! So what's the snag? He has a track record of dating glamorous, vain, and shallow women.
Charlie gets an opportunity to write a new column under the pen name Side Swipe, but soon is drawn into a war of words and wit with a rival paper's columnist, The Squire, and their verbal fireworks get readers and editors talking. Yet neither Charlie nor Derry knows just who the opponent is.
When Charlotte and Derry meet at the Races, the attraction is instant. As their relationship develops, so much more proves at stake than protecting their alter egos. But a blunder puts Charlotte's job in jeopardy just as Derry's past makes front page, and Charlotte begins to doubt her feelings. When Side Swipe and The Squire are finally forced to reveal themselves, will they revert to type – or confound everyone's expectations?
Category: Contemporary Women Writers, How To and Tips