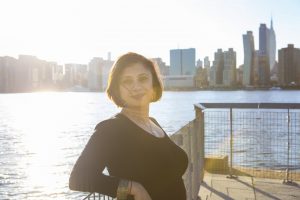 It's 5 am on Saturday, April 7. My head is ready to explode. I am supposed to speak at a wellness conference in Pennsylvania in a few hours and on Tuesday, April 10, my debut U.S. novel, "Louisiana Catch," comes out. That very evening, I am doing an intimate wine and reading celebration with a fellow author at Bluestockings bookstore in downtown Manhattan.
Louisiana Catch is my 12th book. The book is about Ahana, a 33-year-old grieving daughter and sexual abuse survivor from New Delhi who must summon the courage to run a feminist conference in New Orleans, trust a man she meets over the Internet, and unravel the mystery of an online predator in order to find her power. It wasn't an easy book to write. Though the book's release happens to coincide with the #MeToo movement and the media attention has been heart-warming, none of it has been a cake walk.
To an outsider, this is all good stress, right? What you dreamed about. What you worked towards. But, you know within—that the creative life is a gift, but it is also full of ups and downs. Exhilarating and nerve-wracking in the same breath. Of course, then there are elements outside of our control. How will our book be welcomed into the world? Will anyone read it? What if no one shows up to the book launch events? The list of anxiety triggers can be endless.
To stay stable and productive, I have followed a few tips and tricks that have helped me stay focused in this journey. I am no expert, but I hope a few of these suggestions will help and make your big day one to remember.
Be kind: Just because you have a book coming out, it doesn't give you the license to be a jerk. Yes, you have a lot on your mind during this time. So many of these emotions you can't explain in words because a writer's mind is layered and complex. Talk to those you trust—close friends and family and let them know that your emotions might be extreme on some days. Allow yourself some space and room for failure. Rest. Recuperate. When you are kind to yourself, you will automatically be kind to others.
Don't let success get to your head: We are only as good as our last book. I cannot even list the number of rejections I have had and will continue to have—that's part of being a writer. In the same breath, I have also won awards and my books have gone to become bestsellers. What's kept me grounded is knowing that success is just as fleeting as failure. The only constant is change. Don't let your literary performance affect the core of who you are and how you conduct yourself in the world.
Build relationships: The world can feel like a lonely place if you alienate everyone. Know what matters to you. Writing is one of the most important reasons for my living, but it isn't the only one. Spending time with my family and friends is what sustains me. Sharing a meal with them or going away on trips or sipping wine together or listening to their stories or showing up to the yoga studio, it keeps my life and creativity in perspective. I am not saying that's the only way to build relationships. But…it's important to have a few people in your life who are there for you, regardless of who you are, not because of who you are.
Gratitude: Remember, you have a book deal, which means someone believes in your work. That in itself is pretty darn amazing! You managed to finish writing an entire book…did someone have your back during this process? Don't forget to say thanks for all that you have. Don't forget to say gratitude for what you don't have. Every experience helps us grow. Every person we meet has something to teach us. When gratitude becomes a part of your practice, you will notice the difference in your happiness quotient.
Pay it forward: Take a breath and make a mental note of those who have helped you along the way. Right from my husband who made space in our lives, so I could write Louisiana Catch to organizations like Lululemon and Exhale to Inhale who have come together to help me host my April 18 book launch event in NYC…I couldn't have done it all by myself. I made a vow that I will support other writers, so at all of my Louisiana Catch readings across the United States, I have invited other authors or yoga professionals or publishers or creative writing instructors to come and share the space with me and share their books and stories. On April 18, at the lululemon Hus Seventeen, we have a panel discussion between a psychotherapist, yoga teacher, meditation teacher, and myself. I believe that the more of us come together to share our work, the more we understand the need for stories.
"On the road to success, there is always room to share appreciation and gratitude for other people's successes. Feeling gratitude for other people raises our own vibration, while adding cement to the bricks we lay. Finding the best qualities in others allows us to build those qualities within ourselves. And when we focus on our personal growth with open hearts and minds, the speed with which we construct dramatically increases, because all the while, we are attracting more like energy and like-minded people into our lives to assist us." ~ Alaric Hutchinson
—–xx—-
BIO: Sweta Srivastava Vikram (www.swetavikram.com), featured by Asian Fusion as "one of the most influential Asians of our time," is a best-selling author of 12 books, five-times Pushcart Prize nominee, mindfulness writing coach, social issues advocate, and a certified yoga & Ayurveda counselor who helps people lead creative, productive, and healthier lives. Louisiana Catch (Modern History Press 2018) is her debut U.S. novel and featured on U.K.'s list of "Books to Read in 2018" and #1 new release on Amazon under women's divorce fiction.
Born in India, Sweta spent her formative years between the Indian Himalayas, North Africa, and the United States collecting and sharing stories. She writes about women, multiculturalism, wellness, and identity.  Sweta, whose work has appeared in The New York Times, amongst other publications, across nine countries on three continents, is an award-winning writer and graduate of Columbia University. She lives in New York City with her husband and in her spare time, teaches yoga to female survivors of rape and domestic violence. You can find her in these online spaces:
Web: http://www.swetavikram.com
Facebook: http://www.facebook.com/Words.By.Sweta
Email: sweta@swetavikram.com
Twitter: http://twitter.com/swetavikram
LinkedIn: http://www.linkedin.com/in/swetavikram
Instagram: https://www.instagram.com/swetavikram
About LOUISIANA CATCH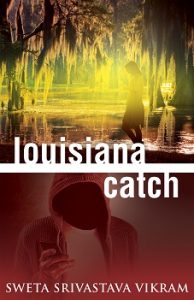 Ahana, a wealthy thirty-three-year-old New Delhi woman, flees the pain of her mother's death and her dark past by accepting a huge project in New Orleans, where she'll coordinate the Annual Women's Conference to raise awareness around violence against women. Her half-Indian, half-Irish colleague and public relations guru, Rohan Brady, who helps Ahana develop her online presence, offends her prim sensibilities with his raunchy humor. She is convinced that he's a womanizer. Meanwhile, she seeks relief from her pain in an online support group, where she makes a good friend: the mercurial Jay Dubois, who is also grieving the loss of his mother. Her work in the U.S. and the online medium brings the two men into her life, and Ahana learns that neither is what he seems. With their differing sensibilities on a collision course, Ahana finds herself in a dangerous situation—and she discovers a side of herself that she never realized she had.
Louisiana Catch is an emotionally immersive novel about trust and who we project ourselves to be in the world. It's a book about Ahana's unreliable instincts and her ongoing battle to determine whom to place her faith in as she, Rohan, and Jay shed layers of their identities.
As Ahana matures from a victim of domestic sexual abuse into a global feminist leader, she must confront her issues: both with the men in her life and, ultimately, with her own instincts. Whom can she rely on to have her best interests at heart?
Category: How To and Tips