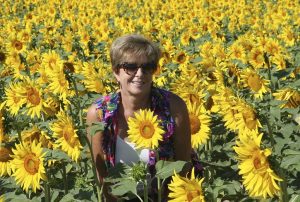 This may sound like an intro for a real estate ad, but not this time. Rather it's an intro to considering the importance of location in stories. The sense of 'place' is often vital to the heart of a novel and, speaking from a personal perspective, it's absolutely essential to the stories I want to share with readers.
My first novel, The Bridge Club, is set in Canada with locations ranging from the pastoral Eastern Townships of Quebec to the stunning Coast Mountains in British Columbia. When I wrote it, I was focussed more on character development since that is what drives this story. The fine details of the locations were secondary.
Not so, when I began to write The Promise of Provence. I knew I had two primary goals. One was to write a meaningful plot with complex characters, to which women over fifty would relate. The other was to share the love affair I have had with the south of France all of my life. There was no doubt in my mind that I wanted the reader to feel they were in settings with the characters in every respect. I hoped they would see, taste, smell, feel (as in touch) and even hear everything, just as the characters did.
In other words, all senses were employed.
That first Provence novel turned into Book 1 of the Love in Provence series, in good part because of the love my readers felt for the setting. Of course they became engaged with the characters as well, but it became clear that the majority of my readers are devoted Francophiles. They write and tell me they are transported by the stories and that's my greatest reward.
When a woman living on a remote farm in Iowa writes and says, "Thank you for taking me somewhere I know I will never go in my life," I know my work is done. My readers travel without packing or passports!
Location is as important to me as the plot and the characters, and this aspect of writing has only solidified with each novel. To be honest, creating a strong sense of place is part of what makes writing the books so pleasurable for me. For the past twenty years, my husband and I have spent extended time in the south of France. I've been taking photos since I was a child. As we travelled, I drove my husband crazy with sudden requests to pull the car over so I could leap out and take a shot. And, to his credit, he always pulled over.  Well, practically always! He frequently finds himself walking alone as I have stopped further back to capture more visuals. Trust me, I appreciate his patience!
It never occurred to me during those earlier years of travel, that all of those photos would become a vital part of my writing life.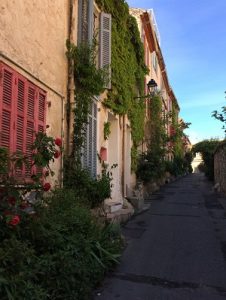 As I evolved into a novelist, I realized I had been telling stories through photography all of my life. Eventually, I began to turn those images into words. Details are important … from ancient doors and the peeling paint of shutters and windows, to fields of lavender, sunflowers, and lavender, to the shimmering turquoise gleam of the Mediterranean or the rocky hilltop outcrops from which medieval villages cling. Finding the right balance in just how much description or information to include is vital. At this point I tend to err on the side of too much rather than too little. That's all part of my ongoing learning process.
Meticulous research goes into getting the facts of setting straight. Eating the food, drinking the wine, meandering the picturesque cobblestone streets and absorbing panoramic views from hilltop villages is all part of that … the most enjoyable part! Equally as important, the other part requires reading extensively, interviewing residents, visiting and studying local life such as markets, vineyards, fishermen, farmers, shepherds, cheesemakers, etc. Organizing copious notes goes along with all this.
Learning to craft history, along with geographic, architectural and cultural details, into enjoyable prose is a work in progress as I write each novel. Time and place are two of the essential ingredients of any story that allows the reader to envision the world they are entering. It's imperative to get everything right. The challenge is never ending and the sharp eyes of my Lake Union editors are vital.
I realize I may be limiting myself in terms of readership, but at the moment my choice is to continue writing stories set in the south of France. Receiving emails on a regular basis from readers asking for more fuels my inspiration.
It goes without saying that an author can write a story in a simple back yard and create a setting that captures a reader. Although I write about travel in this post, there are settings all around us just waiting for stories to be written.
What are your thoughts about location? Are the physical, cultural and geographical details of the stories you craft something you focus upon? How would you say location compares to plot and character development in your genre?
An unexpected bonus of all this is that now I also co-host women's tours, for groups of 12 to 16, of the south of France that are based on the locations in my stories. (I have a big smile on my face as I share this with you). This September will be the fourth tour and I will be joined by my good friend, Deborah Bine (aka Barefoot Blogger). Deborah lives in Uzès, France for most of the year and we love to share our passion for France with others. Most of the women who are on the trips have read my novels and take great delight in knowing they are exactly where they read about in the story. Somehow, experiencing this with readers adds yet another dimension to having written the story. Who knows where our craft can take us?
—
Patricia Sands lives in Toronto, Canada, when she isn't somewhere else, and calls the south of France her second home. She is the award-winning author of The Bridge Club and the best-selling Love in Provence trilogy. Her fifth novel, Drawing Lessons which is also set in the south of France, was released by Lake Union Publishing on October 1, 2017.
Find out more at Patricia's Facebook Author Page, Amazon Author Page or her website. There are links to her books, social media, and a monthly newsletter that has special giveaways, photography from France, and sneak peeks at her next book. She loves hearing from readers.
Follow her on Instagram  @patricialsands
Represented by Pamela Harty of The Knight Agency
Under contract to Lake Union Publishing
DRAWING LESSONS, Patricia Sands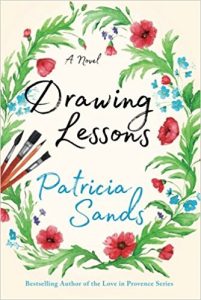 The author of the Love in Provence series returns to the South of France with a poignant portrait of a woman who must learn how to create a new life for herself…
Sixty-two-year-old Arianna arrives in the South of France for a two-week artists' workshop full of anticipation but burdened by guilt. Back home in Toronto, she has been living with the devastating diagnosis of her husband's dementia and the heartbreak of watching the man she has loved for decades slip away before her eyes. What does her future hold without Ben? Before her is a blank canvas.
Encouraged by her family to take some time for herself, she has traveled to Arles to set up her easel in the same fields of poppies and sunflowers that inspired Van Gogh. Gradually, she rediscovers the inner artist she abandoned long ago. Drawing strength from the warm companionship and gentle wisdom of her fellow artists at the retreat—as well as the vitality of guest lecturer Jacques de Villeneuve, an artist and a cowboy—Arianna searches her heart for permission to embrace the life in front of her and, like the sunflowers, once again face the light.
"Set in the magical French countryside, Drawing Lessons tells a remarkable tale of separation and loss. Patricia Sands unfolds a passionate story of self-discovery and learning to love again that will stay with the reader long after the last page is turned." —Christine Nolfi, bestselling author of Sweet Lake and The Comfort of Secrets
"I feel as though I've been to the South of France after reading Patricia Sands's richly crafted novel of one woman's journey of rediscovery. Colorful and beautifully written, the landscape captured my heart. I loved this story!" —Heather Burch, bestselling author of One Lavender Ribbon and Something Like Family
BUY THE BOOK HERE
Category: Contemporary Women Writers, How To and Tips