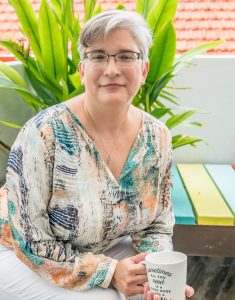 Recently, a fellow writer posted about the challenges of balancing motherhood and writing, especially when you have young kids who make constant demands on your time. Her struggles resonated with me, because it's something I've experienced and I'm sure she and I are not alone. I suspect any writer with children has faced these issues.
I wrote my first novel in 2002, when I had a toddler who was later diagnosed with Asperger's Syndrome and a one year old. I was working full-time in a demanding career and writing became an escape for me. I'd always read as an escape, but I found myself needing something more, something that was just for me. Writing became that thing. I've never been a night person, but I stayed up and wrote after the kids were in bed and I wrote during my lunch break. Basically, I crammed it in whenever I could.
I finished one novel and tried starting a few others, but it was tough to find the time when I was SO busy with work and family. I also didn't have a writing community that I could rely on for support and encouragement.  At the time, online forums were just starting, and I didn't feel like I was a serious enough writer to join a local writing group. It was just something that I did secretly at night.
After my first novel was rejected by a publisher, I found lots of excuses to give up on writing. But in 2007, we moved to the Caribbean with my husband's work and I found myself with a little more time. I realized that I wasn't done with writing. It was still my dream and I wanted to pursue it.
My life was still busy at that point with a ten year-old, seven year-old and an eighteen-month old. There were still many moments when I wanted to write and the kids wanted me to do something with them—play a game, watch a movie, read a book. That's when I realized something important. I didn't want to just say, "Sorry, Mommy has to work right now." They'd heard that many times in relation to my day job and I didn't want them to resent my writing.
So I changed the way I talked to them about it. I explained to them that for a long time, I'd dreamed of being a published author. I'd dreamed of walking into a library and seeing my book on a shelf. Dreams are easy for kids to relate to. They dream of being princesses, ballerinas, astronauts and ninja warriors. So, even young kids can appreciate the difference between work that's required to pay the bills and the time you spend pursuing your dream.
I was honest with them—I wasn't sure if I'd ever succeed, but with their help, I had a better chance. So, they became part of my writing journey. I asked them to encourage me when I felt dejected. I asked them to celebrate with me when I reached a milestone. When I got a request from an agent, I forwarded it to my kids' e-mails, so they could 'squee' with me. I talked to them about the rejections as well. They'd hug me and tell me not to give up. I asked for their help when I was stuck on a plot point or couldn't come up with a character's name. Some of my best ideas have come from my kids. If they were demanding my time, I'd explain that if they gave me some quiet time to finish my word count goal for the day, I'd be free to spend time with them. So, they'd pop in and say, "How many words have you written?" and they'd encourage me to keep writing…quickly!
To be honest, when I was doing these things, I was doing them for me. I knew from past experience that I needed my family's support if I was going to succeed. It was only as my kids got older that I realized how this also helped them. In their own way, they've each told me that my commitment to my goal has encouraged and inspired them to try harder to meet their own dreams. Instead of just telling them to not give up, I showed them what perseverance looks like. They saw how hard rejections can be and what it looks like to pick yourself up and brush yourself up.
About a year ago, my youngest son, who struggles with both reading and writing, but has an amazing imagination, told me that he wanted to be an author when he grew up. I was so surprised and touched. My sixteen year-old daughter is posting her own fan fiction online and already has a following!
As mothers, we tend to feel guilty whenever we put our needs in front of our kids. But we can't forget the importance of setting examples for them, because they do notice. They pay attention. They love us and they'd never want to be even partially the reason that we gave up on our dreams.
In the end, I'm so proud to have inspired their creativity and their belief that anything is possible as long as you work hard-
 —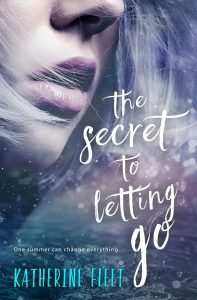 Originally from Newfoundland, Katherine Fleet moved to the sunny Caribbean a decade ago with her pilot husband and three amazing kids. When she's not writing, driving kids, travelling or binge watching her favorite TV shows, she gets to have sun-filled adventures with her wonderful friends in Curaçao. THE SECRET TO LETTING GO (Entangled Teen, 2016) was her contemporary YA debut. Her latest YA contemporary, tentatively titled THE NIGHT WE MET, will be published by Page Street Books in winter 2019. She is represented by Carrie Pestritto of Prospect Agency. You can connect with her at http://www.KatherineFleet.com.
And in case you need them, my Social Media Links:
Author Website: www.KatherineFleet.com
Author Twitter: https://twitter.com/KatherineFleet
Author Facebook: https://www.facebook.com/AuthorKatherineFleet/
Author Instagram: https://www.instagram.com/katherine_fleet/
About THE SECRET OF LETTING GO
Haunted with guilt after his girlfriend's death, Daniel Hudson has no interest in committing to anyone. At the end of the summer, he'll be leaving Florida for a new start in college. If only he could avoid the mysterious new girl in town, who seems every bit as naive and eccentric as she looks. Trouble is, she's hard to ignore, with her beautiful piercing eyes, pitiful-looking dog, and unsettling tendency of finding trouble. Clover Scott lived her whole life off the grid and arrives on the Gulf coast in search of her grandparents. She never expected to nearly drown, or get caught in a hurricane, or fall in love with the boy who rescues her. Now, she has a chance to rewrite her life's story, to finally fit in somewhere, but Daniel wants answers about her past. When the police start asking questions about the disappearance of her parents, she must make a choice: go to jail or confess her secrets-even if they might destroy her chance at a happily-ever-after.
Category: Contemporary Women Writers, How To and Tips