New York Times bestselling author, Allison Winn Scotch, is the author of The Department of Lost and Found, Time of My Life, The One That I Want, The Song Remains the Same, The Theory of Opposites, In Twenty Years, a Library Journal Best Books of 2016 selection, and now the magnificent BETWEEN ME AND YOU (Lake Union, 2018).
Her novels have been translated into eleven languages. A freelance writer for many years, Allison has contributed to Brides, Family Circle, Fitness, Glamour, InStyle, Men's Health, Parents, Redbook, Self, Shape, and Women's Health.
A cum laude graduate of University of Pennsylvania, where she studied history and marketing. Allison now lives in Los Angeles, where she enjoys hiking, reading, running, yoga, and the company of her two dogs, when she's not "serving as an Uber service" for her children.
We've already had the pleasure of featuring an Allison interview, but her book BETWEEN ME AND YOU is so phenomenal, we couldn't help but squeeze her in again.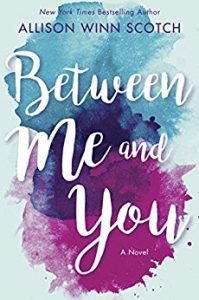 Between Me and You is an honest, touching, and funny exploration of falling in and out of love, told from two perspectives—one rewinding history, one moving it forward—and each with bias and regret.
When their paths first cross, Ben Livingston is a fledgling screenwriter on the brink of success; Tatum Connelly is a struggling actress tending bar in a New York City dive. They fall in love, they marry, they become parents, and they think only of the future. But as the years go by, Tatum's stardom rises while Ben's fades. In a marriage that bears the fallout of ambition and fame, Ben and Tatum are at a crossroads. Now all they can do is think back…
A life of passion, joy, tragedy, and loss—once shared—becomes one as shifting and unpredictable as a memory. As the pieces of their past come together, as they explore the ways love can bend and break, Ben and Tatum come to see how it all went wrong—and wonder what they can do now to make it all right.
Thank you for joining us, Allison. We are thrilled to have you – again!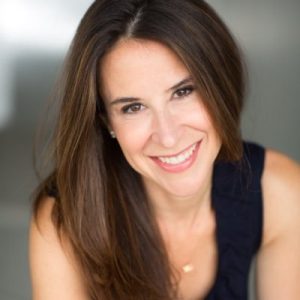 Why was it important to you to tell this story?
I wanted to explore the highs and lows of a long-term relationship. I think, with all of my books, I sort of take a look at my life and my friends and my peers and consider where we all are, and what that means for us emotionally.
Right now, I am firmly in mid-life. And there are joys to that, and less wonderful things about that too. I suppose I wanted to tackle that experience – the wisdom and the wonders and also the pain – of moving through life for a few decades with a partner and what that brings.
What was your goal in telling it?
As I was writing it, to be honest, I'm not sure that I had a goal other than telling a good story. As I was finishing it, however, my agent and I had a conversation about the ending….I was unsure how to end it…and she offered me the advice of just…bringing joy to people right now. Without spoiling anything, that became the goal. To tell a story in a way that made people happy. It's a simple goal but also an important one, I think, especially in today's uncertain times.
How did you conceive of its structure (one character tells it forward, the other backward)? How did it work?
I was working on another book that I just…hated. I could write it in my sleep, and it wasn't challenging me at all, and I'm sure that showed on the page. I finally gave myself permission to give up on it, and literally, the same day that I did, I went out to take a long walk and this idea came to me.
I was listening to Brandon Flowers' new album, and he has a song called Between Me and You on it, and it's about the complicated nature of a relationship. And I just thought…aha! But I knew I didn't want to just write that – the story of a relationship because I've already done that, and I'm not interested in retreading my old work.
So I started manipulating it in my head, considering a new way to tell an old story. And as I did, I thought: what if we could go back to the beginning of our relationships, when we first fell in love with our partners. What would that change? How would that shape our current view, if we could tap into those early heady days and the passion and devotion that they brought?
And so I thought: well, why not have Ben tell it backward? Get him back to that time when they were newly in love and see what that does to his character? It was, to be honest, an absolute nightmare to write, but I'm so glad that I stuck with it. I couldn't be prouder of the book.
A trademark of your work is deep character introspection. How do you balance these moments of contemplation with action?
I think I learned in one of my early books that you can only have so much introspection before the reader gets bored. Many of my editorial notes for my debut were: YEAH WE GET IT.  Hence now, I try to put my characters in the middle of the tornado – conflict and action and all different moving parts – and then have their reactions to these obstacles become part of the introspection. Whenever I'm struggling with what to write next, I consider a problem and try to make the characters cope with said problem. Just as in real life, when you are muddling your way through a situation, this lends to introspection all on its own.
How long of a break do you take between writing books?
Normally, I don't know, about six months or so? This time, however, I've had a harder time shaking these characters, and though I've written a few first chapters for different books, I haven't been able to dive back in. For me, having started (and stopped) a few books that my heart wasn't into, I just know that I have to be ALL IN to really write a book that I am proud of. So I wait for inspiration to strike. Hopefully it will come soon!
Does your next book idea involve a unique challenge as this one did with its structure?
Well, that certainly is part of my hold-up right now! There is a sense of "can I top this last one," and until I have a way to do so, I'm kind of stuck. ☺ That said, I don't think I'd ever write a book in reverse again. It was just so, so, so difficult, and while I am so proud of the finished product, getting there almost broke me!
What events or appearances do you have coming up?
I'm staying close to home for this one and doing a few TV and media hits but mostly hanging in LA. Over the years, I've found that I can reach more readers sitting behind my computer and chatting with them than flying from city to city, and frankly, I prefer it this way. If anyone wants to reach out, I'm on Twitter at @aswinn or Facebook as Allison Winn Scotch. I love hearing from folks, so don't be shy!
Thank you, Allison! We support you now and always. ☺
Praise for BETWEEN ME AND YOU –
A POPSUGAR Winter Must-Read Selection
"In accessible and captivating prose, Scotch's narrative voice is at once impishly current and timelessly wise as she shows Tatum and Ben contemplating whether to simply let go. A thought-provoking romance that is fresh, insightful, and clever in its execution." —Kirkus Reviews
"Sharply written and well-paced, this will delight Scotch's loyal readers. Fans of Penny Vincenzi will appreciate an insider's view of Hollywood, while fans of Mary Alice Monroe and Sarah Pekkanen will enjoy this witty novel's ebbs and flows." —Booklist
"A smart, thoughtful look at marriage and love." —POPSUGAR
"Between Me and You is a truly original and exceptionally tender love story. This is the romantic and heartbreaking story of a glamorous marriage that raises questions about what breaks two people apart and whether they can ever come back together. Deft, wise, and daring, Allison Winn Scotch just keeps getting better and better." —Taylor Jenkins Reid, bestselling author of The Seven Husbands of Evelyn Hugo
BETWEEN ME AND YOU is available –
Interviewed by –
MM Finck is a writer, essayist, and offers query letter coaching and opening pages editing as The Query Quill. She is the Vice President, Communications for the Women's Fiction Writers Association. She also oversees WWWB's Interviews and Agents' Corner segments. Her women's fiction is represented by Katie Shea Boutillier of the Donald Maass Literary Agency.
She is a member of the Women's Fiction Writers Association and past contest chair for the Women's Fiction Writers Association 2016 Rising Star writing contest for unpublished authors. Her work has appeared in national and regional publications, including skirt! magazine.  http://www.mmfinck.co
Her work has appeared in national and regional publications, including skirt! magazine. When she isn't working on her work-in-progress PIN UP, you can find her biting her nails over her novel #LOVEIN140 which is currently on submission, belting out Broadway tunes (off key and with the wrong words), screaming herself hoarse over a soccer match (USWNT!), learning to play piano (truly pitifully), building or fixing household things, or otherwise trying to squeeze more than twenty-four hours out of every day. She is active on Facebook, Twitter, Goodreads, and Litsy (@MMF). Say hi!  http://www.mmfinck.com/queryquill
Category: Interviews, On Writing