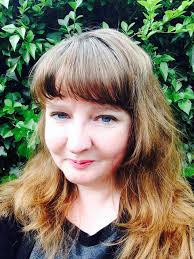 Who are you? Why are you nothing like the profile of you I imagined? And what are you doing in my story?
These are questions I find myself asking almost every day as I toil over my second novel – the legendary tricksy, troublesome second novel. Surely writing it cannot and should not be harder than the first, when I was wracked with self doubt about whether I could write? After all I know I can do it now, and I got to type those blessed words The End last time round. I learnt so much, mostly the painful way by getting it wrong, but I've worked out some of the rookie mistakes, I can spot a bear trap and I even know the occasional short cut.
I've have grown in confidence – but so have my characters, and where they carefully tiptoed onto the page of book one, this time they are slipping, sliding, skating all over the place as I chase behind them desperately trying to pluck at their coat tails as they take my story and fragile confidence off with them.
Looking back at writing my first novel, Electric Souk, I see it was like my first love, a grand passion. It burnt within me, I had to write it. This second one has niggled rather like a grouchy date who wants to share/steal your dessert. The experience of writing it seems flat after the first novel, no fireworks this time. Instead, I got to 50,000 words and started to feel queasy as I wondered should I even be going out with this one and its characters who seem to be one thing and are now something else all together? In today's Tinder world, should I swipe left perhaps?
Readers and reviewers of my first novel commented on the creeping dread, its dark undercurrents and uncompromising ending. I hoped these would be markers of my writing that I would take into my second novel. Electric Souk, takes place in the Middle East as the Arab Spring erupts, follows an intimate story of trust and betrayal experienced by a young, Irish woman flees recession and heartache for adventure in the desert, set against the wide turmoil of the region.
I knew that this was the sort of storytelling that I had always loved, how individuals are affected and cope with their own torments whilst the world around them is also in flux – that telescoping between the jealousies, losses and elations we live day to day and what happens when these emotions are magnified at a societal level. My favourite writers all do this brilliantly: Leo Tolstoy, Isabel Allende, Gabriel Garcia Marquez, Elena Ferrante and Jennifer Johnston.
Although I could never put myself in their league, I want to aspire to their gut wrenching story telling, and the provocation for my second novel should keep me in that direction. After all how can writing about this disturbing fact be anything but dark –  0.6% of the population has psychopathic traits, and the average hospital employs three thousand people, so who exactly is hooking up your IV?  But, my characters are most definitely not behaving.
Given half a chance they're off on a romp. My setting is suffocating me, and the complexity of the layers of my theme terrify me that I can't pull it off. Plot has taken over, and maybe that's right as I'm only still at the draft stage,but it has me in a spinning, nauseating grip.
In May at the Listowel Writers Week I was lucky to hear Richard Ford speaking about trying to talk yourself out of the second novel, and he cautioned you have to take it as seriously as getting married. Just as I was considering swiping left! The second novel, he said, 'must ask crucial and critical questions.' As a writer, it's no longer about you, you move beyond being a first timer and if you are to continue you must 'be invested with new important questions,' be 'truthful' and discover if you truly can 'fashion a vessel beautiful enough to capture the imagination.'  You have to ask if you can be good enough again, can you dig deeper still?
Richard ended his talk with a clarion call, 'Writing is not about making a living, but making a difference, especially today. The world depends upon it.'
Hearing those wise words has been pivotal for me. I know my second novel doesn't lure me. It's pain, not pleasure, mostly. So it's tempting to let my characters do as they please, go off on a romp. And it's so easy to get caught up in the seduction of wanting novel two to be bigger, better, shinier – and maybe the market's taste for romps promises that?
Novel one gives you the taste of the apple and you just want more, to hook that massive deal. It becomes ever hungry, insatiable lust – not love. But as Richard Ford talked of the need for 'hope to triumph over experience' and how novel two is an endeavour of ethics, I have re-focused on the questions and the original pinprick of an idea for a story that has jabbed at me for years and is the reason for novel two, why I must write this second novel. So, at last I feel myself falling in love truly and my fingers twitch to get back to my manuscript, and catch the tail coats of my characters. Embarking on the second novel and not just bowing out with the grand passion of novel one, sticking with it, means committing to a life-long relationship. To swipe right – till death do us part.
—
Rose McGinty was born with itchy feet, which she has yet to decide is a blessing or a curse. Certainly, surviving Hurricane Sandy, an earthquake, a spider bite, jumping 192 metres off the Sky Tower in Auckland, and nearly being arrested for inadvertently smuggling a rocket in Vietnam, make her wonder about locking
up her passport. But then, it was her adventures in the Middle East that gave her the itchy fingers to write.
Rose lives in Kent, where as well as enjoying writing short stories, flash fiction and poetry, she also paints. She works in community health services and has worked overseas in Ireland, Canada, Sweden and the Middle East. She completed the Faber Academy Writing a Novel course, under the guidance of Richard
Skinner, in 2015. Electric Souk is her debut novel and Rose says of her story, 'The parts of the story that are true, I probably wish were not; while the parts that are not, I probably wish were true.'
Follw her on Twitter @rosemcginty
About ELECTRIC SOUK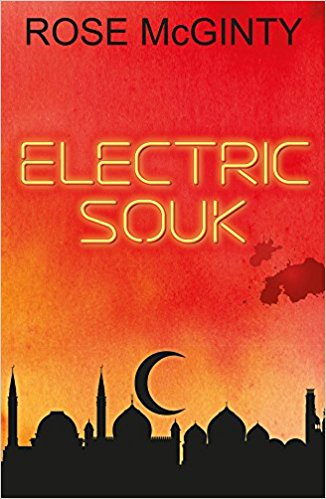 Ireland's gone bust, and with it Aisling Finn's life. She flees austerity for adventure in the desert. But the Arabia she finds is not that of her dreams. Everyone is chasing a fast buck, a fast woman and another G&T. Expats and locals alike prickle with paranoia. Debonair fixer, Brian Rothmann, charms Aisling with champagne brunches and nights at Bedouin camps.
But is Brian a hero or a desperate expat prepared to go to any lengths to get what he wants? Is this Aisling? Or is he using her as bait?
Her only hope is Hisham, a local activist. But where do his loyalties lie? Aisling faces severe peril when the sleazy expat and blood-lusting desert worlds collide, as the Arab Spring erupts. She has to ask, whom can she trust? Can she trust her instincts? Humanity blisters in this haunting, lyrical thriller about trust and treachery.
Category: Contemporary Women Writers, How To and Tips