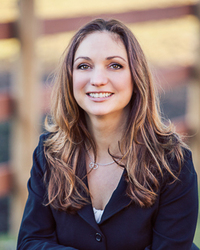 Let's face it. No matter which stage of life we're at, there never seems a good time to do that one thing that we know we want to do: the right time to have children, change jobs, go back to school, or…write that novel we've been wanting to write for the last twenty-three years.
Why is that? Why is the one thing that defines who we are in our dreams something we don't actually follow through with?
Whenever I go to a party someone will inevitably ask me what I do. I do a lot of things outside of writing fiction (edit novels and memoirs, design websites, create book trailers), but as soon as the words "I also write" are out of my mouth, the conversation changes.
Suddenly, the fellow partygoers' eyes light up, their hands grip their drink a little more fiercely, their energy zeroes in, and they fill me in—as if in secret—about their own aspirations of writing, their three half-finished novels/fifteen short stories/ramblings in notebooks laying under their bed. Most of the time the conversation ends with them saying they're going to get to it SOME DAY. When they have more time. When their children are in school/off to college/when they get help with their ailing parent/when their workload at their new job eases off.
Why is following through with writing that novel so difficult?  Lack of discipline? Fear of rejection? Fear of perfection?
Last winter I was lucky enough to see Anthony Doerr's talk in Seattle. The main premise was how the story ideas we carry around – so elegant, beautiful, shiny, all bedazzling in their splendor – are never the same when we get them out on paper. They look nothing like what we imagined. They are the torn, stapled together, filled in with black magic marker (as in Doerr's case), sketches of the ideas we thought about for years. They're never perfect. They will never live up to the expectations we had for them.
But with time, maybe we learn to love these distant cousins of our shiny ideas. We can learn to love the process of sitting and writing, of struggling to get our words out, of piecing together thoughts into awkward sentences until some day, there are a few that sparkle. Ones that speak to us. Ones that convey our deepest thoughts and meditations.
Why not try? If we don't do it now, then when will the time ever come? If it's not us that sits down to put these words to paper, then who will transcribe our greatest ideas? Who will take those ideas and portray them the way only we can?
"So as long as you write what you wish to write, that is all that matters; and whether it matters for ages or only for hours, nobody can say." Virginia Woolf
I say, do it. Don't wait. Don't go to sleep tonight until you've pulled out your idea, blew off the dust bunnies and sat with it. Meditated on it. Spent thirty minutes thinking about how to develop it. That thirty minutes is nothing in the grand scheme of your life, but it will bring you one step closer to achieving your dream.
Go on now. As my yoga teacher said in today's class, "Go slay your inner dragons." If not now, then when? If not you, then who?
—
Anne Clermont is a Canadian living in the U.S., born in Kraków and raised outside of Toronto. She spent fifteen years in California before relocating to the beautiful Pacific Northwest. She holds a BS in animal biology, and an MBA. Her background ranges from studying animal behavior to carrying out pancreatic cancer research at one of the world's largest and most innovative biotech companies.
Inspired to write Learning to Fall in part by her own experience of running a show jumping business, she now devotes her time to writing and working as a developmental editor. She lives on an island in the middle of Puget Sound with her husband and two children.
About Learning To Fall: 
One woman's leap of faith in a high-stakes world Brynn honors her passion for horses by studying at the toughest veterinary program in the country. Months from graduating, tragedy strikes—tragedy for which she can't help but feel responsible. Brynn feels suffocated by the weight of her father's legacy and his dusty hopes for horse show jumping success.
When Brynn's frenetic efforts to dig the family business out of debt fail, she's down to one desperate hope. Enter Jason Lander, who understands what it's like to walk away from the ring. The onetime champion agrees to train Brynn, and her horse Jett, for an all-or-nothing run at the prestigious Million Dollar Gold Cup. But going all the way means doing it his way, which has Brynn questioning her decisions, her loyalties, and her growing feelings for Jason— complicating her relationship with her lover.
Set in Northern California against a stunning backdrop of coastal hills and valleys, Learning to Fall is about discovering how to let go—and how to hang on with your heart. FOR FANS OF Seabiscuit by Laura Hillenbrand, The Horse Whisperer by Nicholas Evans
Buy Learning To Fall HERE
Category: How To and Tips