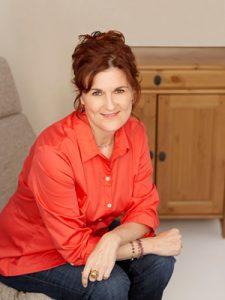 When I began writing In Praise of Difficult Women in 2014, I had no idea that it would publish during a time when women, by and large, had had enough. Writing and publishing books continues to be the occupation of the tortoise living in the era of hares on speed. Who knew time would be up?
The research took a solid year, and the writing another two, but I've been working on this book without knowing it my entire adult life.
My mom died when I was 17. I was an only child from a small family, and there were no other older women – no grandmothers, aunts, or cousins – to model for me what it meant to be a woman in the world.  I had always been an avid reader of biographies.
The first "grown-up" book I owned and loved was Born Free, naturalist Joy Adamson's story about raising the lion cub, Elsa. In college, I found solace reading about women like Frida Kahlo (her work was finally being celebrated), Martha Gellhorn, and Josephine Baker. I worshipped Jane Goodall. They became my role models, my personal icons and household saints. I loved them, I wanted to emulate them. They helped me figure out what it was like to be a woman in the world with a rich and full life.
It became second nature to me to look to women in the public eye for guidance and substance, since I was otherwise quite alone in the world. I collected their stories and took them to heart. I really had no idea how to create the kind of life I wanted, one where I was my own woman, beholden to no one. Like the women I'd admired, I wanted to be the leading lady of my own life.
Then, a few years ago, I was talking to my editor about what I might write next. Like most writers, there are always a few ideas simmering away on the front burners. I started telling her about all the women who had come to feel like family, about Frida and Martha and Amelia and Josephine and Jane.  About how they were fervid and brave and stubborn and more independent than any man I knew. We made a joke about Binders of Difficult Women, and suddenly there I was, outlining a book of essays in which I would examine the lives of celebrated women through the lens of their difficult personalities.
It turned out to be much easier than you might imagine. It doesn't take much to be considered a difficult woman. Any woman who honors her true self more than she does the expectations of the culture in which she lives is difficult. Any woman who cares less about what other people think than what she thinks about herself is difficult. A woman whose primary goal in life is not to please, or be pleasing – yes, so very difficult. Do I even need to say that a woman who speaks up is difficult?
I'm often asked who of the 29 heroines is my favorite. It's a tough question. Each of them inspires me in different ways. Some demonstrated physical bravery (Amelia Earhart, Jane Goodall, Martha Gellhorn, Josephine Baker); some lived, and continue to live, outlandish lives of great style and panache (Edie Sedgewick, Diana Vreeland, Margaret Cho); some have stood up for an important cause they believed in, risking their status as a beloved icon (Elizabeth Taylor, J.K. Rowling); some have had a hand in reconfiguring the expectations of women in the modern age (Gloria Steinem, Helen Gurley Brown); some I flat out love, and always have, simply for their cantankerous ways (Nora Ephron, Carrie Fisher).
After having spent several years with these glorious, sometimes maddening, women, my take away is that there is no one right way to be difficult. We are all daughters of the time and place in which we're born and raised. We are blessed with different personalities, temperaments, flaws, and passions, yet we can all be difficult in our own ways. We can all accept, even celebrate, that sometimes we will upset, anger, and disappoint people, but as that is the cost of being fully human, we are fine with being called difficult.
—
About IN PRAISE OF DIFFICULT WOMEN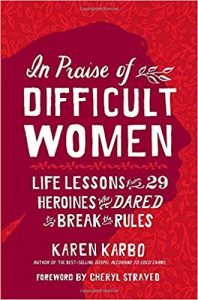 From Frida Kahlo and Elizabeth Taylor to Nora Ephron, Carrie Fisher, and Lena Dunham, this witty narrative explores what we can learn from the imperfect and extraordinary legacies of 29 iconic women who forged their own unique paths in the world.
Smart, sassy, and unapologetically feminine, this elegantly illustrated book is an ode to the bold and charismatic women of modern history. Best-selling author Karen Karbo (The Gospel According to Coco Chanel) spotlights the spirited rule breakers who charted their way with little regard for expectations: Amelia Earhart, Helen Gurley Brown, Edie Sedgwick, Hillary Clinton, Amy Poehler, and Shonda Rhimes, among others.
Their lives–imperfect, elegant, messy, glorious–provide inspiration and instruction for the new age of feminism we have entered. Karbo distills these lessons with wit and humor, examining the universal themes that connect us to each of these mesmerizing personalities today: success and style, love and authenticity, daring and courage. Being "difficult," Karbo reveals, might not make life easier. But it can make it more fulfilling–whatever that means for you.
In the Reader's Guide included in the back of the book, Karbo asks thought-provoking questions about how we relate to each woman that will make for fascinating book club conversation.
Karen Karbo is the author of fourteen award-winning novels, memoirs and works of non-fiction including the best-selling "Kick Ass Women" series. Her 2004 memoir, The Stuff of Life, was a New York Times Notable Book, a Books for a Better Life Award finalist, and winner of the Oregon Book Award for Creative Non-fiction. A recipient of a National Endowment for the Arts Fellowship in Fiction, Karen's three adults novels have also been named New York Times Notable Books. Her short stories, essays, articles and reviews have appeared in Elle, Vogue, O, Esquire, Outside, The New York Times, Salon, and other magazines. Recently, she was one of the 24 writers selected for the inaugural Amtrak Residency. Most recently, she is the author of In Praise of Difficult Women: Life Lessons from 29 Heroines Who Dared to Break the Rules (National Geographic 2018).
Find out more about her on her Website http://www.karenkarbo.com/
https://www.instagram.com/karbohemia/
https://twitter.com/Karbohemia
https://www.facebook.com/karbo
Category: Contemporary Women Writers, On Writing