Books are great, the Internet can't be beat for looking up and verifying facts quickly, and libraries are awesome. When I'm researching a novel, one of my favorite places to spend an afternoon is in the dusty, musty, bookish-smelling stacks of a university library. With my list of sources arranged in alphabetical order by call number, I prowl the stacks from AA to ZZ, often needing to go to another floor, sometimes even another building across the windswept campus at the University of British Columbia. Yes, libraries are great, but even better are the academics who write all those books and articles.
I reached out to some of my fellow historical novelists about their experiences with subject matter experts and academics. The consensus? The vast majority of experts are happy and eager to share what they know with you. And many go well beyond just answering questions.
Following are some tips and advice gleaned from my own experience and that of the authors who kindly responded to my request for information.
Do your homework before contacting a subject matter expert. You don't want to waste an expert's time asking questions you could easily answer yourself with a bit of reading. Consult books and articles to become as conversant as you can with the subject and then prepare a list of specific questions to focus the discussion. Author Keith Skinner states: "I make sure to question experts only after doing my own exhaustive research, and have found them to be very generous with their responses and interested to hear about my Work in Progress. Provided you've done your own research, proceed boldly."
End an interview with a request for additional book and research recommendations. Most experts are happy to provide you with more references than you'll probably have time to read.
Keep the number of questions reasonable. A half-hour interview is about right, although if your expert wants to go on longer, sit back and enjoy! Author Margaret Storey writes: "Once I rang a local blacksmith with some silly questions and ended up chatting to two lovely gentlemen for a very long time, had a good laugh and got the information I needed."
Find experts by looking up faculty lists at universities, consulting bibliographies, conducting searches for specialist groups, and asking for recommendations. You can click the Ask a Librarian link on any Library website to get all sorts of academic questions answered.
Before contacting experts, familiarize yourself with their credentials and read their articles and books. Nupur Tustin, author of The Joseph Haydn Mystery Series, advises: "Showing that you've read their books and have done some work lets them know you're serious about getting the details right and also ensures you ask intelligent questions." Nupur also advises writers to include their web address in their signature line. That is great advice! Several experts with whom I've consulted have told me they checked out my website before replying to my request. They wanted to verify my background and learn about my books before connecting with me.
Elisabeth Storrs, author of the Tales of Ancient Rome series and co-founder the Historical Novel Society Australasia, mentions how she uses Academic.edu to find and contact academic authors. She states: "Remember that experts love history too and are keen to share their passion. My advice is to be polite and show you are serious about your work."
Another place to find experts, particularly in specific historical eras, is to seek out re-enactment groups and themed events such as Renaissance Faires. Emily Cotton, author of the Heirs of Andalusia series set in Renaissance Granada, advises: "You will find experts who are loaded with years of research, brimful of factoids and eager to share them with you. I have had professional jousters debate with each other in answer to a question regarding everything from the best signals for their horse to the pros and cons of various types of armor. And from garb to cookery, almost everybody at any faire is dying to info-dump on curious patrons. Beware!"
Approach experts with a polite email that includes a short description of your Work in Progress and a few sample chapters. In my experience, experts are most eager to help when I give them an opportunity to first read my work. Many want to be sure they are associating their names with writing that they personally like. For all three of my novels, I've been fortunate to have experts give me advice during the writing process and then to read drafts of my novel to catch stray errors. Several of them became almost as invested in the accuracy of my novel as I was and are now fans!
Thank experts in your acknowledgements. Several authors mentioned that they include historical notes at the end of their novels to cite books used while researching and writing their novels. Experts sometimes get surprisingly invested in your characters and go far beyond just making sure you get the facts right. Experts care a great deal about their fields of expertise and as a result, most welcome the opportunity to work with a novelist to bring their knowledge to a wider audience. An academic I consulted for The Muse of Fire told me how thrilled he was that someone apart from his students was interested in early 19th Century British theater.
Send complimentary copies of your novels to experts who have provided you with significant help. I think it's money well spent to let the people who have helped me know how much I appreciate them.
We are incredibly fortunate as novelists to be able to easily connect world-wide with experts in a dizzying array of subjects. I've visited with the curator of the Narrenturm—an anatomical museum housed in Europe's first insane asylum in Vienna; taken tea in London with an expert on 19th Century women composers; become good friends with a professor of medieval art history; and connected with several wonderful specialists in early 19th Century British theater. Each of them did much more than just answer my questions. They actively contributed ideas about plot and character motivation appropriate to the era I was writing in, and inspired me to explore all sorts of new ideas.
You never know what might come of your interactions with experts once you get the nerve to approach them – respectfully and after having done your homework. Elisabeth Storrs shares: "An archaeologist in Rome used my characters to voice one of her audiovisual exhibitions."
How cool is that?
—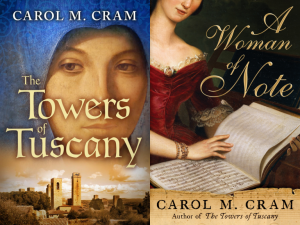 Carol M. Cram is the author of The Towers of Tuscany and A Woman of Note, both published by Lake Union Publishing. The Towers of Tuscany received the 2016 Chaucer Award for historical fiction pre-1750 and A Woman of Note won First in Category in the 2016 Goethe Award for historical fiction post-1750. Both novels were awarded Editor's Choice by the Historical Novel Society in the UK. Carol's third novel, The Muse of Fire, was released in January 2018.
Before switching her focus to writing fiction full time, Carol enjoyed a career as an educator and textbook author. For over two decades, she was an instructor of business communications and computer applications at Capilano University in North Vancouver and facilitated business writing seminars for numerous corporate and government clients.
She is also the author of over 50 textbooks on business communications and software applications for Cengage Learning in the United States. She holds a BA in English Language and Literature from Reading University in the UK, a Post-Graduate Certificate of Education from Durham University, an MA in Drama from the University of Toronto, and an MBA from Heriot Watt University in Edinburgh. She lives on Bowen Island near Vancouver, Canada, with her husband, west coast artist Gregg Simpson.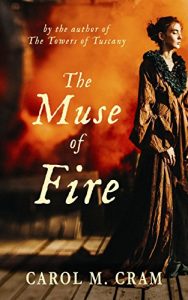 About THE MUSE OF FIRE
Abandoned at birth, the grandly christened Edward Plantagenet rises from London's Foundling Hospital to take charge back stage at the Theatre Royal, Covent Garden, only to be blind-sided when he rescues Grace—a young woman escaping an abusive father.
Grace finds an outlet for her passions as a Shakespearean actress, becoming ensnared by intrigues and setbacks that mar the pathway to stardom she craves.
Set against the tumultuous backdrop of the Old Price Riots of 1809, Grace and Ned find common purpose in a quest that threatens to tear both their worlds apart.
Category: Contemporary Women Writers, On Writing