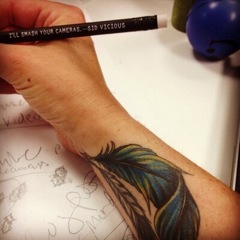 It's the subject of constant debate and since the beginning of the written word, authors and artists have been asked the question:
"Where did it all go wrong?"
If anyone has asked you this question, you may in fact have an advantage over other writers or creative folks. It implies that you can spin a good story, engage the reader with your tale and hold interest…you can stir emotion, good or bad, if you have some degree of relative insanity.
I've written about this topic before because it's fascinating to think about the theory that writers who have some form of mental illness can harness it into compelling copy. It's the thought that the severity of the affliction is directly proportionate to the amount of skill you possess as a writer.
It is true that many of the most prolific writers of our time may have "had a screw loose" by all measurable standards of the Diagnostic and Statistical Manual of Mental Disorders (DSM), published by the American Psychiatric Association. It's the bible for standard classifications of mental health diagnoses in the U.S.
Take Hemingway or Plath, for example.
Both brilliant writers who were (considered) clinically depressed. Their angst manifested itself in the drinking, the drugs, the failed relationships with family and significant others.
Has your life been filled with nightmares where you wake up in a cold, drenching sweat? Its subject could be fodder for a book – or at least a few good articles.
"I think I've only spent about ten percent of my energies on writing. The other ninety percent went to keeping my head above water."
 That's a quote from Pulitzer Prize-winning writer Katherine Ann Porter, who set out to prove the strong ties between creativity and mental illness. She ultimately discovered the majority of her subjects, who were authors, did have some type of underlying issue or diagnosis – but they flourished in spite of their problems, not because of them.
On the flipside in modern-day: There was a large-scale Swedish study in 2012 that proves the opposite of Ms. Porter's research.
It found that people working in creative fields, including dancers, photographers and authors, were 8% more likely to live with bipolar disorder. Writers were a staggering 121% more likely to suffer from the condition, and nearly 50% more likely to commit suicide than the general population.
The recent suicide of Robin Williams opened up the debate again between depression and creative genius.
We had all seen Williams over the years – in numerous films, stand-up comedy or on television. But there was a "dark side" to his life that found its way into the public: drug addiction. After he died, there were reports that he suffered from depression.
Neuroscientist Dr. Nancy Andreason in June's Atlantic Monthly chose the larger topic for her article, "The Secrets of the Creative Brain." Ms. Andreason has spent the last few decades studying the greatest creative minds of our generation – Star Wars filmmaker George Lucas and revered author Kurt Vonnegut are just a few notable names.
She found that many of her subjects had similar personality traits in common: all had a connection to bipolar disorder or some type of mental illness.
"Persisting in the face of doubt or rejection, for artists or for scientists, can be a lonely path—one that may also partially explain why some of these people experience mental illness", wrote Andreason.
So what do these extensive studies really tell us? That life's experiences and their translation are in the eye of the beholder. Must you have had a terrible childhood to create a piece of art? No. There's imagination, a wonder, a way of looking at the world unlike another.
Creativity requires pure emotion, that's it. The impulse of expression, no matter the root cause, is what moves you forward. Use what you can and make it shine.
—
Daniella (Dee) Latham is a senior writer and editor who spent the majority of her career in the advertising industry. You can connect with her on LinkedIn or Twitter: @CopyByDee.
Category: Contemporary Women Writers, On Writing