The business of creativity is changing, not just in the formats in which ideas are presented internationally but also how authors perceive themselves.
Today, a creator needs to be an 'authorpreneur'.
What is Authorpreneurship?
Author = originator
Entrepreneur = seller who initiates
Apart from crafting words or images for specific audiences, 'authorpreneurship' means learning the marketing, publicity, and technological, legal and entrepreneurial skills to establish and maintain creative self-employment in the business of ideas.
Some feel uncomfortable with the idea of considering creativity a business. And they feel overwhelmed with the digital skills needed.
As a format-challenged author, I was a perfect case study. But I also had a number of rights-reverted books which had been 'orphaned' when major publishers merged or take-overs occurred. I was still getting requests for them and I didn't have print copies. I wanted to give these titles a second chance as e-pubbed books, concentrated on my own site. Other well-published and new authors were in the same situation. They wanted to concentrate their own works on their own branded author site.
'Authorpreneurship' is a hard-to-spell, but apt title.
I'd used it for a number of years for my talks and workshops. I slowly accumulated answers to the most common questions creators were asking. It became a manual and then I decided to publish it as an e-book from my website. But, before I did, the Australian Society of Authors' Keesing Press, which specializes in useful books for authors, asked if they could print and e-pub the book for their audience, allowing that I could still offer it as an e-book from my website. A perfect solution.
Even those who find the concept of linking creativity and business a philosophical challenge will find common sense approaches in the book. Beginners, mid-career and established creators alike will find strategies to use tomorrow in 'Authorpreneurship'.
In the book, 'author' includes any self-employed creators in the core business of ideas, whether illustrator, designer, writer or multi-skilled innovator in various mediums.
Many 'authors' are very small businesses or sole traders in ideas but unless they operate in a business-like manner, they will not survive.
IP (Intellectual Property) is the core business while time, energy and idea management is part of the process. Great ideas will not reach audiences unless the creators can stay in business and survive financially.
Constant innovation and the need to keep up can be overwhelming, especially when you are the only person to do it all. Authorpreneurship is about sharing strategies which enable you to work effectively at what you most enjoy doing, but also provide ways for you to streamline the process, so you can sell your ideas for longer, in varied new formats and to larger audiences.
'Authorpreneurship is about investing in your creativity, without becoming exhausted or overwhelmed. Here is a selection of the chapter headings.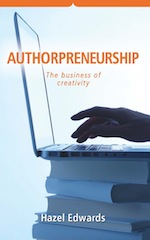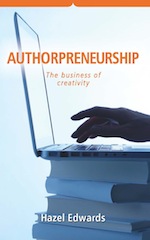 The Pro (Professional) section has chapters like:
Strategic Decisions
Asking for Payment and Costing Your Time
So You Want to Get Published
Using Author PR Photos
A Gentle Reminder for Conference Organisers
From Local to International
But it is the 20 part Hints section which contains shared advice from workshop participants which is most valuable for the general writer.
Proposals Rather than Gambles
Pitching for Business
Finances, Agents & Legal Stuff
Time &Travel & Energy Management
Confidence, Success & Reputation
Speaking Circuits
Structuring Public Speaking With Fewer Hassles
Speed Dating: Titles for Stories or Projects
Collaboration
Streamlining Research From Varied Sources
Improving Workstyle , Space & Image
Mentoring
Niche Market: Mentoring  Picture Books
Fans, Reviews, Critics and Privacy
Talkback Radio from an Author's Perspective
TV Interviews from an Author's Perspective
The Etiquette of Literary Events, Launches etc
Adaptations, Translations & Judging
Surviving Rejection
Health Warnings
I also include several case studies:
Charitable Educational Projects, Innovations & Contracting Payment
Long-Life Best Seller & Censorship: Cake-Eating Rooftop Hippo
Controversial YA Novel & Social Media Usage
Interestingly,  'Therapy Writing', the non-commercial section which I added at the last minute for those writing 'close to the heart' on 'passionate but maybe tragic subjects, has evoked the biggest response.
Cathartic writing as therapy is valid too, and the Hazelnuts group whom I mentor, are finishing their novels and non fiction, many of which are memoirs of challenging situations such as cancer or loss of a child.
The notion of 'crafting' with the audience as a priority, not just the writer's needs is a valid therapy and produces more effective writing, without the tone overwhelming the reader.
—
'Authorpreneurship;The Business of Creativity' published by Keesing Press is her most recent book. E-pub version available from her online bookstore
Follow Australian author Hazel Edwards on Twitter
@muirmoir
Visit Hazel Edwards' website www.hazeledwards.com.
A previous contributor to Women Writers, Women Books, visit her author page:  Hazel Edwards.
Category: Australian Women Writers, Contemporary Women Writers