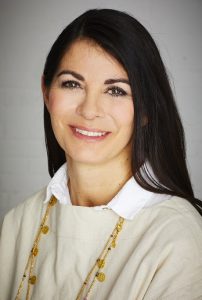 If anybody told me a few years ago that one day I would be sharing my story, giving TV and radio interviews and writing a book I would never have believed it.  But on 22nd September 2014, I decided to share my story publicly and it was posted on the website of The Forgiveness Project and I completely underestimated what the impact would be.
My story starts in the late 1970's when I was gang raped by two American teenagers when I was thirteen years old.  The rape impacted on my life in many ways but one of the main effects was the crippling shame and guilt that silenced me for many years.  
I wrongly assumed that people would feel about me the way I did after being raped; disgusted, contaminated and worthless.  My self-esteem was so low that I thought that being raped was a reflection of me somehow.  
So pressing the share button on my Facebook post that day was one of the bravest things I have done, as not many of my friends or family knew about my rape or that it had been so violent and near fatal.
Within moments I received so many responses from people I knew in the form of comments, texts, phone calls, emails, gifts and visits.  Mostly telling me how shocked they were as they no idea about my past.  Someone of my friend's also disclosed their stories of rape and abuse to me too feeling I would now understand their secret. And then I started to receive messages from women and men that I didn't know who thanked me for sharing my story as it had happened to them too.  In the first two weeks of sharing my story 25 people had privately messaged me, three sharing their story for the very first time.
I started to understand that sharing my story wasn't about me anymore but what it could do for others and I it encouraged me to carry on to give a voice to people who couldn't find theirs yet. The founder of The Forgiveness Project, Marina Cantacuzino, often refers to us as "Story Healers" rather than "Story Tellers" and now I completely knew what she meant by that.
Sharing my story that day has opened doors for me in ways that I never imagined and I have been invited to share my story at events, conferences, schools, radio and TV.  One of the most amazing things that I have taken part in was to be interviewed for BBC Radio 4 by Sir Trevor McDonald on the One to One show talking about redemption.  It was delightful to meet him but what took place after the programme was aired was more evidence of the power of sharing our stories.
I was contacted by a friend who told me that her mother had been listening in and she went on to tell her daughter that she felt exactly the same whilst I described my feelings of the guilt that I had brought it on myself and the shame of what would people think if they found out.
My friend asked her mother what she was trying to tell her and she went on to disclose that she had also been raped as a teenager and that morning was the first time she had told anyone about it.  She broke 64 years of silence and it made me wonder how many other people are out there living with a secret cloaked in shame that they never dare to reveal and could potentially take to their grave.  My friend's mother sharing her story of rape had a profound effect on me and every time I speak now I think of her.
When I share my story whether that's within the pages of my memoir, writing a guest blog post or speaking publicly I am very honest and I don't skip past the details of what happened.  I thought long and hard about including all of the details but I decided that if I'm going to share my story now that I'm not going to sanitise it to make it easier for people to digest.
It should make us feel uncomfortable and shocked when we hear what takes place during a rape.  People often tell me that I'm brave in sharing my story but I don't want to be considered brave.  I would love it to be considered normal!  I think shying away from the uncomfortable things in life help to keep them hidden and unspoken.
Every time I speak, at least one person in the audience will come up to me and speak to me afterwards to share their own experience of rape and I receive messages daily from my readers confiding in me.
It was the courage of someone else speaking out that helped me to find my voice.  Another woman from The Forgiveness Project was taken part in a Restorative Justice programme and was going to prison to have a meeting with the serial rapist who broke into her home and raped her.  I was blown away by her courage.
It was around that time that Marina told me she would like to feature my story on her website and reminded that I could remain anonymous if I wished.  But when I thought of the meeting that was taking place in prison, I thought to myself if she could meet him then I could share my name and face.
I was tired of hiding and feel ashamed and I realised that I'm not what was done to my body, we are all so much more than our events in our life and that I had nothing to be ashamed about.  The shame never belonged to me but the men who raped me.
We have seen recently with the recent #MeToo phenomena that when one person speaks up it encourages others to find their voice too.  It took me many years to find my voice but I won't be silent anymore and I will continue to speak out to help end the shame, stigma and silence surrounding sexual violence.
—
The sharing of her story publicly in September 2014, opened many doors for Madeleine in ways she never imagined and the invitations started to pour in.
She has taken part in both TV and radio interviews and has been invited to share her story of being gang raped as a teenager at conferences, events and schools.
She recognises that she was a victim of a crime that left her silent for many years, but has now found her voice and intends to use it.  Not just for her, but for so many who can't find theirs yet.
She is married and lives in Glasgow with her husband, three daughters, her cat, Suki, and dog, Alfie.  Her memoir, Unbroken, was published on April 4th 2017.
Follow her on Twitter https://twitter.com/madblack65
Find out more about her on her website https://madeleineblack.co.uk/
Watch STRONGER, a short film featuring Madeleine, on Youtube
About  UNBROKEN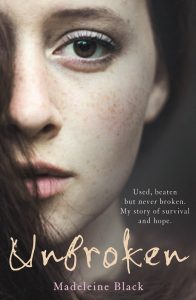 "For many years after that night, my memories of what happened after he held the blade to my throat and threatened my life were fragmented . . . difficult to piece together. It was too extreme, too violent for me to understand."
Living in a state of shock and self-loathing, it took her years of struggle to confront the buried memories of that first attack and begin to undo the damage it wrought, as men continued to take advantage of her fragility in the worst possible way. Yet, after growing up with a burden no teenager should ever have to shoulder, she found the heart to carry out the best revenge plan of all: leading a fulfilling and happy life. But the road to piecing her life back together was long and painful. For Madeleine, forgiveness was the key. True forgiveness takes genuine effort. It takes a real desire to understand those who have done us so much harm. It is the ultimate act of courage. In Unbroken, Madeleine tells her deeply moving and empowering story, as she discovers that life is about how a person chooses to recover from adversity.
Category: Contemporary Women Writers, On Writing