Before I became a professional novelist and after I left my previous corporate law gig, I spent several years on the executive team of a start-up company, Hybrid Mom, helping mom entrepreneurs and designers tell their stories and market innovative new products. Originally a print magazine, Hybrid Mom moved into the e-commerce world in 2009 right around the time I was looking for a break from my 13+ year law career.
The executive team needed a translator. More specifically, they needed someone who could speak lawyer. You see, the legal team and the creative team were constantly at an impasse because the lawyers were often saying words that sounded very much like "no" but really they were just confused about what the creative team was trying to do. And the creative team couldn't make them understand, because as mentioned before, the creative team couldn't speak lawyer. So – I came on board as a translator.
Gradually, everyone started to speak a more understandable language, at which point they realized everyone was asking the same (and all-too-familiar) question: How do we help our designers reach new audiences? How do WE reach new audiences?
We (the creative team AND the legal team) eventually rebranded Hybrid Mom as Hybrid Her (and later re-branded as ShopFunder) – in an evolving strategy to reach more and more audiences. Hybrid Her was named by ForbesWoman as a top website for women two years in a row, and helped launch and grow the brands of hundreds of successful entrepreneurs and designers. Not too shabby.
I brought many of the lessons learned from my tenure with the award-winning Hybrid Mom team when I transitioned to full-time novelist in 2014, three of which are specifically related to reaching new audiences. In no particular order (just kidding, this is the EXACT and necessary order!):
Don't talk about yourself all the time.
At Hybrid Mom, to help our entrepreneurs/designers sell their goods, we encouraged and helped them blog about and post about things other than themselves. For example – other entrepreneurs (even competitors) that they admired. And causes that inspired them. Some found this counter-intuitive and refused. They didn't sell as much as the rest. The simple proven truth is that generosity breeds connection (only when it's organic, of course!) and connection breeds commercial appeal, and if you never talk about anything other than yourself, you will never reach audiences beyond your original core audience, plus your core audience: Will.Get.Bored.
Find someone you respect and tell their story. Ask them to tell yours as well.
At Hybrid Mom, our primary service was telling the stories of our community of entrepreneurs/designers. We curated our community by exhaustively researching products and creators that fascinated us. We found people who had interesting stories that we didn't think were being told to a big enough audience. And we told them. (For example, just two of my many, many favorite stories from those early years were those of Jill Donovan, founder of Rustic Cuff and the sister designer team behind ellelauri).
Many times, our finds had followings in their respective local communities, but we were able to introduce them to audiences outside their neighborhoods though our national platform. We were also able to introduce them to each other, leading to many fabulous cross-promotional opportunities. In turn, Hybrid Mom/Hybrid Her grew in scale and scope, because our community reciprocated by telling our story – the story of an ambitious start-up company that believed the stories behind products gave the products themselves their value and distinguished those products in a market that was glutted with stuff.    
Many, many times.
The bottom line is that the book market today is in many ways similar to the entrepreneur/designer market of 2009. Don't believe me? Just substitute "Etsy" for "Amazon." It's easier than ever to launch a book into the world while it's harder than ever to make your story stand out.
Since 2015, I've been a member of the fabulous author-run marketing cooperative known as the Tall Poppy Writers, founded by best-selling author, Ann Garvin. What attracted me to the Tall Poppies was the mission of mutual celebration. The group was founded on the idea that collaboration – rather than competition – was the key to commercial success, an idea I firmly believed was true based on my prior start-up experience. Our growth over the last few years has been organic and deliberate.
We celebrate what we believe in – published female authors with fascinating and important stories to tell. Recently, many national brands have begun to reach out to the Tall Poppy Writers, wanting to tell our story. This has been a humbling development, and we continue to excitedly curate these opportunities to, in turn, tell the stories of brands that interest us. This is how we came to collaborate recently with Francis Ford Coppola Winery – a brand with storytelling at its core – who approached us last year to propose an exclusive feature of Tall Poppy Writers in a new packaged product entitled "Books & Bottles," best described by The Mercury News: " If your book club and your wine club had a love child, it might look something like this."
The Tall Poppy Writers and Francis Ford Coppola Winery had a natural synergy from the start and have begun telling each other's stories to our respective audiences, thereby reaching new audiences for both of us. Launched just this past holiday season, it's been an incredibly validating and successful relationship so far, and I love the way both of our pioneering groups have worked together to answer the big question: how do we reach new audiences?
The only thing left to do now is:
Repeat.
***
Amy Impellizzeri is a former corporate litigator, start-up executive, and award-winning author of fiction and non-fiction. Her debut novel, Lemongrass Hope (Wyatt-MacKenziePublishing 2014) was a 2014 INDIEFAB Book of the Year Bronze Winner and a National Indie Excellence Awards Finalist. Amy's newest novel, The Truth About Thea, (Wyatt-MacKenziePublishing 2017), has been called "clever, mind-bending and darkly original" (NYT Best-Selling Author Heather Gudenkauf) "thrilling and well-plotted" (NYT and USA TODAY Best-Selling Author Julie Cantrell) and a "perfectly compelling read all the way to the shocking end." (USA TODAY AND WSJ Best-Selling Author Kimberly Belle). 
Amy is a frequent invited speaker at Lawyers in Transition Meetings, annual Bar conferences, and creative writing workshops across the country. Amy is a member of the Tall Poppy Writers and the Past President of the Women's Fiction Writers Association. She is a 2018 Writer-in-Residence at Ms-JD.org. Keep in touch at www.amyimpellizzeri.com.
About THE TRUTH ABOUT THEA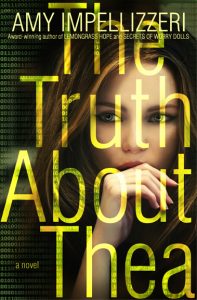 BOOKS & BOTTLES INAUGURAL PICK (A Francis Ford Coppola Winery selection); Featured by ABC27, The Huffington Post, and more, the latest from award-winning author, Amy Impellizzeri, is a taut psychological thriller with an ending no one can predict.
Will, a recovering heroin addict-turned-counselor for whom truth is a championed element to recovery, has a dark secret — shared with no one outside of his anonymous support meetings. Over twenty years ago, after an ultimatum from his pregnant ex-wife, Will was forced to assume a new identity and to fake his own death to get out from under his dealer and user-friends once and for all.
Now Will is counseling Thea, a young woman who has been diagnosed with a pathological addiction to creating fake social media identities, and who founded a start-up company ("Alibis") that created false internet identities for clients, many with suspect pasts. Thea's addiction has landed her in rehab as a condition of her parole — after a plea bargain cut short a court case that would have put both Thea and Alibis on trial for a very high-profile crime.
As Will works with Thea, the truth is put into motion on a collision course. Both Will's, and his young client's, secrets start to unravel … and reveal, at long last, the truth about Thea.
Category: Contemporary Women Writers, How To and Tips