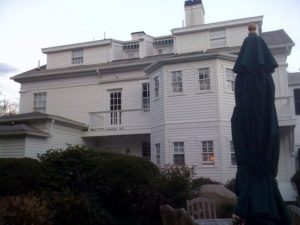 From the time Martha's Vineyard Writer's Residency showed up in my Google search for writing residencies, I knew we were meant to go the distance. I applied in the summer of 2009, and a few weeks later, I got an acceptance note from the director at the residency: Justen Ahren.
I used to be a part-time writer those days and a full-time head of marketing at an accounting firm in New York. I still remember walking into my boss's office in my crisp business suit, "I have to go to Martha's Vineyard. Can you please okay my two-week vacation? And I won't be reachable my phone or email there."
Who was this person? Close to five years in my management role, I had rarely been confrontational or assertive. But I felt this tug in my underbelly that I had to go to Point Way Inn, Edgartown, Massachusetts…home to the writing residency… and nothing could come in my way.
We were eight of us who showed up to Martha's Vineyard Writer's Residency. And, perhaps, I was the only part-time writer with a corporate background. It was my first time at any writing residency and I had no idea what to expect. The soul of the residency, Justen Ahren, his wife Sara Ahren, and children cooked us a homely meal and served some delicious wine on the first night. I appreciated how he trusted the participants and encouraged us to use the two weeks the way it worked best for us.
There was an immediate sense of intimacy established in the first few days. People understood why keeping a spoon at an angle might make you emotional and inspire a poem or why a long walk in the rain could lead to a personal essay. There were no judgments or criticism. Writers openly shared tips on books to read, agent queries, budgeted living etc. We did interviews and public readings. We talked about writing, life, the craft, and literature. The eight of us teamed up in pairs and took turns to cook dinner. We worked hard all day and prepared gourmet meals and partied at night. We should have made T-shirts that read, "Writers work, writers twerk."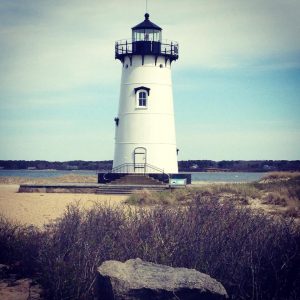 Every single day, I walked to the lighthouse in Edgartown. It was a place I went to clear my head. To revise my ideas. To be in the moment. To connect with nature. And to eventually heal in 2015 after my mother died. But that's for later.
At the end of the two weeks in October 2009, I had the outline ready for a new novel as well an informal recipe collection of all the gourmet cooking I had learned from my fellow writing mates.
I came back home to New York with new friendships, an inspired heart, but an inner turmoil: I wanted to be a full-time writer. In January of 2010, thanks to my husband's encouragement, I quit my day job in marketing to pursue my lifelong dream.
Starting 2009, almost every year, either every spring or fall, I returned to Martha's Vineyard Writer's Residency, which eventually became Noepe Center for Literary Arts, to write. Even ghost stories and creaking old houses couldn't deter me. But my relationship with time and writing changed. My devotion evolved.
While I almost always went there with a writer friend—it's good to have a confidante when you are at your creative peak and vulnerable— I felt a different level of conscientiousness towards my writing. I had given up my steady job in marketing, 401K, and financial security to explore full-time writing. Every poem, essay, or story that I sold was meant to pay my bills.
Noepe became that place for me where all that mattered was finishing my book and other writing deadlines and recharging my batteries. Out of the 11 published books of mine, at least 50% of them have been touched by this sacred space.
Returning to Noepe every year was like going back to visit my parents—my room remained mine. Room #2 was my mojo central, so all I had to do was inform Justen about my dates and I had the keys to Room #2.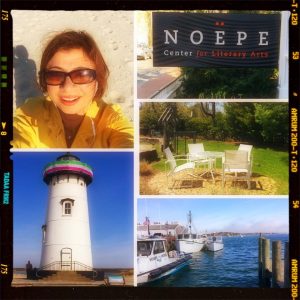 It was nothing fancy, Room #2 that is. I loathe massive spaces; the coziness of Room #2 made my words feel relevant. A small, Victorian room facing the entrance of the house—it allowed me to escape the noise and social scene inside the residency when I craved solitude. Espresso Love, which made mind-blowing sandwiches and a very English cup of Earl Grey tea, was a three-minute walk from my room.
I could easily disappear to catch a breather without disturbing anybody in the main room or kitchen. If I was tired from writing for 14 hours and too spaced out to have coherent conversations at happy hour, I would enter the house through the patio and crawl my achy bones into bed. On many afternoons, I dissolved into the beautiful patio furniture and wrote or read poetry. And, sometimes, sat in gratitude.
My life in New York was extremely demanding and busy—over the years, I started to work as a digital marketing consultant and taught yoga aside from my writing and teaching commitments. Plus, many friends and family shared their time with us. No complaints, but it all translated into long days. Even my family would remind me to treat my stay at Noepe Center for Literary Arts as "Sweta-time."
I was predictable during my 15 days at Noepe: Finish editing an entire book by Day #12. Take a break on day #13. Reflect on my experiences on Day #14 and submit newly minted personal essays. And fly back home to New York on day #15, almost always with crab cakes and freshly cooked scallops bought from the local fishery.
My spare time meant hitting the Pilates or yoga studio either with a friend or by myself. Going for long walks or a run on a daily basis. Any new friendships were a positive byproduct. All socializing was on evenings when I was resting my brain. Gossip or politics or drama has never interested me. My focus was to get words on the page.
As the years went by, Justen and his wife Sarah, they became like family to me. I felt protective of their marriage when I saw inebriated, female writers trying to hit on Justen. While Justen and I started to incorporate meditation into our daily writing, Sarah and I bonded over dancing and mindful living. Every year when I visited India, I brought back gifts for friends and family in the States. Sarah and Justen's name was always on the list.
In May 2014, right after I went back home to New York from Noepe, my mother suddenly passed away. My last conversation with her was about Noepe and a new Persian dish I had learned to cook there. I never wanted to return to anything familiar after my mother's death. I changed my workspace, key chain, journals, laptop—the list was endless.
But I did return to Noepe in 2015 because my mother would have hated if I gave up on my second home in the US. I spent my first Mother's Day, without a Mom to call, in my safe haven of Noepe wiping tears and editing my book "Wet Silence." It was like Room #2 knew how to soothe someone who had lost their mother.
In 2016 spring, when I returned to Noepe, I knew Sarah had lost her father not too long ago. We hugged each other and caught up over brunch. Around this time, I was in the process of launching my company NimmiLife, which helps artists and creative professionals nurture their wellness, using alternate healing sciences of yoga, holistic nutrition, and Ayurveda, and in turn elevate their productivity and creativity. I named the company after my mother, and I could so easily talk to Sarah about grieving and healing. And its impact on our creative journey.
While my focus on this trip was editing the upcoming collection of poems about my Mom, "Saris and a Single Malt," slated for August 2016 release, I also worked on the creative briefs for NimmiLife. Justen wrote the introduction for this very personal poetry collection. In Room #2, I stumbled upon the biggest revelations about my book and company. The silence between us was binding.
In May 2016, as I boarded the plane back to New York, I felt a tug again. Noepe Center for Literary Arts had changed my life and writing. I made some really good friends for life. I had found my voice in this space. I had gone from being a heart-broken daughter to a grownup creative entrepreneur aspiring to heal others…all in Room #2. I didn't know what I would do without my sacred haven. In yoga and meditation, we are taught the importance of detachment. But Noepe made me believe that some people and places we love…they become a part of our lives forever. Perhaps, I needed that assurance after my mother's untimely passing.
I was scheduled to return to Noepe in mid-May 2017 to work on my upcoming novel. In February 2017, while I was studying to become an Ayurveda Chef in India (what we eat affects our creativity!), I received an email from Justen. I felt a fluttering in my chest: the building where Noepe Center for Literary Arts was housed—parent to Room #2, fabulous writing community, lifelong memories, and many books—was in the process of being sold. It felt like I suddenly lost a family member and a home…all over again.
When I asked Justen how he was handling the news, because I was devastated, he wrote back a beautiful note. These words stayed with me, "No regrets. We will see what springs from the ashes."
——-XX——-
AUTHOR BIO: Sweta Srivastava Vikram (www.swetavikram.com), featured by Asian Fusion as "one of the most influential Asians of our time," is a bestselling author of 11 books, wellness columnist, and mindfulness writing coach. Sweta, whose work has appeared in The New York Times amongst other publications across nine countries on three continents, is an award-winning writer and a graduate of Columbia University.
She is also the CEO-Founder of NimmiLife (www.nimmilife.com), which helps creative professionals nurture their overall health and wellness, while elevating their productivity, using alternative healing sciences like yoga, Ayurveda, holistic nutrition, mindfulness, and yoga. Connect with her: Twitter (@swetavikram), Instagram (@SwetaVikram), and Facebook (http://www.facebook.com/Words.By.Sweta)
~~~~Writer | Marketer | Wellness Entrepreneur~~~~
Web: http://www.swetavikram.com
Facebook: http://www.facebook.com/Words.By.Sweta
Email: sweta@swetavikram.com
Twitter: http://twitter.com/swetavikram
LinkedIn: http://www.linkedin.com/in/swetavikram
Instagram: https://www.instagram.com/swetavikram
Category: Contemporary Women Writers, On Writing