WHAT IS SHE WRITES UNIVERSITY?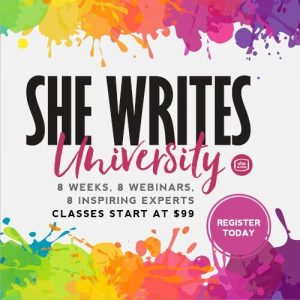 She Writes University is the only online, live webinar-based writing program backed by a community of nearly 30,000 fellow writers and led by an elite faculty of bestselling and award-winning authors, publishing professionals, and subject-matter experts. You'll learn alongside writers just like you and from women who are leading the way in publishing.
Unlike other webinar-based programs that are pre-recorded, our teachers will be teaching live at these events. You'll have the opportunity to engage them with during a live Q&A following each class, plus a follow-up one-hour Q&A session online—all included with the cost of enrolling.
She Writes University is back for Spring 2018 with 8 one-hour webinars followed by live Q&A sessions with each instructor.
The semester kicks off on April 5, 2018, with a webinar by Jesmyn Ward, the two-time National Book Award-winning author of Sing, Unburied, Sing. Register for individual classes, or register for the entire semester and save with the 8-class bundle.
Classes include: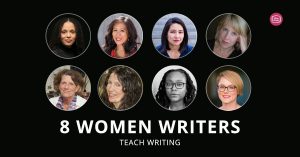 "Voice: How to Find Your Characters' and Your Own" by Jesmyn Ward
"Moral Choices: How to Transform a Good Book Into a Great One" by Caroline Leavitt
"There's More (And Less) To Memoir Than What You Remember" by Abigail Thomas
"Where Do I Begin? How to Grip Readers From the First Page" by Margaret Wilkerson Sexton
"Surviving and Thriving as a Working Writer" by Christina Baker Kline
"Did That Really Happen? Writing Real Characters" by Kirstin Chen
"Plot and Story: How to Hook Readers and Keep Them Reading" by Lisa Ko
"The Modern Author: Understanding Sales Data, Rankings and More" by Carly Watters
Each class includes a 60-minute live webinar including Q&A and access to the secret Facebook group where each instructor will hold a 60-minute LIVE Facebook chat after class so you can ask additional questions.
Each class is $150, or you can purchase the entire semester for $800.
Register now at www.shewritesuniversity.com.
Category: On Writing