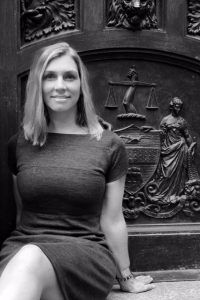 Hello, my name is Amy Impellizzeri, and I am addicted to …
My newest novel, THE TRUTH ABOUT THEA, centers around a woman who ends up in rehab for social media addiction, and I confess that the idea for this novel came to me in jagged pieces over the last few years in which I have wondered – for no small moment – if I myself am addicted to social media.
I remember the first time the specter of this addiction occurred to me. It was when I was reading Jess Walter's Beautiful Ruins a few years ago, and was startled by the description of one of the character's morning routine.
"[Claire] reaches for her silenced BlackBerry, takes a data hit: seven A.M., sixty-one degrees, nine new e-mails, two phone calls, and a simple text message from Daryl: what up-"
Gasp.
Walter could have been spying on me in bed.
For years, my BlackBerry rested on my nightstand for a similar morning ritual – right up until I left the practice of law in 2009, at which point the BlackBerry became an iPhone, and data hits began including messages and notifications via social media that had come in through the night as well.
For the duration of my 13-year corporate law career, there were no rules about appropriate times of day for communication. Messages might be sent at odd hours of the day and night. Indeed sometimes they seemed to be sent as tests. Messages about document reviews or draft contracts seemed to contain hidden, read-between-the-line subtexts.
You're not sleeping, are you?
You wouldn't want to waste billable hours, would you?
When I exited the practice of law, I left behind billable hours and surly clients and partners. I took with me, however, certain unshakeable habits – like my preference for taking notes on yellow legal pads and the expectation of 24-hour communication.
And lucky for me, I transitioned from the world of law to the world of writers and readers.
In my experience, writers (and readers!) rival lawyers in their near obsession with being constantly accessible and communicative. Midnight tweets, early morning writing and reading marathons, and all-nighters are not frowned upon in the book world. But unlike in the law firm where I used to work, in which a walk down the hall at 2 am would land you in a conference room full of haggard looking comrades, writing at 2 am can be a lonelier venture.
Enter social media – a world of virtual connection with like-minded hazy eyed souls offering empathy, humor and the occasional distracting hedgehog or recorder videos. I love it. I'm grateful for it. I'm a little even – well, addicted to it.
After all, "addicted" means literally: "physically and mentally dependent on a particular substance, and unable to stop taking it without incurring adverse effects." And I am certain that without the connection I find on social media to writers and readers I have never met (and maybe, will never meet), I could never keep up this crazy life of writing that I have grown to love and need so desperately.
The writing sustains me. It is my only creative outlet, and my most authentic means of expression, and without it, I'd be, well lost. I don't bother to say I could give it up if I wanted to. Because I don't want to. And I can't. Ditto for the connections I've come to rely on that make the writing make sense. Yes, I meet fellow writers and readers at bookstores, and book festivals, and conferences, and live events. But not at 2 am. Not on a random Wednesday morning. Not while I'm waiting for soccer practice to end and mulling over a new scene in my head. Not when I'm struggling with a new story idea. Not when I need it.
I value those impromptu and unscripted connections that come in via social media and through data hits 24/7. And I confess, it's the connection that I need, that I crave, the reason for putting the art out into the world, rather than just keeping it to myself.
I'm sure it is an addiction after all.
So, hi.
My name is Amy Impellizzeri, and I am addicted to social media.
And as for Thea Brown? From my new novel, The Truth About Thea? Is she also addicted to social media?
Well, I guess you're just going to have to figure that out for yourself.
Feel free to let me know when you figure out the truth. Even if that means sending me a message at 2 am on a random Tuesday.
#OwnYourTruth
Xo
Amy
—
Amy Impellizzeri is a reformed corporate litigator, former start-up executive, and the award-winning author of fiction and non-fiction. She is the immediate past president of the Women's Fiction Writers Association and a proud member of the Tall Poppy Writers. She lives with her family in rural Pennsylvania.
Follow her on Twitter @AmyImpellizzeri
Find out more about her on her website http://www.amyimpellizzeri.com/
About THE TRUTH ABOUT THEA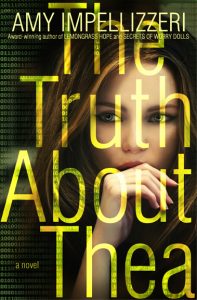 Will, a recovering heroin addict-turned-counselor for whom truth is a championed element to recovery, has a dark secret — shared with no one outside of his anonymous support meetings. Over twenty years ago, after an ultimatum from his pregnant ex-wife, Will was forced to assume a new identity and to fake his own death to get out from under his dealer and user-friends once and for all.
Now Will is counseling Thea, a young woman who has been diagnosed with a pathological addiction to creating fake social media identities, and who founded a start-up company ("Alibis") that created false internet identities for clients, many with suspect pasts. Thea's addiction has landed her in rehab as a condition of her parole — after a plea bargain cut short a court case that would have put both Thea and Alibis on trial for a very high-profile crime.
As Will works with Thea, the truth is put into motion on a collision course. Both Will's, and his young client's, secrets start to unravel … and reveal, at long last, the truth about Thea.
Category: On Writing