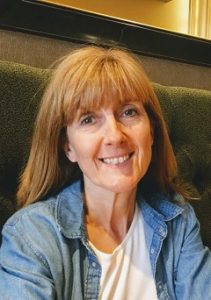 Pen to paper, fingers to keyboard, my need to write is innate. When I was ten years old my mother gave me a beautiful red diary with a small gold lock. To me, it was quite magical. I kept it in my drawer and began to write in it most days. When it was full, I continued to buy diaries – none ever as lovely as that one – but it didn't really matter as long as I could write. I continued to fill my diaries for the next twenty years.
I simply love the process of putting down words. Thoughts, feelings, ideas, poems, short stories, first chapters (there were plenty of them). English was the only subject I truly enjoyed at school. I continued to study literature at university where I happily put aside own my writing aspirations to become lost – literally with Kafka – in the world of other authors.
Life unfolded the way it does; travel, marriage, work and children. But the desire to write and be published never diminished. It was the one constant, the dream lurking behind everything else I did. I dabbled with short stories and magazine competitions, my husband trying to raise my spirits by pointing out I was a writer – I write, therefore I am. But of course, being published was the driving force, that elusive summit I wanted to reach.
I held my writing dreams close to me, only occasionally sharing it with my family a few friends. And then, something shifted. A feeling I was approaching my now or never moment. Perhaps knowing my eldest child was going to be leaving home provided the impetus.
I started to work on my story set in a guest house in St Andrews (I don't know why, I have a thing about hotels and guest houses) but this time it felt different. I stuck with it, refusing to give up. I had a perfectly good job but truth was, at times I was miserable. Looking back I can see my writing was fuelled by a certain amount of that misery and my writing took on a new significance.
Finally finished, I submitted my story to HQ Digital five days before my son left to study in Germany. Receiving a phone call from an editor a few months later was a very special moment, up there with the very best of them. Happiness, relief, vindication, worry (always worry) all rolled into one momentous phone call. Floating around for a few days telling people, especially those who knew how much it meant to me was a lovely time. The phone call from my editor left me in no doubt that I was in very professional hands and suddenly I entered a new world. An editor's faith is enormously reassuring and I am truly grateful and in awe of the work which goes on behind the scenes of publishing a book.
My words, private up until this point becoming public was a shock and I wasn't prepared for how exposed I felt. Not only did people read my novel, but to take the time and effort to review it was hugely humbling. I'm not sure I'll ever get used to that. I dissected every review, wanting to personally thank everyone who said something nice and apologise to anyone who didn't enjoy it as much. Luckily the former was by far the majority.
Social media has also been something of a (mostly good) disruption and shock to my life. Naively, I hadn't equated writing a novel with social media. Slowly I am crawling out from under my aged rock and getting the hang of Twitter.
In one way life has changed enormously. I now write full-time and for the first time I am truly content in what I am doing. But in other ways, nothing has changed. Meals need to be cooked, children need clean clothes and the dog needs to be walked. Flouncing off in an artistic strop and declaring I need to write simply won't work.
Someone said to me recently 'you're so lucky.' And I am, absolutely. But I'd have to counter that statement by saying there are moments when luck doesn't come into it. Waking at 3am to scribble down a sentence in my omnipresent notepad, or being unable to concentrate on anything because my head is literally swirling with words.
I'm so delighted and lucky enough to have signed a further two book deal with HQ Digital. But of course being published doesn't mean suddenly being able to find the right words to write in the right way. As with the first book, some words and ideas flow easily while others are torturous. The only difference is now I have a deadline to work to. The pressure can be good – I simply don't have time to prevaricate; and bad – I wish I had time to prevaricate!
As often happens, life gives and takes. My father passed away a few weeks before I was able to tell him – the one single person I wanted to tell most of all. Not being able to do that, to see his reaction, is something I'm still working on. Being published for the first time has truly been an amazing experience and more than anything, I am full of gratitude.
—
Maggie
 was born in London where she lived for ten years before moving to the highlands of Scotland. Here, her parents ran a restaurant where she developed excellent waitressing and people watching skills. After gaining a degree in English literature from the University of Glasgow she worked in various offices for many years dreaming of pursuing her passion for writing.
About WINTER AT WEST SANDS QUEST HOUSE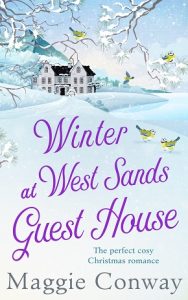 featuredCan Eva find love this Christmas?
Eva Harris has her hands full juggling a young son, a disobedient dog and running her thriving seaside guesthouse, so really the last thing she needs is to be distracted by her new neighbour, ridiculously handsome but arrogant Ben Matthews.
For one thing, she's got nothing in common with the man, Ben's a high flying lecturer at the town's university while she barely scraped through high school, for another he's fresh out of a relationship while Eva hasn't been on one single date since the death of her husband, seven years ago!
She's determined to keep her distance, but in a small town like St Andrews that's easier said than done, and it doesn't help that everyone, including her son Jamie, think Ben is wonderful! Breaking out of her sad but safe little bubble might be the hardest thing she's ever had to do, but Ben might just be worth the risk…
Perfect for fans of Jules Wake, Heidi Swain and Phillipa Ashley.
Praise for Winter at West Sands Guest House…
'A great Christmas read.' Grace at Good'n'Ready-y
'Pick this wonderful book up' Amazon Customer
'It was heartwarming' BananaTricky
Category: Contemporary Women Writers, How To and Tips