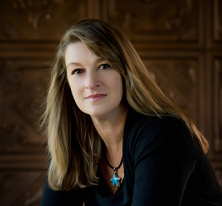 "All happy families are alike; each unhappy family is unhappy in its own way."
— Leo Tolstoy in Anna Karenina
I'm not sure that I agree with Tolstoy's observation that all happy families are alike. After all, each person is a unique soul with her own viewpoint. A person in a happy family may have her own compromises to make in order to keep the unit whole and functioning. She may choose these things willingly, but there is still a price to pay. So, is a happy family defined as one where the unit must take priority above each individual's needs, and if that's the case, is it really a happy family?
For writers, there's some good stuff in there.
It seems that unhappy families are often the centerpieces of stories, an exploration of what happens when two or more people are joined together but are in conflict. They could be at odds due to power, status, money, jealousy or other ambitions. They offer a wealth of exploration, an almost unending combination of dynamics to examine, and these dynamics can change each time a new person enters or leaves the room.
For writers, there's some good stuff in there, too.
I've always been drawn to exploring family dynamics on the page because those relationships shape people into who they are today. Even more compelling is that it seems similar experiences can impact people in different ways. For one, a broken home might inspire a vow to never marry while another person may instead make it a priority to create the perfect family life she never had growing up. It is these many paths born from similar experiences that spark my imagination and draw me to what family means and how much power it has in our daily lives.
In my debut novel, DAUGHTERS OF BAD MEN, my protagonist, Jamie Rush, is a skip tracer working in the fictional island town of Port Alene, Texas. She has grown up the child of con artist parents who were far more invested in peddling scams than parenting. Coping with a nomadic childhood, settling into one place only to leave, has shaped her in ways she won't admit aloud. Both parents have proven far from trustworthy, betraying her in big ways and small, forcing her to cut all family ties. That is, until her niece goes missing. She's pulled in again. Regardless of her domestic history, when blood is in trouble, Jamie will answer the call. She still longs for those relationships, even if they will never be what she deserves.
Why is it that our past is so difficult to leave behind, even when it is in our best interest? Especially when it's in our best interest? As rational adults, we understand that our past doesn't define us. And yet, in some ways, it does. It leaves its fingerprints, forming our behavior, our reactions, our decisions, in ways we don't always recognize. For fiction, this human behavior offers countless opportunities to explore the many facets of these relationships.
In writing about this kind of conflict, I'm mostly driven by the idea of what happens when our family isn't that safe place to fall. How does one function in the world when family can't be relied upon for even the most basic support? My characters find numerous ways to cope and compensate, to fashion families through other relationships or eschew relationships entirely. They make do.
Perspective is a funny thing. I'm fascinated by how siblings, even if they have grown up with the same parents in the same home, view their childhoods in different ways. One will perceive slights, or benefits, that another does not. Writing about these relationships is intriguing because each connection between two family members can be both familiar and unique; it is the space where those two intersect that so much can be explored. Novels require drama, and there are few places where drama is more plentiful than in the roles between mother and daughter, father and son, brother and sister.
In families, there can be many versions of the truth, and developing these backstories for my characters helps me better understand why they make the choices they do, especially the ones that seem irrational on the surface. It's only by peeling back the layers of the years of heartbreaks, joys, slights, trust, and insecurity that we come to understand why a character behaves the way she does.
It's been said that writers write about things they're trying to work out for themselves, and I believe there's some truth in that idea. Each of us has our own unique perspective, and though we may be far different than our characters, we can't help but sprinkle our own notions in their stories. I have found by forcing myself to examine my own behavior and my own reactions to certain situations, I gain a better understanding.
It can be uncomfortable at times, but it also helps me serve my characters better.  And even if they don't behave the way I want them to, with some effort, at least I can understand why.
—
Laura Oles is a photo industry journalist who spent twenty years covering tech and trends before turning to crime fiction.
Her short stories have appeared in several anthologies, including MURDER ON WHEELS, which won the Silver Falchion Award in 2016.  Laura's debut mystery, DAUGHTERS OF BAD MEN, was named a Killer Nashville Claymore Award Finalist and an Agatha Best First Novel Nominee. DAUGHTERS OF BAD MEN introduces Jamie Rush, a skip tracer working in a Texas coastal town. Laura is also a Writers' League of Texas Award Finalist. She is a member of Austin Mystery Writers, Sisters in Crime and Writers' League of Texas.
She lives on the edge of the Texas Hill Country with her husband, daughter and twin sons.
You can find her at lauraoles.com.
ABOUT DAUGHTERS OF BAD MEN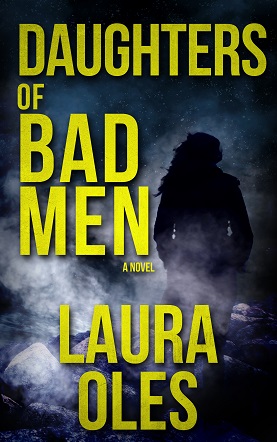 Jamie Rush understands what it takes to disappear because her parents taught her that skill long ago. Leveraging her knowledge of why and how people run from their own lives, Jamie has built a business based on bringing those in hiding back to answer for their actions.
When her estranged brother, Brian, calls and says his daughter is missing, Jaime initially turns down the case. Kristen has always been a bit wild, frequently dropping off the grid then showing up a few days later. But Brian swears this time is different, and even though Jamie vowed years ago to keep her conniving sibling at arm's length, she can't walk away if Kristen could be in real trouble.
As Jamie begins digging into Kristen's life, she uncovers her niece's most guarded secrets. Searching for the truth will put a target on Jamie's back and endanger the lives of those she love.
KILLER NASHVILLE CLAYMORE FINALIST
Book Reviews
A gritty and suspenseful tale of murder and betrayal, Daughters of Bad Men introduces PI Jamie Rush, a streetwise survivor who has walked on both sides of the law. When Jamie goes looking for her missing niece, she finds herself in the middle of a brutal turf-war that will test the bonds of friendship, family, and sisterhood. A five-star debut from Laura Oles!
– Elizabeth Buhmann, author of Lay Death at Her Door
Category: Contemporary Women Writers, How To and Tips