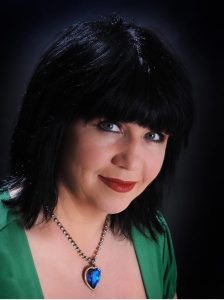 It was the wise old philosopher Friedrich Nietzsche who came up with the plum that what doesn't kill you makes you stronger and it does seem that he had a point.  Whilst huge traumas can be psychologically damaging, the smaller hiccups can actually make us more resilient.  In other words, a bit of misery does us good. A bit.
It would be grand to have nothing bad happen to you in life but it's not realistic.  Mainly because if you go around telling everyone how lucky you always are someone is eventually going to kill you.
It is not a cliché to say that going to the school of hard knocks is character forming, but only to those people who get up off the floor when they're knocked down and learn from the experience. Some people stay on the ground and become victims (avoid – they'll sap the energy from your bones via your ears). Some people enjoy being victims so much they carry their own body chalk around with them.  Others spring up – or if you're my age, grope for a chair and struggle to your feet feeling the angry protest in your knees – but however you do and whatever furniture you may call on to help, do get up.  
Let your brain think 'okay, that hurt, so let's not do that again.  Let's try it a different way.'  We learn from our mistakes, if we are lucky and open-minded enough to take from the experience.
Heartbreak is always hard. Every time it happens, it stings in direct proportion to the love you had for the person who stomped all over both your atria and ventricles, but what you do learn is how to deal with that over time. You learn that you will go through a natural process of grief. You know that you will enter denial at first: believe that Philippe has made a big mistake, has had a brain miswire.  He won't throw two years away.  He's knocking that blonde off because he's having a mid-life crisis.  (he's 28), or having his 7-year itch early.
 Then you will segue into anger – because Philippe is a git and how dare he do that to you!  Then the bargaining phase kicks it. you will think 'okay, we can get through this hiccup.  Come back and let's sort this.  I won't ask you to clean crumbs from the worktop and I won't have a headache every Saturday night'.  Then you realise that Philippe isn't coming back at all and the depression seeps in.  And you cry a lot, eat tubs of ice-cream and read your old love letters hoping to drag the past into the present.
 Finally, the cold hard truth sets in that you and Philippe have gone your separate ways and never again will he be filing down his corns onto your fireside rug.  In time he will be just a memory that causes you neither tears nor smiles.  
Heartbreak does not kill us, it bruises us and bruises heal.  And we learn that time is like Arnica and those sleepless nights will become less, that pain will go away but that there is a process we have to go through first.
We have all seen those pictures of the fat frumpy wife whose husband left her for a young bit of stuff.  For a few weeks she mainlines cheesecake, drinks too much vodka and then catches sight of herself in the mirror and realises she needs to change.  So she takes out the camera and does a selfie and it's awful, but that's her starting point.  Over the next few weeks, she joins weightwatchers, gets her hair done, bit of Botox or lip filler.  Next time you see her she's a feature in Take a Break with the headline 'Roger leaving was the best thing that ever happened to me' and she's a size 10 with hair extensions like a mermaid and she's having sex from chandeliers with her 20-year-old personal trainer.
We are grateful that some of our favourite entertainers in life are made of sterner stuff and didn't fold and give up when they were rejected.
Walt Disney was fired from his newspaper job because, his editor said, he "lacked imagination and had no good ideas." Beatrix Potter was rejected so many times she decided to self-publish Peter Rabbit.  It has now sold 45 million copies.  
Stephen King submitted Carrie to a publisher who told him that 'science fiction which deals with negative utopias do not sell.'   And we all know the stories about Fifty Shades of Grey and Harry Potter taking time to find the right publishing houses who were ready to take a risk.
Some say that 'what doesn't kill you doesn't make you stronger… it just doesn't kill you, that's all you get.' Some say that what doesn't kill you doesn't make you stronger  – it makes you weaker, but it does make you wiser. Whatever you think about Professor Nietzsche and his statement, one thing is clear – if it doesn't kill you, it makes you a survivor.
The best steaks are tenderised, pummelled a bit, given a bit of a hiding with a square wooden hammer.  The strongest plants grow in hardy soil.
Once upon a time there was a girl who wanted nothing more than to be an author. She kept sending off manuscripts over the years to agents who told her that though her writing was publishable, her stories were crap. Reject.
So she carried on working in the office of a wool mill until she got a new job working for a prestigious cruise firm who owned a ship which took people on holidays around the Hebrides.  And one day, after selling the top cabin for £10k she was pulled into the office and was sure that a bonus was in the offing,  only to be told that 'We are going to have to let you go.'  'Why,' said this girl, mouth agape with shock. 'Because your accent is better suited to the textile industry where you came from' said the boss.   And the girl cried for a fortnight and then she got mad, then she wanted to get even.  And from then on she started writing books so stuffed with Yorkshire and their textile industry accents that they would have choked her old boss.  And when one of them got published she never looked back.  And that girl was me.  
Luckily we writers are scavengers in life, we turn the poop we encounter in our lives into words of gold.  We are the masters and mistresses of extreme recycling.  
With any luck, we authors will experience just enough of the character-forming stuff to enrich our writing but never enough that we don't want to hold the pen again.
—
Milly Johnson is a Sunday Times top 5 best selling author, an after-dinner speaker, professional joke-writer, poet, copywriter and winner of Come Dine With Me.  She comes from Barnsley in South Yorkshire where most of her books are set.  She unashamedly writes happy endings though her books are full of all the dark – as well as the light – stuff of real life.  She is the mother of teenage boys and owner of five pets so her glamorous author life is offset by a lot of washing, ironing and mopping.  The Perfectly Imperfect Woman is her fourteenth novel.
Follow her on Twitter millyjohnson
About THE PERFECTLY IMPERFECT WOMAN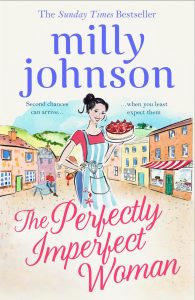 The brand new novel from the Sunday Times bestselling author of The Queen of Wishful Thinking – a gorgeous read full of love, life and laughter.
Marnie Salt has made so many mistakes in her life that she fears she will never get on the right track. But when she 'meets' an old lady on a baking chatroom and begins confiding in her, little does she know how her life will change.
Arranging to see each other for lunch, Marnie finds discovers that Lilian is every bit as mad and delightful as she'd hoped – and that she owns a whole village in the Yorkshire Dales, which has been passed down through generations. And when Marnie needs a refuge after a crisis, she ups sticks and heads for Wychwell – a temporary measure, so she thinks.
But soon Marnie finds that Wychwell has claimed her as its own and she is duty bound not to leave. Even if what she has to do makes her as unpopular as a force 12 gale in a confetti factory! But everyone has imperfections, as Marnie comes to realise, and that is not such a bad thing – after all, your flaws are perfect for the heart that is meant to love you.
The Perfectly Imperfect Woman is the heart-warming and hilarious new novel from the queen of feel-good fiction – a novel of family, secrets, love and redemption … and broken hearts mended and made all the stronger for it.
Praise for Milly Johnson:
'A glorious, heartfelt novel' ROWAN COLEMAN
'Absolutely loved it. Milly's writing is like getting a big hug with just the right amount of bite underneath. I was rooting for Bonnie from the start' JANE FALLON
'Bursting with warmth and joie de vivre' JILL MANSELL
'Warm, optimistic and romantic' KATIE FFORDE
Category: Contemporary Women Writers, On Writing