Ever hear your high school prom song and land square on your butt in the middle of the dance floor wearing that poufy confection with shoulder pads you thought looked awesome in the 80s? Or tear up when your wedding song plays on the oldies station at the hair salon? Or maybe reminisce about the soft feel of your boyfriend's lips in that nervous first kiss you shared while Bon Jovi played on the car radio in his tricked out Camaro?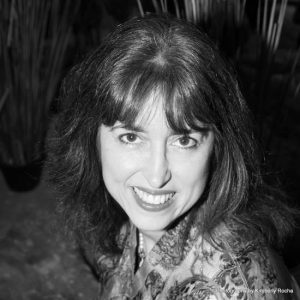 According to research, just thinking about a certain song can evoke powerful memories and teleport us back to relive those times with graphic emotional detail. Words and music tap into different sides of the brain, giving us a double whammy when it comes to recall.
In Richard Harris and Elizabeth Cady's Kansas State University media and memory study[1] entitled, "Autobiographical Memories Cued by Popular Music," they found that simply seeing an album cover or a song title could elicit memories as vivid as when actually hearing the music and lyrics. The reason? Any of those smaller cues can trigger the song to be "heard" in our head. The study showed that songs evoked memories most associated with events and people, usually attached to a specific time in the subjects' lives. They also found that many of the participants from the same era associated strong memories with the same popular song.
Music, second only to scent, has always been one of the most powerful memory cues for me. My life's personal soundtrack from the summer of 1981, the year I graduated high school, happens to trigger some of my fondest memories. Hearing Diana Ross and Lionel Ritchie sing "Endless Love" dumps me back into my best friend Leah's baby blue Gran Torino.
I'm riding shotgun on a Friday night as we push the speed limit along the dark roads leading up to the now-defunct Playboy Club in Vernon, New Jersey hoping to gain entry into the nightclub with some fake IDs and her father's stolen membership key—our passport to meeting boys for some dancing and underage drinking.
While the Cars song, "Let's Go" and Journey's "Anyway You Want It," remind me of nights later that summer in my boyfriend's maroon Firebird as he circled Packanack Lake singing along with Ric Ocasek and Steve Perry. I can still feel Danny's silky, brown hair under my fingertips and taste the beer from the six-packs of Miller Light in his cool kiss like it was yesterday. During my first year of college that fall, I met the boy who would replace him. Our relationship would always be tied to the tunes of Boston and Journey's Escape album. Though married to other people, we've remained lifelong friends, and to this day, neither of us can listen to "Don't Stop Believin'"without thinking of our time together in college.
When I decided to write Surrender My Heart about two high school flames reuniting thirty-five years later to confront emotional secrets of the past for a second chance at love, I had some interesting choices to make. The biggest choices, by far, were how to tie their past and present into a compelling story and how much to share.
Music was the first thing that came to mind. Kitty and John graduated in 1981, the same year that I did. Together, we share an era. This gave me an opportunity to riffle through my own musical past and weave together an authentic platform of music and pop culture as a backdrop for their narratives.
My developmental choice, with the approval of my editor, was to present critical events in both timelines—past and present—as they happen in vivid, immediate detail without the filters created in summarized flashbacks. What we get is a story within a story, and that choice reflected on the book's cover. We see Kitty and John's younger selves with a picnic basket heading into a future filled with promise framed between their resting heads.
In the book, John's older brother, Ben, leaves behind his record collection in a milk create, which provides a rich musical canon of songs from which to choose. The iconic sounds of Peter Frampton, Cheap Trick, Boston, and Lynyrd Skynyrd all contribute music to Kitty and John's narrative. Like my boyfriend, Danny, John has a perfect tenor voice and sings Cheap Trick's "I Want You to Want Me" to Kitty at their junior prom to her shock and delight. Lynyrd Skynard's "Simple Man" plays while he and Kitty are relaxing in his bedroom after school, and for him, it evokes a memory of his mother sitting him down with his brother after she takes them and runs from John's abusive father.
His mother explains how important it is live a good life, to respect women, and to be better than their father. Not only are the songs in Kitty & John's playlist a backdrop for the story, these songs remind them of what they had, what they lost, and how much they want it back. But only the dead know the secrets Kitty still keeps. Their story leads us on a journey of redemption, forgiveness, and the consequences of making the best of the worst choices.
So what about you, what songs evoke your personal time machine?
You can find Kitty & John's Playlist on Spotify here: http://bit.ly/Kitty_John_Playlist
and read the first three chapters of their story here: http://www.lgoconnor.com/site/books/surrender-my-heart/
[1] Kansas State University. "Popular Songs can Cue Specific Memories, Psychology Research Shows." ScienceDaily. ScienceDaily, 23 January 2009.
——-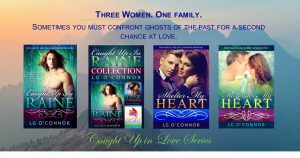 LG O'Connor is a member of the Romance Writers of America. A corporate marketing and strategy executive for a Fortune 250 company, she writes romantic women's fiction and paranormal romance. Caught Up in Love is her first romantic women's fiction series. She is also the author of the urban fantasy/paranormal romance series, The Angelorum Twelve Chronicles. A native 'Jersey Girl,' she's always in search of the perfect cup of coffee and fine Italian leather. Her perfect hero always keeps the heroine fed. You can find recipes, which first appeared on USA Today's Happy Ever After blog, from the sexy hero of the award-winning Caught Up in RAINE in his new cookbook, Recipes from Raine's Roost aka Jillian's Kitchen, available online where all fine books are sold.
Website / Blog: www.lgoconnor.com
Sign up for L/G.'s Newsletter to receive two free books!
Find her on Facebook: https://www.facebook.com/lgoconnor1
Follow her on Twitter: https://twitter.com/lgoconnor1
Check out her photos of whippets, food, and fashion on Instagram: http://www.instagram.com/lg_oconnor
About SURRENDER MY HEART
Two Old Flames. One New Destiny.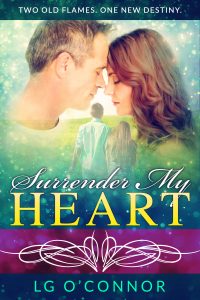 For decades, Katherine "Kitty" McNally has secretly loved John Henshaw, the man lying shot and unconscious in the hospital bed next to her. Then again, maybe not so secretly. Those closest to her, including her soon-to-be ex-husband, have suspected it for years. Their story ended with a gunshot wound the last time, too. Life seems to have taken her full circle, but only the dead know the secrets she still keeps.
Detective John Henshaw fell in love with his "Kat" the moment she became his geometry tutor in high school. When they graduated, he thought their future was sealed. Wrong. Enter life's nonstop curveballs. The worst two moments of his life were the two times he lost Kat. After thirty-five years and one failed marriage trying to forget her, he can't escape the fact that he's never stopped loving her. Maybe it's just his ego, but he could swear he sees a spark of love in her eyes every time she looks at him. It's why he stays in the New Jersey town that holds his most painful memories. It's why he accepted his place decades ago as a family friend to the McNally sisters.
As John recovers from his hospital stay in Kitty's care, they slowly rediscover each other. This is Kitty's last chance to confront her past and rekindle their love—if John can forgive her once he learns the truth.
Category: Contemporary Women Writers, How To and Tips