What do university presses publish?
Although university presses focus on scholarly works, some also publish books meant for a more general audience—poetry, essays, memoirs, short story collections, and, in certain cases, novels. These titles tend to fall on the literary, rather than commercial, side of the spectrum.
My path to publication
My first novel, Maranatha Road, will be published this fall by Vandalia Press, the creative imprint of West Virginia University Press. Previously under agent representation, the book garnered interest with publishers in New York but did not receive an offer of publication. Vandalia then became my first choice, in large part because it's an award-winning publisher of short story collections and literary novels by authors I admire.
When the press publicized an open call for submissions, I consulted the guidelines and sent in the material requested, including a cover letter and sample chapter. Since some (but certainly not all) of their books have a connection to Appalachia, I explained in my cover letter that the story takes place in western North Carolina where I'm from. I was also able to mention that Maranatha Road won the Knoxville Writers' Guild contest and that various journals had published short stories based on the manuscript.
Based on this initial submission, Abby Freeland, the acquisitions editor, emailed and asked for the entire manuscript. I knew it was still a long shot. Like other publishers, university presses receive hundreds or thousands of submissions every year from writers all over the world and they can only request a small percentage for further evaluation. An even smaller number—sometimes as few as one or two per year—end up with an offer of publication.
Thankfully, Abby liked what she read and we embarked on obtaining approvals from a series of readers. This rigorous process, akin to the peer review that scholarly works undergo, can take several months. Other university presses use a similar system, relying upon readers who are literature professors and/or published authors. Each reader submits feedback, which often suggests substantive revisions to be completed before the manuscript can advance to the next reader. These revisions might involve changing the plot or character development, clarifying specific scenes or switching the order of events, or emphasizing one storyline or theme over another—all designed to make the manuscript stronger.
If the manuscript survives the reader process, then the acquisitions editor prepares a submission package for the board of directors, which must vote on any publication contract.
Once a manuscript is under contract, it is copyedited, proofread, and designed, just as it would be at a commercial publishing house.
Most university presses submit advance copies to Kirkus Reviews, Publishers Weekly, Library Journal, Booklist, and other review outlets. Many will also send representatives to trade shows such as the Association of Writers and Writing Programs conference as well as regional book-related events.
According to Abby, the sales and marketing staff at university presses view their authors as the most essential part of their toolkit. Authors are expected to publicize their work aggressively and on multiple platforms, including being active on social media and appearing at bookstores, writing conferences, and book festivals.
Advantages of university presses
Although university presses don't compete with "big NY" when it comes to author advances or sales numbers, their publications carry prestige in literary circles and are well-regarded by booksellers and industry organizations.
The timeline at a university press can be slightly shorter than at a commercial publishing house. In my case, the board of directors voted on Maranatha Road roughly nine months after my initial submission. Because the substantive revisions were completed during the reader review process, the press is able to release the novel approximately twelve months after we executed the publication contract.
In addition, university press authors may have more input into marketing plans, award nominations, and cover design than those with commercial publishers. Even more importantly, the author develops a close relationship with his/her editor throughout the process.
Suggestions to keep in mind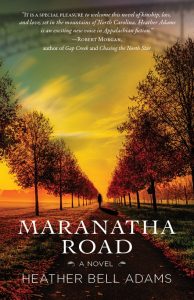 If you're interested in pursuing publication with a university press, research is key. To increase your chance of success, you'll want to submit to presses that publish works similar to yours.
Submission windows and guidelines vary. The University Press of Kentucky accepts fiction, short story, and poetry submissions only during a designated window in the spring. Although Story River Books, an imprint of the University of South Carolina Press, is currently closed to submissions, future submission periods will be announced on its website. UNC-W's Lookout Books requires an agent unless you've published with their literary journal, Ecotone.
Be sure to submit what the press requests. For example, Louisiana State University Press asks for a one-page summary plus a brief sample from the manuscript. Indiana University Press requires a prospectus, including information about the potential audience and suggestions for appropriate reviewers.
Contests offer another avenue for approaching certain creative imprints. Mercer University Press hosts annual book awards and the winner of each category receives an advance and publication contract. If you have a novella, consider submitting to the novella contest sponsored by Miami University Press. The University of Georgia Press publishes a short story collection through its annual Flannery O'Connor Award.
These represent only a few examples of the university press options that might be available depending on your project. In our ever-evolving literary climate, it's exciting to see the creative imprints of university presses taking risks and championing original voices from both first-time and experienced authors.
Thanks to Abby Freeland for her input into this article.
—
Winner of the James Still Fiction Prize, Heather Bell Adams has published short fiction in The Thomas Wolfe Review, Pembroke Magazine, Deep South Magazine, Clapboard House, First Stop Fiction, Gravel, Broad River Review, and elsewhere. Maranatha Road, which is her first novel, tells the story of two women—Sadie Caswell, whose son dies shortly before his wedding, and Tinley Greene, the young stranger who shows up claiming she's pregnant with his child. It releases September 1, 2017 and is available for pre-order April 15 wherever books are sold.
Category: How To and Tips