Grace Bonney is the author of IN THE COMPANY OF WOMEN: INSPIRATION AND ADVICE FROM OVER 100 MAKERS, ARTISTS, AND ENTREPRENEURS (Artisan, 2016) and the founder of design blog Design*Sponge. Her first book, DESIGN*SPONGE AT HOME, became a national bestseller. The New York Times called D*S called "Martha Stewart Living for the Millennials." The site reaches over two million readers across the globe per day.
Grace is passionate about supporting all members of the creative community; she runs an annual scholarship for up-and-coming designers, writes a free business column for creatives, and is the host of a weekly radio show, "After the Jump," which reaches over 500,000 listeners per episode.  She founded the "D*S Biz Ladies Series" in 2008, which began as a national series of meetups for women running creative businesses. The series now lives on as a weekly column on the site where business owners can receive free advice and guidance on setting up and growing their creative businesses.
Grace has worked as a contributing editor at Domino, House & Garden and Craft magazines, and as a freelancer with top publications like New York Home, Food & Wine, In Style, Better Homes and Gardens, New York Magazine and more. She's been a featured guest on Good Morning America, The Nate Berkus Show, The Martha Stewart Show, the Martha Stewart Radio Show, NBC's The Chew.
After 12 years in Brooklyn, Grace now lives in New York's Hudson River Valley with her wife and their three pets.
We are so pleased to welcome Grace to WomenWritersWomen['s]Books.
Let's start from the beginning, your beginning.
Where did you grow up? How did that shape who you are?
I grew up in Virginia Beach, Virginia. It's a beautiful, beachy place to live, but I never quite fit in. I was an "indoors" kind of kid who preferred writing and reading to surfing at the beach, so a part of me was always longing to move to a big city one day. For long time I thought I'd go to college in Washington, D.C. (and almost did) and live there and work in political journalism, but I ultimately wanted to follow fine artists and creatives wherever they went, and when I found out most of the actors, artists and writers I knew were moving to New York City, I decided to go to NYU and try my luck there. I ended up falling in love with the city, Brooklyn in particular, and lived there for 12 years.
What are some crafts you enjoyed as a child? 
Decoupage! You could not keep me away from a bottle of Mod Podge. I decoupaged everything in my room during middle school- with varying degrees of success. I was obsessed with all things New York City and covered my side table in clips from the NY Times newspaper. It was a gluey sticky mess, but I loved it.
Favorite television show?
Modern Family. It's not a perfect show by any means, but I'm pretty traditional at heart and I love any storyline that proudly features LGBTQ families and adoption.
Favorite way to relax?
A really long walk with the dogs. I did a 6K with our dog, Winky, last weekend and it was the most fun I've had in a long time. I came home exhausted and so restored from all the fresh morning air.
How did IN THE COMPANY OF WOMEN come to be? Is it the book you set out to write or did it surprise you?
This book has been building inside of me for a long time. It began as a Post-It note on my laptop with the words "BOLD WOMEN" at the top. I had a short list of women I admired for having strong opinions and not being afraid to use them. I wasn't connecting with the lifestyle community's obsession with soft/meek/quiet women and I so desperately wanted more role models that weren't afraid to be loud and take up space. Then when I started looking at that list I thought it would make a great magazine. But then I realized how many amazing businesses these women represented and how powerful it would have been to me as a young person to see these women as examples. That image, of a young girl seeing someone like Jodie Patterson or Kathleen Hanna, doing amazing things and constantly speaking up, really gave me the motivation I needed to change course with my book (which was originally supposed to be a DIY tome) and follow my heart.
How did Design*Sponge come to be? Is this the blog that you set out to design or has it surprised you?
Design*Sponge began with very simple goals: to create a place to talk about the things I loved that I wasn't seeing in traditional media. I was living in Brooklyn and seeing the very beginnings of the design scene there. It was all about found materials and embracing things that were could handmade and no one was covering these artists (yet) in magazines, newspapers or TV. So I started Design*Sponge as a place to celebrate those artists and it really took off on its own from there. I always hoped I could use the blog as a portfolio of my writing to one day apply for a job at a magazine, but the site ended up being the dream job I never knew I could have.
How did you find the women you interviewed for IN THE COMPANY OF WOMEN?
I would say of these women came from a list off the top of my head that had been floating around for years as idols and mentors of mine. Women like Christine Schmidt, Laura Jane Grace, Nikki Giovanni and Thelma Golden. But when I sat down to really look at them as a group and to ensure that we had a true diversity of stories and backgrounds, the list grew and expanded to include women I had never met before. It truly took a village of amazing women to connect me with some of these people and it could not have happened without the outpouring of support that came from me announcing this project. Women from across the globe reached out to suggest people they admired or help me connect with women I wanted to include.
Where was the furthest you travelled for your interviews?
The book covers women across the globe, from Australia and Nigeria to Mexico City, but with only two months to complete the project, I was limited to domestic travel for in-person interviews. Our most hectic, but so worth it, bit of travel was a train-to-plane-to-car whirlwind trip to interview musician Laura Jane Grace outside of Detroit. We faced 7 hour plane delays, terrible storms and terrible traffic to get to her recording studio where we stayed for maybe 30 minutes before racing back to the airport. But that interview was one of the best parts of the book for me, so it was absolutely worth every second.
What do you hope readers will take away from IN THE COMPANY OF WOMEN?
My hope is that every person reading will see themselves reflected in these pages in some way and have a moment of inspiration and recognition that they too can follow their dreams. Whether it's a young girl who sees Lorna Simpson and realizes she could be a photographer or an older woman who sees Linda Rodin and is inspired to try her hand at a third or fourth career change, I hope that spark of excitement and hope comes from seeing people who look, sound and remind people of themselves.
Did coming out publicly as gay in 2013 have any impact the work you felt drawn to or how you worked? If so, how?
Absolutely! It was the biggest and most important decision of my life at that time and it fundamentally changed how I viewed the world and my work in it. I became hyper-aware of how little visibility there was for the LGBTQ community in my world of blogging and I had to own my responsibility in that, too. I hadn't made visibility and inclusiveness enough of a priority at Design*Sponge and that changed immediately. That extended to include all people who have been under-represented, like people of color, differently abled people and people who have greater life and work experience who are too-often overlooked in favor of people under 25. That change opened my eyes in such a huge way and inspired this book. I wanted to see more of the women and the stories I knew in my experience reflected in a serious (but still relatable and inspiring) business setting, so I decided to devote my time to creating that book.
Many creatives have a hard time supporting themselves financially. We are often asked to do our work for free. What is your advice on this?
I did a lot of work for free in my early years. From writing and styling to consulting and hosting events. I was incredibly privileged to be able to afford to do that "work for exposure" early on, and that's certainly not something everyone can do. So while I'd like to say that it can be worth it very early on (sometimes exposure does lead to paid work), it's not something everyone should or can do. And no one should ever (ever!) feel pressured to do so.  My advice is to always counter with the question, "Can you tell me about your budget for this project?" and start the conversation there. It helps to have a rate kit for your services and send that back. I find a lot of people who say they don't have a budget actually do- and just want to see if they can get away with not paying you. There's no harm or foul in asking for what your work is worth to you. That may not always line up with their budget, but it's always good to open the discussion and see what's possible. Especially in the cases of student projects and non-profits, I'll often work with those events to secure sponsors specifically to cover my costs (like travel and lodging for a speech) if they can't afford it. There's almost always a little wiggle room to make things happen if you have the time to work and talk with people.
What have you learned about leadership (aka, being the boss) since D*S began?
This is the biggest challenge for me. I am always (always) working on trying to be a better and more effective boss. My biggest lesson is that I need to ask for what I want clearly, and not get too caught up in trying to be friends with people. Having wishy-washy directives only confuses people and doesn't give them clear guidelines of what is expected of them. I made that mistake for too long and I've learned now how much better it is to be direct and up front about what I need.
What projects do you dream of for the future?
I dream of more in-person events, or anything that connects people to share their stories and struggles more openly. There is so much to learn and discover about the people and companies behind the products and designs we love and my next chapter in life feels like it's heading in that direction. I could listen to people tell their stories- and what they've learned in their life so far- all day.
What do your book tour events look like?
I'm so excited for our events! They will be a celebration of honesty, transparency and vulnerability. Too many panel discussions focus on lighter topics, but I've gathered together amazing groups of women who are open to discussing all aspects of their life and business and how they work to learn, grow and support those around them. I think everyone, panelists and audience alike, will come away inspired, motivated and feeling new connections to people in their community.
What worked for you in your early days to expand your audience?
I benefited greatly from being an early adopter. But beyond that, I think staying true to my voice (and not the needs of a sponsor or investor or demands from the comment section) has helped convey a relatable and genuine voice at DS. Our audience numbers have remained steadily growing over the years and that sort of slow-and-steady community connection is something I'm really proud of. I prefer having a community of highly engaged and highly compassionate readers who are excited to come along on the journey with us over the years, to one that grows fast and furiously but at the expense of quality or our writers' basic needs for rest. We'll never be a site that churns out 20 posts a day, but we can promise to always be a site that puts quality and honest connections first.
To what do you credit the enormous success of D*S?
My number one goal is to always look for ways in which we can help our community serve a need that isn't being met. That means we're constantly talking to people, always pivoting and evolving to suit new needs and that we're always on the forefront of change in our community. That hard work has helped us stay relevant and connected to our audience in a larger way that I think had helped us continue to slowly grow over the years.
And finally…
Introvert or Extrovert?                      
Introvert, big time.  I love seeing people in person and connecting that way, but I always need a little down time and quiet time to rebuild afterward.
Do you like to keep your home as it is or Do you enjoy redecorating it?                  
Right now I love it as it is. I've really embraced the chaos that is life with three pets and it's helped me take my space less seriously and realize that the people and pets inside are more important than any object or decorative item.
Cooking or Being cooked for?
Both! I'm lucky to be married to an amazing cook, but nothing makes me happier than when she sleeps in and I get to make breakfast for her.
Jeans or Skirts?
Jeans. Always. Our dogs are always jumping up on us, so I've got to protect my legs somehow.
Beer or Wine?
I don't drink, so I've always got some sort of water + citrus combo kicking around in a glass.
Thank you, Grace, so much dropping in. Welcome to the WWWB family!  We will be supporting and rooting for you forever more.  ☺
IN THE COMPANY OF WOMEN –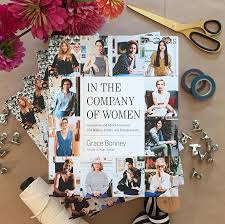 Across the globe, women are embracing the entrepreneurial spirit and starting creative businesses. In the Company of Women profiles over 100 of these influential and creative women from all ages, races, backgrounds, and industries.
Chock-full of practical, inspirational advice for those looking to forge their own paths, these interviews detail the keys to success (for example, going with your gut; maintaining meaningful and lasting relationships), highlight the importance of everyday rituals (meditating; creating a daily to-do list), and dispense advice for the next generation of women entrepreneurs and makers (stay true to what you believe in; have patience). The book is rounded out with hundreds of lush, original photographs of the women in their work spaces.
PRAISE –
"I want to rip out every page of this glorious book and hang them on my wall so that I can be surrounded by these incredible women all day long."
—Emma Straub, New York Times bestselling author of The Vacationers and Modern Lovers
"Grace's excellent book is full of empowering business advice from a diverse group of inspirational and talented women."
—Martha Stewart
"Grace Bonney has given us our favorite icons, heroes, and bandit queens in one of the oldest living forms of communication: a book. Enjoy, dear readers, for each page turn is a meditation on the power of the Divine Feminine."
—Jill Soloway, creator of Transparent
"These amazing stories will surely spark something deep within us all: the courage to dream and the fortitude to make those dreams happen."
—Joanna Gaines, owner of Magnolia, host of HGTV's Fixer Upper
"A joyful book that celebrates both the diversity of beauty and the beauty of diversity: in race, age, size, sexuality, and ways of thinking."
—Hanya Yanagihara, New York Times bestselling author of A Little Life
"A world of insight from an array of intriguing, trailblazing women. And the photography is gorgeous!"
—Padma Lakshmi, author of Love, Loss, and What We Ate: A Memoir
"I hope this book becomes an almanac that will continue to expound on the work and the lives of everyday cis, trans, and queer women and women of color who are building and becoming businesses, and that will remind other exceptional women that they are in good company."
—Angelica Ross, founder of TransTech and star of Her Story
 IN THE COMPANY OF WOMEN is available –
Amazon
Barnes & Noble
Your Local Book Store
Books-A-Million
Powell's
Outside of the US –
Waterstones
Amazon UK
Indigo
Amazon Canada
Book Depository
Booktopia
Other ways to bond with Grace Bonney –
Website                 Facebook              Twitter        Pinterest     Instagram
2016 Book Tour
Oct 5: New York, NY (Tickets and details here!)
Oct 6: Boston, MA (Tickets and details here!)
Oct 7: Austin, TX (Tickets and details here!)
Oct 13: Atlanta, GA (Tickets and details here!)
October 16: Chicago, IL (Tickets and details here!)
Oct 17: Los Angeles, CA (Tickets and Details here!)
Oct 18: Seattle, WA (Tickets and details here)
Oct 22: Rhinecliff, NY (Tickets and details here!)
Oct 25: Washington, D.C. (Tickets and details here!)
Oct 27: San Francisco, CA (Tickets and details here!)
Oct 28: Marin, CA (Tickets and details here!)
November 10: Philadelphia, PA (Tickets and details here!)
Interviewed by –
MM Finck is a writer, essayist, and book reviewer. She oversees WWWB's Interviews and Agents' Corner segments. Her women's fiction and is represented by Katie Shea Boutillier of the Donald Maass Literary Agency. She is a member of the Women's Fiction Writers Association and the contest chair for the Women's Fiction Writers Association 2016 Rising Star writing contest for unpublished authors. Her work has appeared in national and regional publications, including skirt! magazine.
When she isn't editing her novel, #LOVEIN140, you can find her belting out Broadway tunes (off key and with the wrong words), cheering herself hoarse over a soccer match (USWNT!), learning to play piano (truly pitifully), building or fixing household things, and trying to squeeze more than twenty-four hours out of every day. She is active on Facebook, Twitter, Goodreads, and Litsy (@MMF). Say hi.  http://www.mmfinck.com
Category: Contemporary Women Writers, Interviews