Caroline Leavitt is the American novelist who penned CRUEL BEAUTIFUL WORLD (Algonquin 2016), already on two Book Club Lists and an Indie Next Pick and praised by Marie Claire, Pop Sugar, Shelf Awareness, Minneapolis Star Tribune, New York Newsday, NPR's Weekend Edition and more. Caroline is the New York Times and USA Today bestselling author of IS THIS TOMORROW and PICTURES OF YOU, as well as 8 other novels. Various titles were optioned for film, translated into different languages, and condensed in magazines. She is the recipient of a New York Foundation for the Arts Award in Fiction, and a Goldenberg Fiction Prize.
She was also a National Magazine Award Nominee in Personal Essay, a finalist in the Nickelodeon Screenwriting Awards and a finalist in the Sundance Screenwriters Lab. A book critic for The Boston Globe, The San Francisco Chronicle and People, she has also published in New York Magazine, Psychology Today, More, Redbook, Parenting, and more.
PICTURES OF YOU was named one of the Best Books of the year by the San Francisco Chronicle, The Providence Journal, Bookmarks, and one of the top five books by Kirkus Reviews. IS THIS TOMORROW was named one of the Best Books of the Year by January magazine, and was long-listed for the Maine Prize, as well as being a Jewish Book Council Book Club Pick. She lives in Hoboken, New Jersey with the music journalist and author Jeff Tamarkin. They have a college-aged son.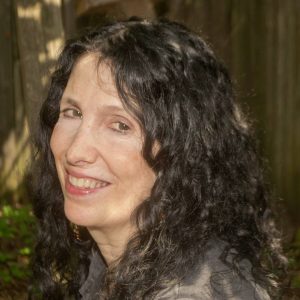 Let's start from the beginning, your beginning.
Where did you grow up? How do you think that shaped who've you become?
I grew up in Waltham, a suburb of Boston, which is now very hip and cool, but back then was very working class. I had three strikes against me: I was Jewish (kids asked me if I had horns!), I had asthma (I was bullied because of it), and I was smart. (There was a lot of, "Who do you think you are?"  But I spent a lot of time reading in the library and escaping my life, and then I began to write stories, and it saved me. It really saved me.
Strangest fear? 
I'm afraid to go to sleep. That's why I wake up at noon! I'm not sure why. I'm not worried about break-ins or demons, but I get scared. When my husband went to Norway on business for a week, I turned on every light in the house, camped downstairs, and watched movies until six in the morning when the sun came up.
Best meal you prepare?
Pasta with Pesto from our garden!  I could eat it for breakfast!
Favorite guilty pleasure?
Celebrity gossip. I'm always drawn to click bait, like Ten Celebrities Who Secretly Had Plastic Surgery!
Favorite television show?
The Knick. It was dark, brutal and wonderful.
CRUEL BEAUTIFUL WORLD is set against the Manson Murders and the Vietnam War. Why did you choose this era to tell this story?
Because there was a moment when the hope and promise of the 60s veered into the dark reality of the seventies. Woodstock turned into Altamont. Peace marches became bombings by the Weathermen. And then, of course, there were the Manson people—who looked like regular hippies, lived on a commune, but were very deadly.
CRUEL BEAUTIFUL WORLD is as lyrical and thoughtful your work always is. Yet this one is also pulse-poundingly suspenseful. How does a writer accomplish both?
Ha!  I wish I knew the answer to this. I think it's just rewriting and rewriting and thinking about structure. Also having a brilliant editor helps!
How did you draw on your own life experience for CRUEL BEAUTIFUL WORLD? What made you ready to tell this story?
I wanted to tell it at 17. I sat behind a girl in study hall who was engaged to a much older guy that she said was "a tad controlling." When she finally broke up with him, he stabbed her 43 times. I didn't understand how she could be with someone like that. Not yet. Not until ten years later, when my fiancé died two weeks before our wedding and I fell apart with grief. I felt the only way to stop the grief was to hurl myself into a new relationship. My new boyfriend started out great, but then he began to monitor what I ate (I was 100 pounds but he felt that was too fat), monitor my clothes, not let me see my friends or HIS friends (he thought I was flirting.) The only reason I stayed was because I knew if I left, I'd have to grieve again. And also, when someone quietly tells you terrible things every day for two years, you start to believe them. I didn't know who I was anymore. I finally was able to leave when he rewrote part of my novel without telling me.
But I wasn't able to write the story until four years ago, when I saw a posting by my high school friend's sister, who was still haunted by what had happened to her sister. Then I knew I had my novel!                                                                                      
This is a powerfully emotional book. Do the things your characters experience overflow into your real life emotions? Without spoilers, were there parts of the book that were hard to write?
Oh yes, I can't tell you the parts for fear of spoilers, but writing this book nearly did me in. I was in a state the whole time.
What do you hope readers get from this story?
I want readers to know that some things can be prevented, but something can't, and that sometimes you just have to let life wash over you, and take it in. I want them to know that there are many different kinds of love, and if you don't feel happy in a relationship, tell someone, anyone, and get help to get out.
What is the difference between literary, upmarket and commercial fiction? What draws you to literary?
I NEVER know the answer to this question! I always feel that a great book is a great book. I think those are marketing questions, maybe.
Do you have someone in mind that you hope to satisfy when you are writing?
I know this sounds odd, but when I am writing, I am writing the book for me. I'm writing to figure out an answer to something that has disturbed or haunted me. I feel that when you dig deep into yourself, that is when it becomes universal, when readers get to say, "Oh, me too.  Me, too."
What are your favorite story structure tools? At what points in your process do you use them and how?
I have story structure gurus I work with. John Truby is brilliant because he forces you to look at the deep moral underpinnings of story, so it is not just plot. Lisa Cron (Wired for Story, Story Genius) studied brain chemistry and how it relates to story and she is wonderful. Jeff Lyons at storygeeks.com has a gift at figuring out story, and Gina Sorell, whose amazing debut Mothers and Other Strangers, is coming this May 2017 from Prospect Park Books, has an intuitive sense of what works and what doesn't, and how to fix it. And of course, my husband, Jeff Tamarkin, weighs in.
I start out with a long synopsis—20 pages or so, and I show it to all of them and we talk about it incessantly.  And then I reach a point where I burrow down and I am in the storyworld, and all other conversation stops until I am finished!
What are some of things about storytelling you've learned since your first book?
I used to think that you had to follow the muse, that if you knew your beginning, middle and ending, there would be no surprises for you or for your readers. And I've discovered that is wrong, wrong, wrong. Structure is like the skeleton you need. Creativity comes in when you add on flesh, and hair color and type, and features, and then clothing, etc.
What advice would you like to give to aspiring writers?
Read everything. Write every day. NEVER EVER GIVE UP. One person's no is not the end of the world. Neither are ten peoples' no. My first novel was a success, but the next 7 were failures. They had a few great reviews, but I bounced around from publisher to publisher and my sales were maybe enough to buy groceries with. My 9th novel, Pictures of You, was rejected by my then publisher as "not being special enough." They didn't want to see any other work from me. I thought my career was over. Who would want to publish someone with 8 failed novels? But Algonquin did, and that "not special" book became a New York Times Bestseller.
Also, be kind to everyone. It matters.
What new authors do you recommend for fans of your work?
Gina Sorell, Mothers and Other Strangers, May 2017 Prospect Park Books
Alexander Maksik, Shelter in Place (not a new author, but a new author to me, and genius)
And finally…
Online News or Newspaper?  Both.
Yankees or Mets?  Sports is a foreign language to me!
Broadway Musical or Stand-up Comedy?  Broadway Musical, preferably starring my son!
Cheese or Chocolate?  Oh, this is a HARD ONE. Chocolate. But, but, but, what about gruyere cheese?
Summer or Winter?  Another hard one. If you mean summer with 80 degree temperature and no humidity, I'll take that. But if you mean summer with 104 temps and humidity, I'm going into the air conditioning.
Same with winter. Freezing cold and blustery. Nope, nope. But a gorgeous blue sky day with no wind? I love winter then.
Thank you, Caroline, so much for hanging out with us. Welcome to the WWWB family!  We will be supporting and rooting for you forever more.  ☺
Thank you for all these spectacularly great questions!   Love, Caroline
CRUEL BEAUITFUL WORLD –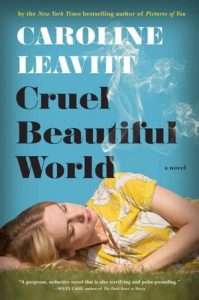 Caroline Leavitt is at her mesmerizing best in this haunting, nuanced portrait of love, sisters, and the impossible legacy of family.
It's 1969, and sixteen-year-old Lucy is about to run away to live off the grid in rural Pennsylvania, a rash act that will have vicious repercussions for both her and her older sister, Charlotte. As Lucy's default caretaker for most of their lives, Charlotte's youth has been marked by the burden of responsibility, but never more so than when Lucy's dream of a rural paradise turns into a nightmare.
Cruel Beautiful World examines the intricate, infinitesimal distance between seduction and love, loyalty and duty, and explores what happens when you're responsible for things you cannot fix.
PRAISE –
Featured on National NPR, Weekend Edition with Scott Simon
October Indie Next Pick
Book Club Selection for Reading With Robin
Book Club Selection for The Pulpwood Queens
BBC.com: 10 Books You Should Read in October by Jane Ciabattari
The Best Fall Books. InsideChic, Culture Page

"Backdropped by the Vietnam War and the Manson Murders, Cruel Beautiful World is a fast moving page-turner about the naiveté of youth and the malignity of power. Leavitt explores with a keen eye the intersection of love, family, and the anxiety of an era." Lily King,  bestselling author of Euphoria
"With Cruel Beautiful World, Caroline Leavitt has done the seemingly impossible: she's written a gorgeous, seductive novel that is also terrifying and pulse-pounding. Like the era it represents, Cruel, Beautiful World is at times hopeful and nihilistic, beautiful and savage, mesmerizing and dangerous." Wiley Cash, New York Times bestselling author of A Land More Kind Than Home and This Dark Road to Mercy

"Her real fascination is with sifting inner landscapes, tracking the suffering and fulfillment of her ensemble. A sympathetic tale. A readable, empathetic novel." Kirkus Reviews
"Tender and tragic, with a shooting star of hope, Leavitt's profound latest is about the connections of siblings, the mystery of love–first, last and dangerous–and the struggle to accept what can never be changed." Sara Gruen, author of At Water's Edge
"Deeply resonant and quietly powerful, Cruel Beautiful World has the heart-pounding moments of a thriller and the heart-warming moments of a perfect coming-of-age story." Jaclyn Fulwood, blogger at Infinite Reads
This haunting examination of the duty we have to family—and the irreparable consequences we abandon it—." Working Mother
BookBrowse members who've been reading this for First Impressions love, love, love this book. Expect her to reach "overnight sensation" with Cruel Beautiful World." BookBrowse: Ten of the most anticipated Fall titles
"A mesmerizing story about love, family, and obsession." Pop Sugar, one of 23 books you must read this Fall, Brenda Janowitz
"Fierce and tender at once, Cruel Beautiful World flames with the sweetness of new love, smolders with bitter regret, and burns with all the mistakes in between. . . a wonder of triumph and tragedy."
 –Miranda Beverly-Whittemore, New York Times bestselling author of Bittersweet and June
"Two sisters — impulsive Lucy and sensible Charlotte –make decisions that will haunt the rest of their lives. Set in the tumultuous late 1960s and early 1970s, CRUEL BEAUTIFUL WORLD is a riveting, fluid and compelling novel about love and loss, secrets and lies, and what it means to be a family. Its twists and turns will keep you reading late into the night."
Christina Baker Kline, Number 1 New York Times bestselling author of Orphan Train
"Don't be surprised to see this on just about every 'Best of 2016' list at the end of the year."
Maureen Stinger, Fountain Bookstore, Richmond, VA
CRUEL BEAUTIFUL WORLD is available –
Other ways to bond with Caroline Leavitt –
Listy – @CarolineLeavitt
Interviewed by –
MM Finck is a writer, essayist, and book reviewer. She oversees WWWB's Interviews and Agents' Corner segments. Her adult fiction is represented by Katie Shea Boutillier of the Donald Maass Literary Agency. She is a member of the Women's Fiction Writers Association and the contest chair for the Women's Fiction Writers Association 2016 Rising Star writing contest for unpublished authors.
Her work has appeared in national and regional publications, including skirt! magazine. When she isn't editing her novel, #LOVEIN140, you can find her belting out Broadway tunes (off key and with the wrong words), cheering herself hoarse over a soccer match (USWNT!), learning to play piano (truly pitifully), building or fixing household things, and trying to squeeze more than twenty-four hours out of every day. She is active on Facebook, Twitter, Goodreads, and Litsy (@MMF). http://www.mmfinck.com
Category: Contemporary Women Writers, Interviews