Colleen Oakley is the author of CLOSE ENOUGH TO TOUCH (Gallery, 2017), BEFORE I GO (Gallery, 2015), and LOVE NOTES: 1OO GREAT WAYS TO GET KISSES, CUDDLES, AND REALLY GREAT SEX (Hearst, 2010). The interviewer honestly cannot introduce Colleen better than she does. Isn't she magnetic?
In her words –
If a fairy granted me a full twelve hours with which I could do anything in the world that I wanted to do— I would lie in my bed and read. Yes, I really am that uncool.
Here are some other (un)interesting facts about me:
If I were an animal, I'd be a sloth.
I'm a Gemini, so I might change my mind about the sloth thing in two minutes, two days, or NEVER. I like to keep people on their toes.
I once went on a date with

Jason Lewis

(you may know him as Smith Jarrod from Sex and the City) and he kissed me. (OK, OK, I interviewed him for a magazine and he HAD to have lunch with me. And the kiss was on the cheek. But, you know, still.)
I always choose scissors. Even when I want to choose rock or paper, I physically can't. I often wonder if it's a compulsion/mental disorder in the DSM-IV. There should be a study.
My favorite book is Goodnight Moon, because it's short, sweet and I have it memorized, but I have still performed the motherly duty of reading to my children before bed.
I have four children. No, that is not a typo. Yes, I know how children are made. Well, now I do.
I drink impressive amounts of alcohol. (See #6)
If there's anything else you want to know about me, OR if you'd like to babysit my children, email me.

Thank you for joining us, Colleen. We are thrilled to have you!
Let's start from the beginning, your beginning.
Where did you grow up? How did it impact the woman you've become?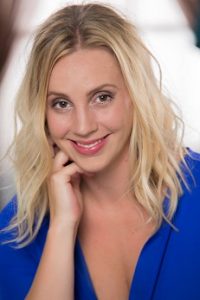 I grew up in Greer, South Carolina, a small Southern town where the kids I went to school with had been living their whole lives and their families went back generations. My parents were both from New Jersey, and I was born in Indiana— so I always felt a bit like an outsider. Not necessarily in a bad way — I had great friends and everybody was kind and welcoming. But I always had this underlying feeling that I didn't quite fit in, and I spent a lot of time studying people, partly in an effort to fit in more, also because I was intrigued by their home lives and families that seemed so different than mine at times.
The positive of that, of course, is that I became an habitual observer of other people, which was a great talent to have for my career as a journalist and then author.
Favorite writing clothes?  
Pijamas or workout clothes. I rarely get dressed before 1:30 pm.
Favorite date night wear?  
Date night? What's that? Seriously, with four kids my husband and I rarely make it out of the house together without them. But when we do, I usually wear jeans and a cute top. I'm a simple gal.
Embarrassing talent?  
I know every single word to Salt & Pepa's "Whatta Man." I was actually quite proud of this talent, until I busted it out at my husband's work Christmas party and one of the young interns stared at me slack-jawed and said "I've never even heard this song." It was then I realized I am officially old.
You have four children. You are a multi-published author. How? Seriously, how? Do you sleep? All kidding aside, do you have structured hours for things? How do you do it all?
My husband is amazing. That's truly my secret. He is an equal partner in everything— laundry, dishes, childcare. In fact, I think he gets up in the middle of the night with the kids more often the me (my other secret talent: pretending I'm dead asleep when I'm not). And yes, I am an excellent planner and scheduler, and carved out at least 30 minutes a day to write when my kids were babies.
Some days I would only write 100 words, but they all would add up over time. Now they're all in some kind of care during the day (pre-school or elementary school) and having five hours a day to myself to write feels downright luxurious.
The main character of CLOSE ENOUGH TO TOUCH can't be! Jubilee Jenkins has a rare condition: she's allergic to human touch. A girlhood kiss nearly killed her. To protect her very life, she wears gloves at all times. How did you come up with this premise? Did you see the story right away?
I knew I wanted to do something on allergies, because as a health journalist, I kept reading studies about how prevalent they were becoming— food allergies alone rose 50% in children between 1997 and 2013. And the crazy thing is— experts don't exactly know why. There are a lot of theories and research is ongoing, but allergies themselves are unpredictable and don't always follow the "rules." Like someone who's been eating shrimp all their life, could suddenly have an anaphylactic episode and die from a sudden onset allergy.
That's an extreme example, of course, but that kind of uncertainty is a gold-mine for fiction. I researched a lot of bizarre allergies (to sunlight, water, etc.), but none of them seemed interesting to me for a novel. And then I just thought—what if you were allergic to other people? What would your life be like if you couldn't experience physical touch from another human?
I saw Jubilee right away. Knew her voice, her background, everything. But the love story between her and Eric kind of developed as I wrote and I was never quite sure where they were going to end up.
What themes did you explore with CLOSE ENOUGH TO TOUCH? Were they you original intention or did they grow from the character or plot? What do you hope readers glean from the story? Question?
I'm never quite sure of the themes I'm exploring until I'm done with a book and looking back at it. In this one, I think the over-arching theme is vulnerability, or more specifically, the fear of being vulnerable. Though Jubilee's condition is fiction and her own vulnerability is outwardly physical, there's a truth to her story that I think is a common thread to the human experience—how do any of us let anyone close enough to our hearts when the risk is so great? What I always hope for the readers of my books is that they connect to the story emotionally, and that it speaks to them in some way or makes them see the world or themselves a little bit differently.
Aja is a compelling character, possibly has Asperger's and is very intelligent. Erik (Jubilee's love interest) has trouble communicating with his teenaged daughter who lives with his ex-wife. He has trouble communicating with Aja whom he adopted after Aja's birth father, Erik's best friend,  and mother died in a plane crash. How did you conceive of Aja? And of how conflicted and yet loyal and well-intentioned Erik is?
When I read, I love characters who are lovable and well-intentioned, but also fallible. With Eric, and his relationship with Aja and his daughter, I wanted to explore parenting, and that frustrating feeling when you're trying to do your best, but just feel like you're constantly failing.
In what genre do your stories fall? What authors are good reference points for your work?
If there's a continuum with literary fiction on one end and commercial on the other, I think I'm somewhere in the middle, leaning a little more toward commercial. My publisher pitches me along the lines of JoJo Moyes and Jodi Picoult— two authors who I adore and whose talent I only hope I can live up to one day.
What part of writing a novel is the most difficult for you? What is your trick at overcoming it? What part is the easiest?
It really depends on the day. Some days, drafting goes super smoothly and my fingers can't keep up with my brain. Some days, I stare at a blank screen for two hours before I type a single word. Same with editing. I just try to keep pushing forward no matter what kind of day I'm having.
What was your journey to becoming a published author like?
Like, most authors I have the full novel manuscript in the drawer —along with the many rejections for it— that will never see the light of day. And then the second book I wrote, Before I Go, got picked up by Simon & Schuster within a week of my agent submitting it. It may have been the best day of my life (but don't tell my husband or kids that).
What do you do to help writers coming up behind you? What can readers and writers do to support you?
I respond to every email I get asking for advice and do my best to help with the knowledge I've gained in the industry. I also blurb whenever time allows. The author community is extremely generous and supportive, which is one of the things I love most about the publishing industry. Readers can support the authors they love by writing reviews online and telling their friends (and anyone who will listen) about the books they've read and loved. Word of mouth is the BEST publicity an author could ask for.
Social media can be such a time-consuming thing, yet also invaluable for our writerly spirits and study of craft. How do you manage your time to write and mother and be online and all our other responsibilities?
I don't manage it well at all! This is constantly something I'm working on and feeling guilty about.
What is the most meaningful or helpful mantra you lean on in this crazy career of ours?
It's the hardest thing to do, but once you've written a book and it's out in the world you really have to let it go. You can't control how people will respond to it. You just have to put your head down and pour everything you've got into your next book.
And finally…
Film or Television?
Both!
Leggings or Yoga Pants?
Yoga Pants
Wine Bar or Brewery?
Wine Bar
Netflix or Pandora/Spotify?
Netflix when I'm relaxing. Pandora when I'm writing.
Thank you, Colleen! We support you now and always.
CLOSE ENOUGH TO TOUCH
One time a boy kissed me and I almost died…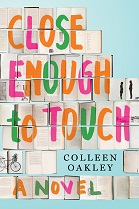 And so begins the story of Jubilee Jenkins, a young woman with a rare and debilitating medical condition: she's allergic to other humans. After a humiliating near-death experience in high school, Jubilee has become a recluse, living the past nine years in the confines of the small town New Jersey house her unaffectionate mother left to her when she ran off with a Long Island businessman. But now, her mother is dead, and without her financial support, Jubilee is forced to leave home and face the world—and the people in it—that she's been hiding from.
One of those people is Eric Keegan, a man who just moved into town for work. With a daughter from his failed marriage who is no longer speaking to him, and a brilliant, if psychologically troubled, adopted son, Eric's struggling to figure out how his life got so off-course, and how to be the dad—and man—he wants so desperately to be. Then, one day, he meets a mysterious woman named Jubilee, with a unique condition…
Close Enough to Touch is an evocative, poignant, and heartrending exploration of the power and possibilities of the human heart.
An unconventional love story perfect for fans of the emotional novels of Jodi Picoult and Jojo Moyes.
Praise –
"Oakley masterfully creates a high-stakes story that still feels solidly real. All of her characters are well-rounded and charming, especially Jubilee. Readers will cheer each time she takes a risk and delight in her triumphs. A romantic, sweet story about taking chances and living life fully." — Kirkus Reviews
"Heart wrenching and humorous, Oakley delivers an out-of-the-ordinary love story with steady quips and endearing characters…[Jubilee's] journey from recluse to recovery is fascinating." — Publishers Weekly
"For fans of the emotional romances of Jojo Moyes."—Library Journal
"The story of three wounded souls denied the human touch they desire, expertly conceived with all the warmth and affection of an enormous bear hug. A real achievement." — Steven Rowley, bestselling author of Lily and the Octopus
"A witty, inventive, and bittersweet story of a reclusive young woman forced to venture into the world where complex medical issues become tangled with longings of the heart." — Beth Hoffman, New York Times bestselling author of Saving CeeCee Honeycutt and Looking for Me
"It's so rare these days to find an utterly original heroine like Jubilee — one who is bravely living an almost unimaginable life. Gripping, raw, and moving, this is one of my favorite novels of the year." — Sarah Pekkanen, bestselling author of Skipping a Beat and The Opposite of Me
"In Close Enough to Touch we meet Jubilee Jenkins, who has a life-threatening allergy to human touch, and Eric Keegan, a good guy whose life isn't going according to plan. Colleen Oakley expertly weaves Jubilee and Eric's stories together, ensuring we laugh a lot and cry a little as we fly through the pages. This is a heart-warming, unconventional love story you won't be able to put down." — Karma Brown, bestselling author of Come Away With Me and The Choices We Make
"Oakley delivers a story that overflows with compassion, humor, and the impulsive need to read just one more chapter until you reach the very satisfying end." — Patti Callahan Henry, New York Times bestselling author of Driftwood Summer and Coming Up For Air
"Colleen Oakley writes a unique twist on love that I couldn't read it fast enough. With effortless charm, wit, and just a touch of heat (pun intended), Close Enough to Touch's offbeat characters warmed my heart with tender moments and heartbreaking revelations." — Amy E. Reichert, author of The Coincidence of Coconut Cake and Luck, Love & Lemon Pie
CLOSE ENOUGH TO TOUCH is available –
Other ways to bond with Colleen –
Facebook: https://www.facebook.com/writercolleenoakley/
Twitter: @OakleyColleen
Instagram: @WriterColleenOakley
Website: www.colleenoakley.com
—
Interviewed by –
MM Finck is a writer, essayist, and offers query letter coaching and opening pages editing as The Query Quill. She oversees WWWB's Interviews and Agents' Corner segments. Her women's fiction is represented by Katie Shea Boutillier of the Donald Maass Literary Agency.
She is a member of the Women's Fiction Writers Association and the contest chair for the Women's Fiction Writers Association 2016 Rising Star writing contest for unpublished authors. Her work has appeared in national and regional publications, including skirt! magazine.
When she isn't editing her novel, #LOVEIN140, you can find her belting out Broadway tunes (off key and with the wrong words), cheering herself hoarse over a soccer match (USWNT!), learning to play piano (truly pitifully), building or fixing household things, and trying to squeeze more than twenty-four hours out of every day. She is active on Facebook, Twitter, Goodreads, and Litsy (@MMF). Say hi!  http://www.mmfinck.com
Category: Interviews