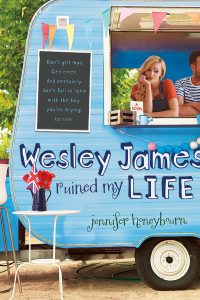 When my contemporary YA novel, Wesley James Ruined My Life, hits bookshelves next July I will be 42 years old. Forty-two is not old (at least, I like to think it's not!), but it did take me a bit longer than some to land a book deal.
There are examples of authors who hits it out of the park with the very first novel they ever wrote, but that was not me — actually, that's not most of the published writers I know. After many false starts and half-formed ideas that never quite came together, I wrote Wesley James Ruined My Life in 2013. It was the second book I'd ever finished and I sent it off to make the rounds with a few agents. While I had some interest, ultimately no one picked it up so I put it away, figuring I'd get back to it at some point and I began to work on other projects.
It's tempting to give up when you face of rejection and sometimes soul-crushing disappointment — and trust me, I've been tempted many times— but I knew that if I gave up, I'd never reach my goal of being a published author. The only way forward was to keep writing. So that's what I did.
Then, in late 2015, I came across Swoon Reads, an innovative YA imprint of Macmillan that uses crowdsourcing to help select the novels they're going to publish. Wesley James Ruined My Life felt like it might be a good fit for them, so I took it out of the drawer and uploaded it to the Swoon Reads site. Three months later, I had a book deal.
I have several friends who have novels coming out in 2017, and while our paths to publication might be different, what we all have in common is that we stuck with it, even when it wasn't easy.
Ruth Lauren, is a great example of continuing on even when the going gets tough. Over the past several years, Ruth and her agent shopped three different novels to all of the publishing houses. Ruth came heartbreakingly close to acceptance on each of those novels a number of times, but for one reason or another, those books didn't sell. Instead of giving up — which she briefly considered — she decided to write Prisoner of Ice and Snow, a Middle Grade fantasy about a girl who attempts to break her twin sister out of prison. This amazing book sold at auction and will be in bookstores in April 2017.
YA author Katy Upperman also has a good dose of stick–to–itiveness. Like Ruth, Katy had a few close calls with publishing houses over the nine years she spent writing. Her ability to keep going when others might have quit, combined with her talent for writing an all-absorbing love story, landed her a book deal with Swoon Reads last year. Look for Katy's wonderful YA Romance, Kissing Max Holden, in August 2017.
Ruth didn't give up. Katy didn't give up. And, if being published is your goal, neither should you.
I'm not saying it's easy. But for me, what helped during those times when I felt like I might never get there, was the support of other writers. I'm lucky enough to be surrounded by many talented, generous writers who cheered me on. It's thanks to them that I crossed the finish line. Joining a writers group, either in person or online, is tremendously helpful.
So if I have any advice to give, it's this: stick with it. Even when it's hard, even when you want to give up. Just stick with it. I'm certainly glad I did.
—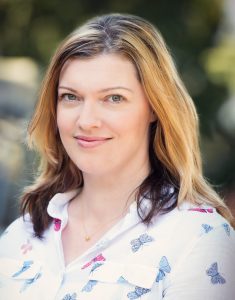 Jennifer Honeybourn works in corporate communications in Vancouver, British Columbia. She's a fan of British accents, Broadway musicals, and epic, happily-ever-after love stories. If she could have dinner with anyone, dead or alive, she'd have high tea with Walt Disney, JK Rowling, and her nana. She lives with her husband, daughter and cat in a house filled with books. WESLEY JAMES RUINED MY LIFE is her first novel.
Follow her on Twitter: https://twitter.com/Honeybourn
Instagram: www.instagram.com/jennifer_honeybourn/
Facebook: www.facebook.com/jenniferhoneybourn/
Category: Contemporary Women Writers, How To and Tips