My path to writing The Beauty of Dirty Skin began in a very unlikely place – the hospital. When I was ten years old, I became very sick due to a bad bug, a parasite, which found its way to my intestines. My doctors, unable to identify the source of my chronic pain, gave me a myriad of antibiotics which wiped out the good, healthy bacteria in my digestive tract alongside harmful bugs. I was left with a very dangerous type of bug called C. diff, which wreaked havoc on my body.
At the tender age of ten, therefore, I was introduced to the concept of what we now call our microbiome – the family of "bugs" (more specifically, bacteria, fungi, and viruses) that live both inside your body (your gut microbiome) and on your body, throughout your skin's various layers, from its deep-down fat cushion to its epidermal cells on high. As I learned from this ordeal, maintaining the health and balance of our microbiome is critical to maintaining our health. Once my body was strong enough to leave the hospital, uncovering the science behind this balance, and harnessing the strength of our body's good, warrior bugs, became my passion.
Today, I am known for my signature "Bowe Glow" – achieving healthy, glowing skin from the inside out and the outside in is at the heart of my practice and my personal brand. Your skin is a window into your overall health and wellness. Put simply, your skin reflects your health. My integrative approach to dermatology is unique because I address chronic skin conditions like acne, rosacea, eczema, and even premature aging, through lifestyle changes including diet, sleep techniques, stress management, and exercise, in addition to the most effective and proven skincare available today. I don't put a band-aid on the situation by simply prescribing a medication. I help my patients – and now, my readers — to address the underlying cause of these conditions to get right to the root of the issue for lasting, healthy skin.
Through my work, I have learned that the alliance between your gut, brain, and skin – called the gut-brain-skin axis – is the soul of healthy skin. My 21 day plan focuses on each of these areas to heal your skin. In Week 1, I focus on healing the gut through dietary changes that are easy to follow and recipes you can readily make at home. In Week 2, I focus on the mind and its relationship to the health of your skin and your entire body. This week focuses on meditation, mindfulness, yoga, exercise, and how simple lifestyle changes on any budget can transform your skin's health. And finally, in Week 3, I focus on the most cutting edge skincare and ingredients available today to achieve skin that is glowing with health. Healthy skin was, of course, the main focus of my plan, but my patients reported that they also gained energy, felt less stressed, lost weight, and felt more focused and inspired as a result of these changes!
I live by the plan I share in The Beauty of Dirty Skin and it has not only had a profound impact on my life, but I watch it change my patients' lives as well.  I think readers of The Beauty of Dirty Skin will be surprised at how small, mindful changes can have meaningful and lasting impacts on their skin and their overall health. I know my patients are often shocked at how simple the changes were to implement. I also know that people who have started the plan and then revert back to their prior ways report to me that they see and feel such a difference in their skin and health that they are motivated to get right back onto the plan.
Each day, I wake up before the sun to watch it rise and I feel so incredibly grateful for this second chance at a healthy, vibrant life. My message of accessible and affordable skin and overall health and wellness – all of the knowledge that I have painstakingly researched and accumulated over the past decade – is finally ready to be shared. I truly can't wait for my readers to pick up The Beauty of Dirty Skin and to experience their own empowering, healthy glow!
—
About the Author:
Dr. Whitney Bowe is the author of The Beauty of Dirty Skin (April 2018). She is Medical Director of Integrative Dermatology, Aesthetics & Wellness at Advanced Dermatology, P.C., in addition to being a distinguished research scientist and a thought leader in her field. She is one of the most in-demand dermatologists in America and has lent her expertise to programs like Good Morning America, The Rachael Ray Show, The Doctors, and Dr. Oz. She and her work have been featured in publications including the Wall Street Journal, the New York Times, Allure, InStyle, Vogue, Elle, Reader's Digest, and O, The Oprah Magazine. For more information, please visit https://drwhitneybowe.com and follow Dr. Bowe on Facebook, Twitter and Instagram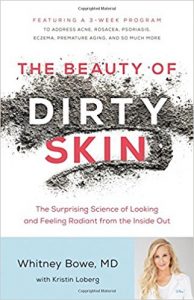 Internationally renowned dermatologist and research scientist Dr. Whitney Bowe presents, for the first time, the connection between a healthy gut and radiant, clear skin, with a 21-day program to maximize skin health and beauty.
Every year, nearly 80 million Americans will consult their doctors about their skin. In fact, skin disorders beat out anxiety, depression, back pain, and diabetes as the number one reason Americans see their doctors. Unfortunately, however, the vast majority will receive only a surface-level treatment, leaving the underlying conditions at the root of their skin issues unresolved. Skin doesn't lie; it reflects overall health in unimaginable ways.
In The Beauty of Dirty Skin, internationally renowned dermatologist and scientist Dr. Whitney Bowe shows readers that skin health is much more than skin deep. As a pioneering researcher on the cutting edge of the gut-brain-skin axis, she explains how the spectrum of skin disorders — from stubborn acne and rosacea to psoriasis, eczema, and premature wrinkling — are manifestations of irregularities rooted in the gut. Lasers, scalpels, creams, and prescription pads alone will not guarantee the consistently healthy, glowing skin we all seek. Instead, Dr. Bowe focuses on the microbiome — where trillions of microbes "speak" to your skin via the brain — and highlights the connection between sleep, stress, diet, gastrointestinal health, and the health of your skin.
With simple explanations of the science, do-it-yourself practical skincare strategies, and a life-changing 21-day program, The Beauty of Dirty Skin is your roadmap to great skin from the inside out and the outside in.
Category: On Writing