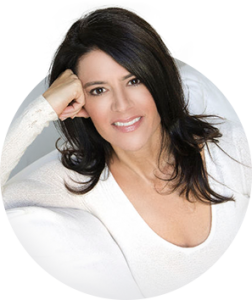 My father and I have had a tenuous relationship at times so when my first novel captured the painful feelings of my protagonist losing her father at the age of four, my own father immediately went on a tirade: "You killed me off on page 3?" And when my ex-boyfriend from high school's mother cornered me at a signing with a playful wink, "The love interest has my son's middle name," I understood the power of my words and stories.
So how do authors handle the line between truth and fiction? How much of our stories are about us and our life experiences? How do we use truth and reality to create our tales?
When I first sat down to write What We Leave Behind, I gathered an endless stream of emotions in my hands and wrung them out on the pages. I didn't necessarily have a story to tell, but I had a fistful of raw feelings, gleaned from personal history, begging to come out. Carefully, I shaped the words and sentences into a readable story.
The plot itself was pure fiction, though the feelings associated were my own. It's common for artists to draw on their personal experiences—oftentimes the most painful—in an effort to carve out creativity. I'm not saying you have to be depressed or going through a crisis in order to write, paint, or sing, but digging into our deepest emotions can at times create a fleshed-out story which makes characters relatable and real.
In Catherine McKenzie's novel Fractured, the author explains this approach through her protagonist who is also an author.
"They say you write what you know," Hannah said.
"That's what they say."
"You don't agree?"
"I think people confuse that with writing about yourself. I took a real thing I went through and used the emotions I had from that to make the things I imagined feel real."
It is not unusual for me to harvest a story based on exposure to or experience with the topic. When you feel something deeply, it's often easier to find the right words or to echo the intense range of feelings.
When I met Miami attorney Elisa D'Amico and heard about her work with the Cyber Civil Rights Legal Project, it came on the heels of an upsetting phone call from a former colleague in Los Angeles. His teenage son had gotten in trouble with a teenage girl. It involved the Internet. What came after was an avalanche of stories, the domino effect that took on a life of its own. Everywhere I turned, there was a similar tale. Teenagers, sexting, cell phones, and social media.
The trolls were quick to judge. "What kind of parenting goes on in that house? That would never happen to my child." It was then I decided to write Somebody's Daughter.
The title came to me before the plot. Somebody's Daughter is everybody's daughter. Everybody's child. None of us are immune to adversity, the quiet threats we don't see coming, even with the best intentions. When writing realistic fiction, it is imperative to show, not tell. Defaming or demoralizing, in this case, today's teenager, is not the intent, but rather a glimpse inside the humane, vulnerable side to our pivotal moments.
Realistic fiction paints a thorough picture—the bright, the dark, and the varying shades of gray. Writing this story gave a voice to the victims and to the voyeurs, those gazing from afar and casting their judgments. It was my job to illustrate we are all human, we all make mistakes, and none of us has the authority to pass judgment. Throw in the infinite shelf-life of the Internet, its long-lasting reach, and I ask: what if there were cell phones around when you were growing up? Think of your pivotal, reckless moment.
We all have one. Or two. What if yours was broadcast on the world wide web?
Since the book's completion, I've been asked numerous times who the book is about and have had readers go as far as to tell me they "know" who the story is about. My reaction is always a little unsettling, for I understand the reach of the topic, and then I'm honored to be able to bring the story the justice it deserves. Honest, realistic fiction isn't about creating "spectacle" or capitalizing on someone else's suffering, but rather, it is fiction that changes us, heightens our awareness, and leaves us wiser.
As authors, we get to shape the narrative through a different colored lens and give our characters the jurisdiction to tell their side of the story to someone who may not have had the willingness to listen.
Consequently, there can be a downside to this approach. Writers have to be careful when relying on their emotions to impart wisdom or "advice" to their readers. While I write to entertain, most of my works have a theme or message I hope to spread.
I had an agent tell me my "need to teach/save the world was compromising my creativity." That advice, and the book he was referring to, gutted me for two straight years. The agent was right. Preachy and pedantic does not make for an appealing read. I learned over the course of major surgery, shaping, and polishing, that while relying on your real emotions, it is imperative to strike a balance.
Sometimes real life comes with real questions.
Take Laurie Frankel who closes out her groundbreaking novel on gender This is How It Always Is with an author's note that begins, "The question writers of fiction get asked most often, ironically, is this: "Is it true?" Her response, pitch perfect and oh so in line with Frankel's brilliant storytelling: "Yes, it's true. Also, no, I made it all up."
As much as I enjoyed the novel, as a writer, I enjoyed Frankel's depiction of truth in fiction even more. Her version of "fiction, pretend" spoke to me, for we, as authors, write (because there's no other option), but to create a world we ourselves envision living in. Frankel goes on to say, "We imagine the world we hope and endeavor, with the greatest power we have, to bring that world into being."
So, when I'm asked why I wrote Somebody's Daughter with all its painful reality, or who any of my stories are about, the answer is this: I wrote Somebody's Daughter because I imagined how I'd feel if it were my son or daughter at the center of a scandal. How would I want the world to react to them? How would I want to love them through their struggle? And as for the characters I write of who resemble my reality, they are experiences that changed me, not an actual person. It is these lessons that emerge from my pages, not the physical being.
And finally, as self-righteous as it sounds, I do want to make our world a better place.
—
About the Author
Rochelle B. Weinstein is an author, speaker, and former entertainment industry executive. Her novels include What We Leave Behind, The Mourning After, Where We Fall, and Somebody's Daughter. She recently completed her fifth novel, This Is Not How It Ends, an epic love story set in the Florida Keys. She lives in Miami, Florida with her husband and twin sons. For more information, visit rochelleweinstein.com.
Follow Rochelle on Twitter https://twitter.com/rochwein
From USA Today bestselling author Rochelle B. Weinstein comes an emotional novel for mothers, daughters, and anyone who has ever felt imperfect.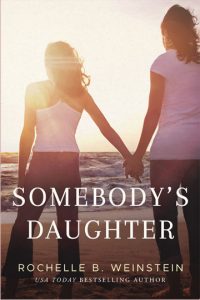 Emma and Bobby Ross enjoy a charmed life on the shores of Miami Beach. They are a model family with a successful business, an uncomplicated marriage, and two blessedly typical twin daughters, Zoe and Lily. They are established members of a tight-knit community.
Then, on the night of the girls' fifteenth birthday party, they learn of Zoe's heartbreaking mistake—a private and humiliating indiscretion that goes viral and thrusts her and her family into the center of a shocking public scandal.
As the family's core is shattered by disgrace, judgment, and retribution, the fallout takes its toll. But for Emma, the shame runs deeper. Her daughter's reckless behavior has stirred memories of her own secrets that could break a marriage and family forever.
"Touching and challenging, Somebody's Daughter is a close-up look at a family that is magazine-cover-perfect on the outside but struggling with the fallout of one mistake that threatens to dismantle everything they've worked to build. With trust, love, and support hanging in the balance, they must each make a difficult choice. And the consequences will either break them apart or make them stronger than ever. An excellent storyteller, Rochelle Weinstein is quickly becoming one of my favorite authors." —Camille Di Maio, bestselling author of The Memory of Us
"A poignant story of how one heedless mistake can land a family at the epicenter of a public scandal. Relationships are threatened and judgments are made. I read it in one sitting." —Emily Liebert, author of Some Women
"A can't-look-away, can't-stop-reading story of truth, consequences, love, betrayal, family, and loyalty. Somebody's Daughter is a must-read examination of mistakes that can so easily be made and the destruction and beauty that follow in their wake. Bravo, Rochelle Weinstein, for this timely, evocative read." —Allison Winn Scotch, bestselling author of Between Me and You
Category: Contemporary Women Writers, How To and Tips