Today is the anniversary of the date where life on the lam for two of America's most infamous outlaws, Bonnie Parker and Clyde Barrow, came to an end. The day brought a mixture of tears and celebratory shouts. During the Great Depression, some praised the Barrow Gang as a symbol of anti-establishment. Others saw the Barrow Gang as nothing more than ruthless killers. To this day, the crime duo remains polarizing figures.
A few years ago when my husband and I were brainstorming a historical topic I could write about, Bonnie and Clyde's names were mentioned. I had seen the 1967 Bonnie and Clyde film years ago, but what I remembered most from the movie wasn't the violence, though I am sure there was a lot of violence in the film, but I mostly recalled the duo's loyalty and devotion to each other. I was left curious who they were as people besides outlaws and killers.
Driven by my curiosity, I set out to tell a story about what made these two people, but primarily Bonnie Parker, tick. First, I dove right into their crime spree, but quickly put on the brakes. I found that, within the first three chapters I had written, the story was plagued with backstory as I tried to show how twenty-two-year-old Bonnie Parker was willing to leave her life and family behind to go on the run with a fugitive like Clyde Barrow. I realized I needed to give Bonnie's background room to breathe and to grow, and I changed my novel's focus to how a once wholesome girl could transition into a gangster's moll. To fully show her evolution, I gave Bonnie a new name at the onset of my novel, Bonnelyn. By the end, she's Bonnie.
My title also changed to Becoming Bonnie, to reflect her evolution, and I jumped backward from the 1930s to the 1920s, to when Bonnie Parker was only a teenager and to when she had no idea a crime spree—or even Clyde Barrow—was in her future. From there, I dove into additional research, trying to piece together what Bonnie Parker's life could've been like during the Roaring Twenties. My conclusion: it wasn't roaring. As a young girl who competed in pageants and loved to sing Broadway hits, she had stars in her eyes. But Bonnie's family struggled to make ends meet. The novel opens with the line But I, being poor, have only my dreams and this sentiment acts as a foundation for much of Bonnie's motivations throughout the novel to have both money and dreams.
In addition to Bonnie's longing to "be somebody" I turned to diaries, memoirs, nonfiction books, documentaries, FBI files, and anecdotes from those close to Bonnie to understand who Bonnie—and also Clyde—may've been. These elements became large influences within Becoming Bonnie.
Clyde Barrow was not Bonnie's first love.
Becoming Bonnie is very much a coming-of-age story, which also includes the ups and downs of Bonnie's first love to Roy Thornton. Ultimately, I wanted to show how her romance with Roy fully played out and how it played a hand in Bonnie finding a partner in Clyde Barrow.
Bonnie and Clyde were devoted to their families.
The idea of loyalty and devotion—to each other—and to their families is a large part of Becoming Bonnie. While I don't want to give away the novel's twists and turns related to their families, it's safe to say their families greatly influence their decisions.
Clyde Barrow once tried to enlist in the U.S. Navy, but he was rejected.
There was a time where, for Clyde, the writing was on the wall about his future. But during his teenage years, Clyde may have seen enlistment in the U.S. Navy as a way to a different type of life. Unfortunately, he was denied because of a boyhood illness that affected his hearing, and in Becoming Bonnie, Clyde's mindset shifted. He claims that in life, "Sometimes ya got to take what you want."
Bonnie and Clyde were both musically inclined.
As an author, this real-life trait of Bonnie and Clyde was the most fun to implement into Becoming Bonnie. Together, Bonnie and Clyde write an original song, with each verse aligning with the obstacles and situations they face in my storyline. Becoming Bonnie features the first two verses of their song, and Being Bonnie, the sequel set to publish in 2018, will reveal the concluding verses.
Overall, Being Bonnie will be the crime-spree story I originally sought to tell as I first speculated on what made the duo tick. Becoming Bonnie is Bonnie's origin story, and I hope readers will enjoy my tale of how Bonnelyn becomes half of the infamous Bonnie and Clyde duo.
—
Jenni L. Walsh spent her early years chasing around cats, dogs, and chickens in Philadelphia's countryside, before dividing time between a soccer field and a classroom at Villanova University. She put her marketing degree to good use as an advertising copywriter, zip-code hopping with her husband to DC, NYC, NJ, and not surprisingly, back to Philly. There, Jenni's passion for words continued, adding author to her resume. She now balances her laptop with a kid on each hip, and a four-legged child at her feet. Please learn more about Jenni and her books at jennilwalsh.com.
Twitter: www.twitter.com/jennilwalsh
Facebook: www.facebook.com/jenni.l.walsh
Goodreads: www.goodreads.com/jennilwalsh
—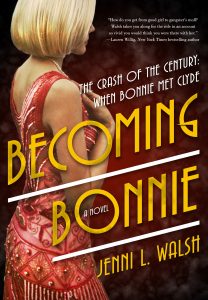 From debut historical novelist Jenni L. Walsh comes the untold story of how wholesome Bonnelyn Parker became half of the infamous Bonnie and Clyde duo.
​
​The summer of 1927 might be the height of the Roaring Twenties, but Bonnelyn Parker is more likely to belt out a church hymn than sling drinks at an illicit juice joint. She's a sharp girl with plans to overcome her family's poverty, provide for herself, and maybe someday marry her boyfriend, Roy Thornton. But when Roy springs a proposal on her and financial woes jeopardize her ambitions, Bonnelyn finds salvation in an unlikely place: Dallas's newest speakeasy, Doc's.
Living the life of a moll at night, Bonnie remains a wholesome girl by day, engaged to Roy, attending school and working toward a steady future. When Roy discovers her secret life, and embraces it—perhaps too much, especially when it comes to booze and gambling—Bonnie tries to make the pieces fit. Maybe she can have it all: the American Dream, the husband, and the intoxicating allure of jazz music. What she doesn't know is that her life—like her country—is headed for a crash.
She's about to meet Clyde Barrow.
Few details are known about Bonnie's life prior to meeting her infamous partner. In Becoming Bonnie, Jenni L. Walsh shows a young woman promised the American dream and given the Great Depression, and offers a compelling account of why she fell so hard for a convicted felon—and turned to crime herself.
​Amazon
Barnes & Noble
BAM!
Category: On Writing