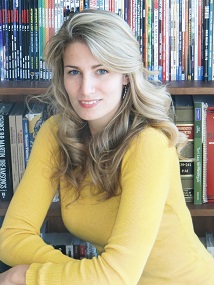 There seems to be a mantra in our office: "That's a crazy idea—let's do it!" I hear this phrase uttered at least once a week, describing an upcoming story pitch or new marketing campaign, and I smile every time I hear it.
More than a decade ago, it was this mantra that started Tethered by Letters. I remember sitting on the ground at my local bookstore with Nonprofits for Dummies splayed out on my lap, thinking, What in the world am I doing? I don't know how to run a company! I'm nineteen years old. I can't even drink in public. This is crazy!
But there was another voice in there as well, whispering about how much good I could do, how great stories are worth fighting for.
This is not a foreign feeling for most writers and artists. We're all driven by the insane idea that if we pour our thoughts and feelings onto the page, we can touch someone else's life and create something that matters.
And that hope, that passion, can get you through so much.
It got us through the first few years when the company ate more funding than it raised. It got us through the creation of our Free Editing Program; it helped us launch all of our educational programs, our community outreach, and our publishing division. It got us so far, in fact, that by 2014 there was a feeling that the struggles might be over.
After seven years of uncertain financials and a constant battle for good content, the nonprofit's issues had finally settled. We were stable. We put out a little literary journal called Tethered by Letters Quarterly that sold enough to break even. Our educational programs were sustainable, our Board of Directors was happy, and we were all ready to take a deep breath and relax.
Then these new submissions started coming in. Weird stuff—literary fiction with fantasy and horror elements, straight up sci-fi, poetry that played so heavily with form that the words dripped sideways across the page.
The craziest thing was that we loved them. But we'd built ourselves as a traditional literary publisher—that's where our funding came from and that's what our readers had signed up for. Changing now meant all of that delightful certainty would be gone.
So we decided to pass. But in our rejection letters, we wanted to do more than simply say that they didn't fit our aesthetic. Looking to add a list of other reputable literary journals, we struggled to find a single one that even accepted genre work.
This, of course, got us thinking, Is there a way to successfully meld literary writing with genre? Surely if there was, someone much larger and more established would have tried it.
Unable to let go, I met with my leadership team at our local coffee shop and proposed a hypothetical: if no external factors existed, what kind of literary magazine would we want to publish?
After hours of dreaming—our minds full, our hands shaking from an ungodly amount of caffeine—we sat back and fell silent, realizing the gravity of it. The arguments against this were myriad: we could lose our funding; it's too expensive to print; if nobody reads it, we're done for.
It was a crazy idea. My mind wandered back to that nineteen year-old in her bookstore, jotting notes about starting a nonprofit—the excitement, the passion, the buzzing hope she felt. I felt it now, stronger than ever. "Let's do it," I said.

And we did. We shut down Tethered by Letters Quarterly and started F(r)iction, a literary journal that publishes great works, regardless of genre. We accepted all those too-weird submissions. Traditional literary fiction sits alongside stories more adventurous and weird; poetry pushes form; there's creative nonfiction so bold and honest it's almost painful to read; and even comics—gorgeous stories splashed across the page in full-color art. And accompanying each story and poem is an original commissioned illustration. It's a book as beautiful as the stories inside.
It's also a collection as diverse as possible in origin. There's celebrity work alongside that of brand new talent from our free editing program; we publish not only from a diverse range of races, ages, genders, and socio-economic backgrounds, but also from radically different walks of life: women in Afghanistan, veterans, people struggling with disabilities.
Like anything worth fighting for, it was hard—and it still is. But we keep fighting—past the first issue that damn near-killed us; through rising production costs and insanely long turn-around times—driven by idea that great stories are worth it.
And finally, reviews are starting to pour in. Established publications commend our authors and artists, excited rather than infuriated by the boundaries we push. After the first year, our print run increased ten fold. By the end of the second, F(r)iction was picked up by major distributors, and now you can walk into any Barnes & Noble or Books-a-Million (as well as hundreds of indie shops) in the US and Canada and find our latest issue.
Best of all, our authors are getting big book deals and agents are reading our pages, hunting out the creators we champion.
And that's what I wanted when I sat there in my bookstore eleven years ago, with the idea to create a literary non-profit that would give great voices a space to be discovered. It was a crazy goal for a teenager to set for herself, but TBL exists for those who wish to inspire others to try something crazy—even when the world tells them they can't—to take a chance, to pour their heart into something, and to believe that it will matter.
—
After the publication of her first novel at the age of eighteen, 
Dani
Hedlund
 founded the international literary nonprofit, Tethered by Letters (TBL). Over the course of the last decade, TBL has grown into one of the largest independently-funded literary nonprofits in the nation, with bases across the US, UK, and Southeast Asia. She is also the founder and Editor-in-Chief of F(r)iction, an art and literary collection specializing in boundary-defying work. Since its inception in 2015, F(r)iction has risen to critical acclaim, becoming one of the fastest growing literary journals in the world. In her ever-elusive free time, 
Dani
 lectures about the ins-and-outs of the publishing industry, writes very weird fiction, and runs a strange little board game company called Bad Hipster Games.
Instagram: friction_series
Category: On Writing