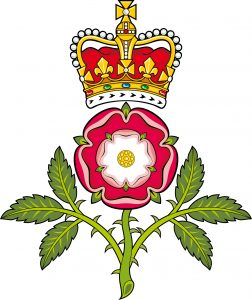 What if you knew you may die today, but you thought it was going to happen yesterday, and those plans had been changed? You wait, locked away in a tower—no communication with the outside world.
The decision is to be made by your husband and the father of your only child, a daughter of less than three years of age. The people who placed you in this precarious state are your uncle, your father and a previous fiancé. Not only that, once you are removed, possibly by execution or, best case, exiled to another country, you hear rumors that another relative plans to marry your husband.
Are you trapped in a nightmare, a dystopian thriller? No. This is the final act of the real life tragedy of Queen Anne Boleyn, the second wife of England's King Henry VIII.
When I began to develop the concept which led to the novella Phoenix Rising, I knew that my passion for Tudor England and a History Degree would assist in locating documents. However, I didn't dare attempt to compete with British writers, nor did I believe I could because it is their history, no matter how much I study it. From there, the historical fiction angle grew. Yet how could I develop a new story about an event that is centuries old?
That's what creative writers do.
I knew astrology played a major role in the life of Henry VIII. Like any author, the more I studied, the further into the 'rabbit hole' I found my story going. Much to my surprise, I learned that the Tudors were extremely devout in their religious beliefs, yet Henry VII, his mother Margaret Beaufort and Henry VIII all kept a staff of seers and soothsayers, as we would call them today.
Astrology was considered part of medical science at that time, so it was easy for me to conjure up a Welsh Wise Woman. The English and Welsh have rich folkloric and literary traditions steeped in the mysticism of these females.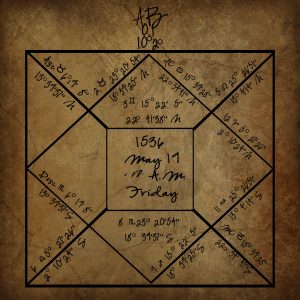 From that point, I worked with my imagination and an actual astrologer. Each part of an astrology chart has its own meaning—the self, the mother, the father, the child—even the court has a place.
Much of my writing draws from my studies in theatre during and after my undergraduate degree was completed. I work to understand the complexities of each character involved and what motivates them. In a way, Phoenix Rising is an ensemble piece set in a novella. In order to capture the intensity of this final hour of Anne Boleyn, the concept called for brevity.
Phoenix Rising it is told through the voice of an American female, who is a contemporary descendant of the Welsh Wise Woman of King Henry VIII. She relates the story as it has retold through the generations by the women in her family.
Queen Anne Boleyn is going through various stages of shock, disbelief and hope. Little documentation remains of her last weeks. I had to go on what was reported to the King from the Tower of London, and what was written to the Spanish King.
I did find a few obscure references which stated that if someone could get an herb concoction placed in the wine of those awaiting beheading, it would act as a tranquilizer, and calm the victim. To me, that explained Queen Anne's behavior in the Tower.
History reports she would go from being completely manic, as we call it now, to being calm and even accepting of her fate. Like placing gunpowder in the pocket of a burning victim would kill them before they were actually burned at the stake, this theory of her being tranquilized painted a clear picture of her final moments in my mind. Those were harsh, brutal times.
Anne went from being queen to being a prisoner in the Tower of London in a matter of hours. Within weeks, she was tried and executed. Reports state that until the end of her life she comported herself as bravely as possible. She chose her clothes with precise and immaculate detail, as she always had. She meets death very much a Queen of England.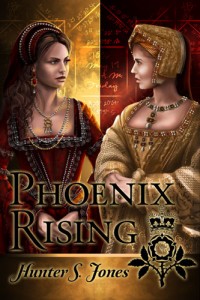 In Phoenix Rising, I have used a great deal of creative license in the story simply because we just don't know what actually occurred with many of the key players. As for characters and their motives, some of them surprised me. King Henry VIII is portrayed in a different manner than the usual mode.
Sir Francis Bryan is presented as wanting Queen Anne removed because he believes she has risen above her ranking and no longer serves the King's wishes, but serves her own selfish needs. He believes that Jane Seymour will give the king the male heir the king desires. I have him as Jane's godfather in Phoenix Rising, and feel this is true, based on the fact that she referred to him as her uncle. This remains a term of endearment in some English/British households for one's godparent.
Lady Jane Seymour is portrayed as ambitious and jealous of Queen Anne Boleyn. She feels she is the only person in England worthy to be Henry's queen and who can give him a male heir. She was being fitted for her wedding dress at the time of Anne's execution. This is historically accurate.
The Court in general is an antagonist. We have to remember, they had no television as entertainment, therefore, life was their spectacle. Generally, Anne was disliked—a great deal of the court favored the Princess Mary, and the court really didn't know what to think about the king's infatuation with Jane Seymour. I wanted the uncertainty, the unease of the court to be captured.
At this moment in history, so much weighed in the balance. A Queen of England was to be executed. It gave me an ideal setting for an ensemble cast in a fictional story. Because there is so much mystery about that final hour, it spurred my imagination and became an ideal place for fiction to develop.
There were plots, intrigues and conspiracies underway that played themselves out in that hour, week, month, and even years later. Her execution left an impact on the English monarchy. It isn't a stretch to say that Tudor England is a gold mine when it comes to grandiose individuals. Theatrics played a major part in the reign of the Tudors, and the members of the court. How they were seen and the legacy they left to the world may be a major reason why they remain so fascinating to us today.
Phoenix Rising involves the readers; they get a glimpse into each character's thoughts and motives. It's based on a form of Cherokee storytelling which makes the 'audience' part of the story and shows how everyone plays a part during their lifetime. From there, the narrator allows each character to give their story from their point of view, which worked very well with the astrology chart as a background.
Fortunately, MadeGlobal Publishing understood the simple complexity behind my story and Phoenix Rising was born on May 19, 2015. This has been a fantastic year unlike anything I ever imagined. This unique little book has opened doorways into professional friendships which I never dreamed possible. The best-selling authors Elizabeth Fremantle, Nancy Bilyeau, Claire Ridgway, Susan Bordo and Alison Weir, to name a few, have made guest appearances on my blog. This is only the beginning.
At this time, I am thrilled to announce that later this year my first Tudor historical essay will be published in a collection entitled Empowering the Tudor Woman. My essay is on Magic, Medicine and Music: The Healing Properties of Music Observed in the Lives of Anne Boleyn, Mary Queen of Scots, and Elizabeth I.
The collection has been curated by UK historian Amy Licence in association with Kyra Kramer. Other contributors include Conor Byrne, Roland Hui, Sharon Bennett Connolly, Camilla Johannson, Sarah Bryson, Laura Ann Johnson and Natasha Wakefield plus a few surprise guests. Stay tuned for more information later in 2016!
—
Deb Hunter writes fiction as Hunter S. Jones. She has a History Degree from a private university in Nashville, Tennessee. She is a member of the prestigious Society of Authors founded by Lord Tennyson, Historical Writers' Association, Society of Civil War Historians (US), Historical Novel Society, English Historical Fiction Authors, Atlanta Writers Club, Atlanta Writers Conference, Romance Writers of America (PAN member), and Rivendell Writers Colony which is associated with The University of the South. Originally from Chattanooga, Tennessee, she now lives in Atlanta, Georgia with her Scottish born husband.
Find out more about her on her website https://huntersjones.com/
Follow her on Twitter @HunterSJones101
Category: Contemporary Women Writers, On Writing, Women Writers