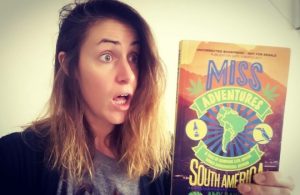 "You can do this"
"No I can't."
"Yes you can, just focus."
"I think I'm just going to go for another walk and then eat a biscuit"
"Okay fine – but then back to work. You have a book to write."
"Blergh."
This was me. Having a chat with myself in the bathroom mirror for the fourth time that week. These kinds of pep talks became semi-normal for me while writing my memoir. I may have been being over-dramatic but I found it a lot to process. Fortunately I found a few ways in addition to reprimanding myself in the mirror that kept me on track, and today I'm sharing them with you… 
Your authentic voice is the right voice
Let's not waste time trying to write like someone else. It's pointless. It's been done. Plus it's a real struggle to prattle on like a stranger for 300 pages. First drafts don't matter. My first draft is the most embarrassing document in existence. The thought of it makes me want to cover myself in a blanket and rock slowly in my chair. It's three sample chapters written by my try-hard, less funny evil twin. Find your authentic voice and you'll feel comfortable. The minute you start writing as you speak or think, the minute the words will start to feel good and natural and that's when glorious momentum will show up to the party.
Tell the truth – warts and all
To write a memoir that people can relate to you have to commit to telling your truth. That can be tricky, especially when selective memory and the passing of time are there to trip you up, but always try. As I approach publication day, I find myself staring out of a lot of windows thinking about the truths my friends, parents and complete strangers are going to read about me – but then I remember I did it, so I might as well be honest. Chances are the bits that you don't want to tell are the bits people want to read, and they're also the bits that teach you (and perhaps other people) about themselves.
Believe your story is worth telling
There are a lot of aspects of memoir writing that are frustrating – the worst of all is doubting that your story is worth telling. It's the thing most likely to slow you down. Over and over doubt stopped me writing. I wasted weeks thinking I should scrap the idea entirely and wait until I did something more 'book-worthy'. Then of course I realised that I wanted to tell the story. Yeah it's a book about backpacking, but it's also a book about feeling so bombarded by advice that I decided to shirk it all and go in search of my own answers. A lot of funny stuff happened, and I learnt a lot (often the hard way). I wanted to share that so others don't have to make the same mistakes. Believe in the reasons you started writing it in the first place and that's half the battle.
Prepare for some home truths
When writing about your life, you're going to be forced to replay all of your actions and decisions over and over again, and this can drag a lot up. In my case it was mistakes I made, things I said that I probably shouldn't have, silly decisions. Looking back on what's happened in such detail can be a gigantic distraction if you let it. Be prepared for writing a memoir to stir some stuff up, then choose to acknowledge those home truths, while not letting them distract you. You can worry about that when the book is done!
Talk to other humans about it
Find people that you trust who don't mind you babbling somewhat incoherently and talk to them about your idea. Until you vocalise what you're trying to achieve, you might not even know yourself. Speaking aloud about your ideas will cement things in your head. It'll make things clearer. It'll refocus you. Your idea is one thing in your head, but when you speak it aloud, it may well become something far bigger and far more exciting.
Hold on to your vision
If you should find yourself lying on your stairs open-mouthed sobbing about how bloody dreadful this whole memoir-writing business is and questioning why on earth you thought this a productive use of your time when you could have been growing vegetables or volunteering – remember why you decided to write a memoir in the first place. What was your vision? Write it down, carry it around with you, and refer back to it when necessary. If you can narrow it down to that one simple vision, perhaps then the shrieking will subside, and you'll be able to take leave of your drafty hallway and get back to work.
—
Amy is a humourist and adventurer. She has been a journalist and copywriter for seven years, working for a range of titles including The Huffington Post, Easyjet Traveller, STA Travel, and TNT Magazine. She has travelled widely around South America, South East Asia, Australia and Europe. Amy's first book Miss-Adventures: A Tale of Ignoring Life Advice While Backpacking Around South America (out March 9th)  is a hilarious and candid account of the lessons she learnt while travelling on her own in South America.
Website: http://amybakerwrites.com/
Twitter: @amybakerwrites
Instagram: https://www.instagram.com/amybakerwrites/
Facebook: https://www.facebook.com/amybakerwrites/
Category: How To and Tips