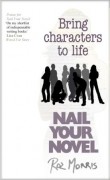 Roz Morris has been a good friend of Women Writers, Women Books and written for us before. We invited her to give us an update on what she was doing, not our usual guest essay. – Anora McGaha, Editor
In May I released the second book in my Nail Your Novel series. Fans have been clamouring for a follow-up, so I finally buckled down. The sequel started as a general book of writing craft tips from my mentoring work, but swelled so gigantically that I had to make it a series. So the new book is Nail Your Novel: Bring Characters to Life . More are in the works.
I was thrilled to get an endorsement from writing coach and publishing veteran Lisa Cron, author of Wired For Story, who said Nail Your Novel (original flavour) was on her shortlist of indispensable writing books. The new one seems to be gathering fans too.
My blog series The Undercover Soundtrack has now been running for nearly two years. It started as a spin-off from my debut novel, My Memories of a Future Life , whose central character is a classical musician.
Ever since, I've been hosting writers who use music as a secret creative partner. I now have more than 75 posts, covering books of all genres and music of all tastes. But these posts make categories irrelevant; each is a unique insight into the private soul of a book – and also a writer.
The Undercover Soundtrack is becoming a creative phenomenon of its own. I've written about it for several prominent blogs and recently guested by Skype on a Grub Street Writers course on creative social media.
Biggest news of all, though, is about the work closest to my heart – my fiction. Later this year, I'll be releasing another novel, Life Form Three. Like my first, it's tricky to label. My agent calls it a fable in the tradition of Ray Bradbury, but to me it's characters and the story of their souls. Once the cover is finalised I'll be able to tell you more. Other novels are taking shape, and I've started another in first draft, working title The Mountains Novel. It does have another name, but I'm wary of uttering it until the fragments are joined. And if you'd like to know about Life Form Three when it's released, sign up for my newsletter.
Outside of book covers, it's been a year of exciting landmarks. March was my very first book signing. In my years as a ghostwriter I was hidden from my readers, so I felt very honoured when the owner of a local bookstore told me he liked My Memories of a Future Life so much that he wanted me to meet his customers. I was kept busy for the entire day, talking to book-lovers, giving advice to other writers – and scribbling a goodly number of dedications.
In April I was one of Kobo's featured authors in the Digital Lounge at the London Book Fair. Two years before I'd been at the Fair on business, but when I mentioned to one publisher that I was also an author I was treated with undisguised hostility. It was a sweet sign of the times to be invited to the Fair by a forward-looking industry player who wanted to build relationships with writers.
Writers were out in force at LBF13 as never before – either taking their first steps in the craft or crowding into the advanced seminars on publishing. Many of us knew each other by tweets or blogs and it was like a dream where faces sail past from our online lives.
Exhibitors must have been bemused to see so many authors pointing at each other and mouthing names as recognition dawned. And maybe wondering how we'd become so well connected.
Landmark 3 happened when a tweet led Bloomsbury Publishing to investigate my blog. They then invited me to contribute to the website of their industry manual, Writers & Artists Yearbook. Many years ago, I bought W&A and scoured its pages to find out what to do about my audacious dream to get published.
Whatever your dreams, I hope they are proceeding well.
—
Follow Roz on twitter  @byRozMorris and @nailyournovel
Or visit her website  www.nailyournovel.com
Roz is Author of the following books:
My Memories of a Future Life
Nail Your Novel: Why Writers Abandon Books and How You Can Draft, Fix and Finish With Confidence
Nail Your Novel: Bring Characters to Life
Coming autumn 2013: Life Form Three
Category: Being a Writer, Blogging, Contemporary Women Writers, On Book Marketing, On Publishing, On Writing