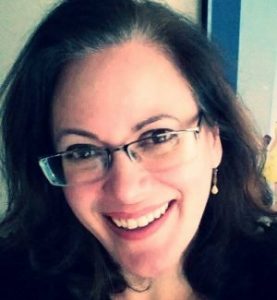 I've spent the majority of my life wondering what I'd be when I finally grew up. As a kid I thought I wanted to be a paleontologist, digging up fossils and bones, solving mysteries about the world I lived in. Then my mom informed me I'd have to go weeks without a proper bath during remote excavations. Crap, there went that dream. I waited and waited for some fascinating and compelling idea to take its place, but nothing seemed forthcoming.
By the time I was in college, I still had no clue, so I took a wide and weird variety of courses that sort of interested me; things like German, philosophy, humanities, and art history. Somewhere along the line I just decided to major in art history, having no idea what I'd do with such a degree.
During my freshman year, I was scouted by a modeling agency in Chicago, where I was going to school. I signed a contract with them to be a plus-size model. I was eighteen, six feet one, and a size twelve. So aside from being a little tall, I was ideal for their new division. I wound up modeling in Chicago, New York, and Los Angeles for twenty years, but I never viewed it as my profession. I always kept my eyes open for what I'd really do.
During my modeling years, I also worked as an events manager for an exclusive Los Angeles caterer, I owned a celebrity based gift basket company, and my husband and I wrote and pitched television shows to various networks. But still I yearned to discover my real calling.
I was expressing myself right and left creatively, yet I never felt totally at home in any of my pursuits. Then one day I got really steamed at my television agent and decided to sit down and write a story where he was the villain. Eighty-five thousand words later I knew I wanted to be an author.
My subconscious screamed, "OMG, do you really want another learning curve? Can't you just be content and stay the course you're already on? What in the hell is wrong with you?"
The answers were, yes, no, and I haven't a clue. I just knew I couldn't turn my back on writing books. For the first time ever I felt completely passionate about something. I wasn't just treading water and biding my time. I was alive in ways I hadn't been before. I was exhilarated!
Enter the learning curve. I've always had big time agents in my various careers, Ford Models, Innovative Artists, and the United Talent Agency. They repped the biggest names in the industry—and me. So I turned to them to find an equally impressive literary agency in New York City. It didn't take long. The problem was they also repped imposing names and no one had the time to walk a newbie through it.
My first romantic comedy, She Sins at Midnight, is a satire-based novel that received some initial interest with big publishers. The problem was that romance readers aren't necessarily known for their love of satire.
After a near miss with a Big Boy publishing house, my agent seemed at a loss for what to do with me.
He suggested the kind of books I should write and tasked me with the assignment of penning commercial mainstream fiction. My heart screamed, "Don't do it, it's a trap! If you follow his advice, you'll go back to wondering what you'll be when you grow up. Go your own way," it advised. "Follow your muse, follow your passion!"
So, I listened to my heart. What has this meant for me? It's meant self-publishing, which if you haven't done it, comes with a mofo learning curve the likes of which could crumble dynasties. It involves a rule book that changes the very second you master it. It's fraught with doubters and haters and a lot of people writing, who honestly, aren't that adept at it.
The upside is that I have found wonderful, talented, and supportive indie author friends who've made it their life's work to stay true to their own course and not buckle to the demands of a fickle industry. I've won awards in four different genres, Rom com, non-fiction/humor, middle reader, and children's books.
I have so totally thrown myself into this lifestyle that I no longer question what I'm going to be, because the answer is simple. I'm a writer, dammit, and a grown up to boot.
—
Whitney is an award-winning and bestselling author of romantic comedies and middle reader fiction. She lives in the Pacific Northwest with her husband, Jimmy, where they're raising  two daughters, organic vegetables, and free-range chickens; all named after Barbie princesses. Her new release, Motherhood Martyrdom & Costco Runs, is about her hilarious journey into middle-aged motherhood.
Find out more about Dineen on her website: https://whitneydineen.com/
Follow her on Twitter: @WhitneyDineen
And Facebook
About Motherhood Martyrdom & Costco Runs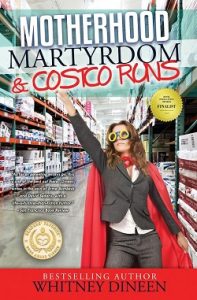 Join bestselling romantic comedy author, Whitney Dineen, as she discovers the three Es of parenting:
• Exhilarating—when you first discover you're pregnant.
• Exhausting—when you realize you'll most likely never sleep again–like EVER.
• Explosive—OMG these kids spew from both ends!
And that's just the beginning. Whitney shares the ridiculous highs and excruciating lows of her catapult into motherhood. Enjoy the ride as this new mom vows to give up profanity while falling in love with… you guessed it, Costco. Be careful, because if you're anything like Whitney, you may just pee a little.
Motherhood Martyrdom & Costco Runs takes the reader on a roller coaster of emotions as Whitney plummets into postpartum depression, desperately tries to get her kids to stop yodeling in public restrooms, and comes to terms with the fact she'll never quite be queen of her own kingdom. Get ready to laugh, cry, cheer, and pat yourself on the back for the sake of mommies everywhere. And while you're at it, stop by Costco for a case of toilet paper and a Very Berry Sundae. You won't regret it!
Buy the book!
Category: How To and Tips