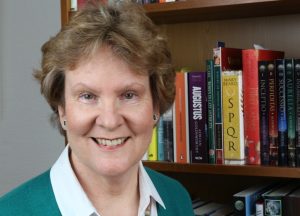 I write long-form fiction, around 100,000 words, and I've published six of these full-length novels in the form of two trilogies. In my hand, the books are chunky and pleasingly real. I'm in my stride, in the zone where I can be as complex as I like.
Each of my characters goes on a journey and I track in detail their maturation into their final tempered form as they thrust their way through the narrative to the climax of the story. Not only that, I can weave plots with as many twists and turns that my strange mind can concoct; some will have clues dropped in here and there, some will be reasonably evident, and some will tease.
My writing style is 15% plotter and 85% pantser. When I type the first few words, I know who my main character is. My next act is to throw her into a whirling cauldron of deep trouble and we're off! But I do have an outline and I know where she will end 100,000 words later. All I have to do is spend a few months putting type to paper.
But over the summer, I've written a novella of 35,000 words. Why? It came out of a conversation with a writing colleague. I'd seen quite a few friends publishing novellas and wondered at their ability to write so 'short'. My colleague announced she was doing one, too. Why didn't I have a go? I had finished the last book in the second trilogy and was considering various new projects. But could I do such a short piece of work and still produce a worthwhile book?
A little background…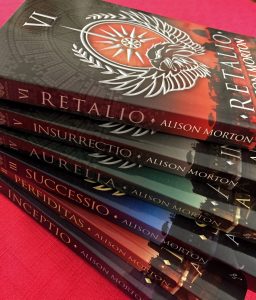 My books are set in an imaginary country called Roma Nova, the last remnant of the Roman Empire that has toughed it out into the modern age, but with a twist – it's ruled by women. Many aspects of life in this alternative timeline are exactly the same as in our own, but some are very different; Praetorian Guards for one. They protect the imperatrix of Roma Nova and act as an intelligence and special forces service.
The first three books, INCEPTIO, PERFIDITAS and SUCCESSIO, relate episodes in Roma Novan Carina Mitela's life at ages 24/25, 32 and 39/40. I chose to skip other years as her life wasn't at a special crisis point until the time of each of the stories in those three books. This reflects our own lives with brief highs in a continuous flow. I would think, though, that even in the more mundane periods. Carina's life is generally more exciting than our own.
At the end of INCEPTIO, the first book, we leave Carina as a newly minted Praetorian officer setting off on a mission in the borderlands of Roma Nova. When we meet her at the beginning of PERFIDITAS, the second, she's a captain, heading her own branch and part of the command group, albeit as a junior member. She's confident and competent with a record of success. Perhaps a bridging point between those six years would be a good idea….
Some practical points
Readers have asked me what had been happening to various characters in INCEPTIO; some we meet again in PERFIDITAS, others have disappeared. I re-read INCEPTIO and PERFIDITAS in an almost studious way and found I loved meeting the characters again from the perspective of six books later. This gave me the confidence to engage with them in another book. However, inserting a novella into an established series throws up problems as well as pleasures.
You know the characters
You know where they must end up so they are in place for the start of the next book
But with a few careful hints you can foreshadow events that are in the (already written) next book in the series. Readers lover those connections
If you introduce new characters, they must be either secondary or play a fleeting role
If you introduce a secondary character with agency, it's a good idea to link them to another character in one of the series' other books
You can describe in detail events that you only referred to in other books in the series
You must make sure your characters are the correct age/have the right partner and children they would have had then
You should take account of any changes in setting, such as political or social developments, seasons, family events
An 'in-between' book gives you the chance to flesh out the main character's own backstory as well as history and geography of the setting for the whole series
I wanted to write a standalone adventure for Carina – she deserved it – but not one with the same complexity and depth of disaster for Roma Nova as the full-length books.
This novella is an adventure, not a complex conspiracy to save her country or its ruler from annihilation.
About half of CARINA is set in 'North America'; even the cityscape on the cover reflects this. The Eastern United States, where our heroine Carina was raised and subsequently forced to leave, remained a danger for her so it was very tempting to bring that potential disaster into the novella. On a personal note, I've loved using the sights and sounds of my 2015 trip to the US and Canada in this story.
Once I had my (very short) outline, I wrote the story as it came out of my mind; its length reflects the action within it. I did set a target word count between 30,000 words and 40,000 because I wanted to see if I could do it and that's exactly what happened!
Will I write another one? Maybe…
—
Alison Morton bio (CARINA)
Alison Morton writes the acclaimed Roma Nova thriller series featuring modern Praetorian heroines. She blends her deep love of Roman history with six years' military service and a life of reading crime, adventure and thriller fiction.
All six Roma Nova full-length novels have been awarded the BRAG Medallion. SUCCESSIO, AURELIA and INSURRECTIO were selected as Historical Novel Society's Indie Editor's Choices.  AURELIA was a finalist in the 2016 HNS Indie Award. SUCCESSIO was selected as an Editor's Choice in The Bookseller. CARINA is a novella set between INCEPTIO and PERFIDITAS.
A 'Roman nut' since age 11, Alison has misspent decades clambering over Roman sites throughout Europe. She holds a MA History, blogs about Romans and writing.
Now she continues to write, cultivates a Roman herb garden and drinks wine in France with her husband of 30 years.
Connect with Alison on her Roma Nova site: http://alison-morton.com
Facebook author page: https://www.facebook.com/AlisonMortonAuthor
Twitter: https://twitter.com/alison_morton @alison_morton
Goodreads:  https://www.goodreads.com/author/show/5783095.Alison_Morton
Alison's Amazon page: http://Author.to/AlisonMortonAmazon
Buying links for CARINA
Amazon: http://myBook.to/CARINA
Kobo: https://www.kobo.com/fr/en/ebook/carina-7
iTunes: https://itunes.apple.com/book/carina/id1308402176
Barnes & Noble NOOK:  https://www.barnesandnoble.com/w/carina-alison-morton/1127527969?ean=2940158978593
What's CARINA about?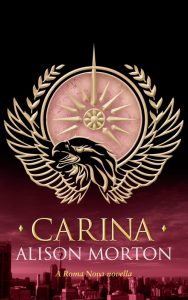 Carina Mitela is still a young inexperienced officer in the Praetorian Guard Special Forces. Disgraced and smarting from a period in the cells for a disciplinary offence, she is sent out of everybody's way on a seemingly straightforward mission overseas.
All she and her comrade-in-arms, Flavius, have to do is bring back a traitor from the Republic of Quebec. Under no circumstances will she risk entering the Eastern United States where she is still wanted under her old name Karen Brown.  But when she and Flavius discover a conspiracy that reaches to the highest levels of Roma Nova, what price is personal danger against fulfilling the mission?
———
Set in the time after INCEPTIO but before PERFIDITAS in the Roma Nova series, this thriller novella reveals hidden parts of Carina's early life in Roma Nova. And North America isn't quite the continent we know in our timeline…
Category: Contemporary Women Writers, How To and Tips