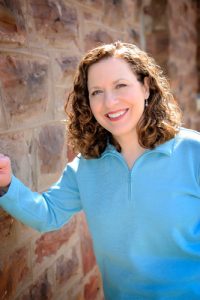 I write because I want to make things better, and stories teach us what to do when you discover the ring is evil, or just where papa's going with that axe.
I loved hearing my dad tell of driving down to Mississippi to register black voters in the Freedom Summer of 1964. He and a friend, André, stayed with a rich white family. When they were getting ready to go out the next morning, the homeowner drove across the lawn, right up to the door. Dad and André protested—it had rained in the night and the guy had ripped up his yard for no reason. They could have walked out to where the car was parked. The man looked at them and said, "The neighbor's going to shoot at you. I left the car door open, but you have to decide in what order to get in. The guy to dive in first will get mashed by the second guy, but the second one's more likely to get hit."
I was always fascinated by the moment when everything came together—a black guy, a white guy, a rich man who was willing to destroy his lawn, and a neighbor with a window cracked so the black nose of a rifle could rest on the sill. There was a choice to be made, but it wasn't just who would dive second, right? Because the unspoken option was to stay inside the house all day and sneak out that night. It would have been safer, but they wouldn't have gotten the work done.
André went first.
When he was fifteen months old, our son was diagnosed with a rare and aggressive pediatric cancer. During the following year he turned grey, except for his fingers and toes, which turned brown. His hair and eyebrows and eyelashes fell out, and he was so thin we could see his coronal sutures. He was inoperable Stage 4, and officially had a 0% chance of survival.
To distract himself from the pain, which was often severe, he would shout for me to read, and so I pulled my shirt up so that he could lie directly on my skin and I read to him, book after book. When you're one year old and dying you have no time for titles, so I hooked my left thumb under the cover of the next book while I held the book I was reading with my right. When it was time to switch I plunged straight into the next story while our son screamed for me to keep reading, as though it were a matter of life or death.
Maybe it was.
One day during a potassium bolus he looked up at me and said, "You know, I tink I'm da Little Engine Dat Could. Cause dat guy tried, and tried, and tried, and then he dooed it! And I try, and try…" Here he shook his head to emphasize his effort. "…And try and try and try. Mama, I tink I'm da Little Engine."
He was right, too. He survived. His oncologist says she can't explain it, but I can: he understood it was possible because he'd seen the Little Engine do it.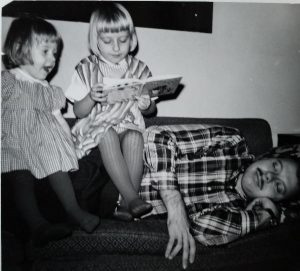 When we were in our twenties my sister and I wound up living in the same town and going to the same church. It was a big grey modern Gothic that took up a whole block next to a university. It had tightly-packed pews, a central aisle, and narrow side-aisles that were constricted further by pillars. The doors were glass and when you exited the building, you were up pretty high, and had to descend a flight of stairs to get to the ground. My point is that if a shooter ever got to the front, people weren't going to make it out of there.
One spring Sunday the preacher was halfway through his sermon when a man pushed those glass doors open and strode up the aisle, carrying a rifle case. He made it past the ushers and then no one knew what to do. The minister stopped talking and everyone just watched this guy walking toward the front. Except my sister.
She was sitting a couple of rows ahead of anybody else, and when she saw that he was coming she stood up and stepped out into the aisle–wearing a pink suit and heels that matched perfectly. The man took a step to the right, and she stepped left. He stepped to the left, and she stepped right. He understood that he wasn't going to get past her so he dropped to his knee and popped open the case.
My sister kicked off her shoes and hiked her skirt. Realizing that she was about to go airborne, the man panicked and fled.
That's why I write. Because it's not enough to know there's a fire or to ring alarm bells in the night. You have to tell people where the water is, and how to recognize a bucket. Stories do that.
People need to know ahead of time that you can be the first guy to jump, or you can be the second guy, but you're going to dive into that car despite the rain and the gunfire spraying around you, because there's work to be done. You need to know that the day evil walks in you can take a step left, and you can take a step right, but you never, never take a step back. And you need to know that it all matters, because you are, in fact, the Little Engine.
That's why I write.
—
Katie Kennedy teaches college history. She once taught in a fire station. Whenever the alarm rang, the entire class jumped up and ran out. She has been lost in Moscow, and rousted by the KGB for sitting in Red Square to eat her ice cream. She has been bitten by a fish.
She lives in Iowa with her family, cat, and dog.
Find out more about her on her Website http://www.katiekennedybooks.com/
Follow her on Twitter @KatieWritesBks
About WHAT GOES UP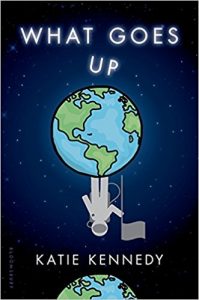 Rosa and Eddie are among hundreds of teens applying to NASA's mysterious Interworlds Agency. They're not exactly sure what the top-secret program entails, but they know they want in. Rosa has her brilliant parents' legacies to live up to, and Eddie has nowhere else to go–he's certainly not going to stick around and wait for his violent father to get out of jail. Even if they are selected, they have no idea what lies in store. But first they have to make it through round after round of crazy-competitive testing.
And then something happens that even NASA's scientists couldn't predict . . .
From the author of the acclaimed Learning to Swear in America comes another high-stakes adventure that's absolutely out of this world.
Praise for Learning to Swear in America
A Summer/Fall 2016 Indies Introduce selection
An Indie Next Pick
Category: Contemporary Women Writers, On Writing