Every time I attend a book club or read at a bookstore I am asked "Why do you include dogs in all of your books?" In fact, I didn't include animals in my novels until my second book, 'Lost & Found' when a black Labrador with a heroic personality walked onto the stage of my story. But I should have known that sooner or later dogs would work their way into my fiction, just as they had worked their way into my life, and always at the right moment.
I was the youngest of five kids with an eight-year gap between me and the next youngest. My parents wisely brought home a Boxer puppy, Major, right as I came along and he and I became more like siblings. He never left my side, no matter how far I wandered. When I was seven, I was bereft when my mother gave away several kittens to ease our bulging animal population. I decided to lodge my rebellion by running away from home.
I packed up a flashlight and a stack of comic books, waited until dark and then walked to a field that had just been mowed and baled. Major was by my side. I built a small cave from the hay bales and Major snuggled next to me. I clicked on the flashlight and started to read my comics. Instead of reading, I wept about the kittens. Major completely accepted the situation: that I was sad, that we might need to sleep all night in the field, and that I was his and he was mine.
When I was cried out, we went back home and to my amazement, no one knew we had even left the house. My parents and siblings sat in the blue glow of the television. But Major and I had each other and we shared the secret about my grief. He taught me about loyalty and acceptance.
I have had the same experience with other great dogs. Poncho was my brilliant, funny, loving Golden Retriever who came to work with me when I directed a group of high school kids in a travelling puppet show in Oregon, went camping with me in wilderness areas and welcomed the birth of my daughter as a new member of our pack. He softened my brittle edges and taught me about true kindness.
When I became a psychologist, I often asked my clients, "Do you have a dog or cat?" because I knew that if they had a beloved pet, their chances for working through their troubles, no matter what they were, were improved just by the steady presence of a dog or a cat. Someone loved them and they knew how to love back.
So it was completely natural for me to include dogs in my fiction. They can often hold an emotion that a character is too traumatized to express. Their emotions are rarely as knotted up as human emotions. If a dog is glad to see you, they don't express it halfway. There is no self-consciousness about their affection, their fear, or their joy. There is an overriding clarity to their emotions that for a writer, is pure gold.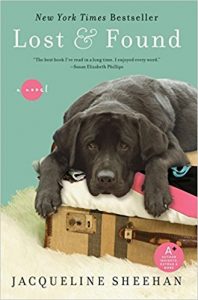 Of my six novels, four of them have featured dogs as characters. In Lost & Found, the imagined interior life of a dog is fully explored, even right down to his dream life. Readers have written to me and said, "We want a dog like Cooper. You have changed my mind about getting a dog for our family." I love hearing from readers, but this note warmed my heart like no others. That my fiction could influence a family to welcome a dog meant everything to me. Including animals in my fiction is as natural as including humans.
—
Jacqueline Sheehan, is a New York Times Bestselling author and a psychologist.
Her novels include, The Comet's Tale a novel about Sojourner Truth, Lost & Found, Now & Then, and Picture This, The Center of the World, and The Tiger in the House. She writes NPR commentaries, travel articles, and essays including the New York Times column, Modern Love. She edited the anthology, Women Writing in Prison. Jacqueline has been awarded residencies at Hawthornden Castle, Scotland, Jentel Arts Colony, Wyoming, and Turkey Land Cove, Martha's Vineyard. She teaches workshops at Grub Street in Boston and co-leads workshops in Guatemala and Scotland.
About THE TIGER IN THE HOUSE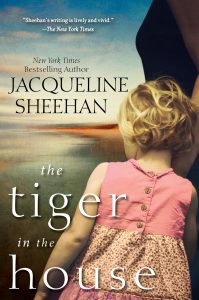 "The Tiger in the House is teeming with excitement and heart-stirring emotion. A natural storyteller, Sheehan will draw you in with her finely crafted characters and hold you tight until the very end." —Heather Gudenkauf
Love and resentment, fear and hope intersect for two sisters as their desire to help an abandoned child forces them to face their past and decide their future . . .
Delia Lamont has had it. Though she loves her job at Portland, Maine's child services agency, its frustrations have left her feeling burned out and restless. She's ready to join her carefree sister Juniper and start a seaside bakery, celebrating and serving life's sweetness for a change.
Then the call comes: a five-year-old girl has been found at the side of the road. She reveals that her first name is Hayley, but little more. The only clues to her family lead to a shadowy web of danger that reaches closer to Delia herself than she would ever guess.
As she seeks to discover where Hayley belongs, Delia is forced to reexamine her own painful history. With no guide but her own flawed instincts, Delia must decide how deep to venture into the unknown, whether in shaping the destiny of the child who has no one else to turn to—or in exploring the fierce dark corners of her own soul.
"The Tiger in the House is at once terrifying and tender, a tribute to this writer's range in the realm of domestic drama. I read it once, and then I read it all over again. Stop what you're doing and settle down with this one." —Jacquelyn Mitchard
"I love Jacqueline Sheehan's books because they're about real life with exciting, breathtaking twists. The Tiger In the House is a gripper. From the start where we meet a five year old girl without a last name standing on the side of the road to the ending I wasn't expecting, I felt like holding my breath. What a great read." —Cathy Lamb
"The Tiger in the House is an absorbing story about two sisters—the strengths and struggles they share, and the secrets they don't. Delia is a compelling heroine, sensitively rendered. Jacqueline Sheehan is a perceptive observer of the complexities of family relationships in the face of tragedy." —Emily Arsenault
Category: Contemporary Women Writers, On Writing