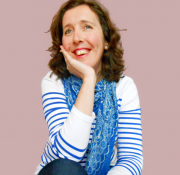 Looking through the shelves at my local bookstore, it seemed that I was spoilt for choice; I was going through a period in my life where I wanted answers, having had one experience of failure after another.
I passed my fingers over the countless self-help books on the shelves, from books like '10 Steps To Instant Happiness' to 'How To Motivate Yourself' and many more. Having read hundreds of these types of books over the years, I felt something was missing – they all were trying to get me to feel happy and positive.
It was then I realised that most people could relate to this; most people want support and confirmation that who they are (right now) matters. And I was no different.
After growing frustration with the self-help industry, I really wanted to heal myself and I wanted answers to those heart-felt questions many people have, such as, 'Why am I failure?' 'Why does everyone else pass me by in terms of success?' and many more. I wanted answers to current life challenges. It was time for me to put pen to paper and discover the answers for myself.
At first I felt too inexperienced – didn't I have to be an expert motivational speaker to write a book like this? Or a professional psychologist of some kind? But this is where the problem lies. When people are depressed, feeling like failures, these experts can often make someone seeking support feel even more inferior, because they are unable to live up to the ideas in the book. Some can make you feel even more depressed as they tell you to look in the mirror and say that you love yourself, when you are feeling in the pits of despair. Something had to change.
After 14 years of meditation practice and more recently mindfulness, I was beginning to receive guidance from within. The world needed fewer candy floss 'happy' motivators and more real people writing from where they are.
'When Everyone Shines But You' was not planned, not researched – it was unearthed. It came from the roots of life's challenges, and because of this it speaks to the human in everyone. It came from the jewels in the darkness. The desire to 'be human' – warts and all.
And from there it began.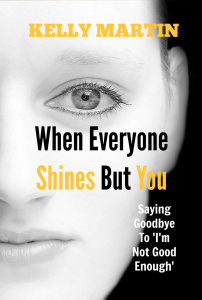 My main intention was to reach others who were in the same position as me, and I did not want to make a book that meant nothing, that was simply a bunch of platitudes that had been said many times before, added to useless exercises and over-full with other people's wisdom quotes and case histories. I wanted every page to matter and to include 'no fillers'.
This was a book for the man or woman on the street who felt over-looked and incapable of putting a 'happiness Band-Aid' over a feeling of 'not good enough'.
Writing for me should come from life, from the heart, not the head. The head can help with the details, but it's not the master when it comes to creative expression.
'When Everyone Shines But You' does what it says on the cover, it allows those reading it to be fully 100% human – and from this, self-acceptance begins.
—
Kelly Martin is a passionate and unconventional metaphysical thinker and writer who has been questioning reality since 1999. To find out more about her visit: www.kellymartin.co.uk
Follow her on twitter @KellyMartin_UK
'When Everyone Shines But You – Saying Goodbye To 'I'm Not Good Enough' by Kelly Martin is now available on Amazon, Barnes & Noble, Google Play and other retailers.
Category: Contemporary Women Writers, On Writing