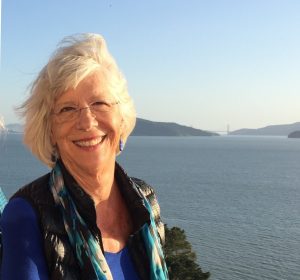 When I first began to write my memoir The Coconut Latitudes, it was so the past would not get lost. Like many others contemplating memoir, we are often keepers of family secrets, whether wittingly or not. Those circumstances can be paralyzing, and it certainly was for me for many years.
But at some point the desire to write became larger than the fear that held me back from doing so. And I was aided along the way by reading books by authors whose lives had certain parallels to mine. I've always been attracted to memoir, especially stories by expats – those of us whose lives have been indelibly affected by living in other countries and absorbing new cultures as our own.
Having spent the first nineteen years of my life on a remote coconut farm on a Caribbean island rife with political unrest, when I finally came to live in the United States as an adult I felt like an alien. I had no clear sense of belonging, straddling two cultures and yet not quite at home in either. An avid reader since childhood, I delighted in finding books that in some way struck a familiar chord in my soul and drew me in. Some of these narratives were my first introduction into lives I could relate to, and while they didn't directly inspire me to write, they were important guides or stepping-stones.
It is hard to just pick out a few books that made a difference in my life. A particularly inspiring memoir was Don't Let's Go to the Dogs Tonight by Alexandra Fuller, whose childhood in many ways echoed my own, even though it was set in war-torn and rural Africa. She too writes about surviving political and familial turmoil, while also falling in love with a world that was colorful and vibrantly alive. The Road from Coorain, by Jill Ker Conway, depicts Conway's girlhood on an isolated and wind-swept sheep farm in Australia. She writes movingly about the experience, which although solitary (she was seven before she ever laid eyes on another female child) was full of unforgettable characters, courage and perseverance. (She eventually became the first woman president of Smith College in the U.S.)
Other notable memoirs that moved me: The Glass Castle by Jeannette Walls, and The Liars' Club by Mary Karr are both brilliant portrayals of families in full dysfunction mode.
Paul Theroux's The Mosquito Coast, while fiction, depicts an American family much like my own. The main character is a patriarch determined to abandon a too-rapidly evolving society of consumerism by hauling his hapless family to a supposedly simpler life in a Central American jungle (and failing spectacularly.) Reading it shook me to my core. I felt the pain and confusion of the children who were at the mercy of a brilliant, yet erratic father far away from civilized society.  Barbara Kingsolver's The Poisonwood Bible, also fiction, depicts another fish-out-of-water family – this time an evangelical missionary who transplants his family to a village in the Belgian Congo in the 1960s amidst political upheaval.
It's probably obvious by now my reading interests over the decades have had a recurring theme. But reading is of course, nothing like trusting yourself to put pen to paper (or fingers to computer keyboard) and begin to create an actual book – and in my case, it required opening a Pandora's box of family secrets deeply buried for decades. I think there is no right way to write personal story. For me, I had to start small – just writing down bits of memories.
Much like Anne Lamott's advice to her son in her marvelous book Bird by Bird, those disparate pieces eventually wove themselves into a narrative.  I figured no one else would ever need to see my words – it was just important to get them out of my head.  I couldn't unveil certain secrets while family members were alive. But that didn't mean I couldn't write. It might be a very long journey, but time wasn't what mattered. What counted was knowing I could start.
I still have much to learn about writing and revealing truths; it's a lifelong past of discovery. I'm pleased to say my writing journey has given me a gift I didn't expect – it has brought me home to myself. I learned everyone's stories can color their past, shape their present, and sometimes foretell their future.  All stories matter, and writing is a courageous act. Mary Oliver's poem The Journey is a stunning testament to taking action. It starts:
One day you finally knew
 what you had do…and began…
Next, she chronicles all the voices that shouted and tried to make us stop – all the excuses that would keep us stuck in inaction. In conclusion, she reminds us of the monumental changes that can occur when we move beyond our fears into commitment to do "that one thing" we can actually do.
I'm grateful for a family who encouraged reading at an early age, and for the solace that books provided. I'm thankful for all the stories that have found their way into my heart. My wish for those who yearn to tell their stories is to surrender to the quest. Everyone's path is different, but the journey is worth taking, and one with untold surprises ahead. And you just might find your own way home.
—
Rita M. Gardner grew up as an expatriate in the Dominican Republic during a repressive dictatorship. Her award-winning memoir The Coconut Latitudes chronicles that experience.Gardner's Gardner is also a contributor to two other recently published nonfiction books: The Magic of Memoir is a collection of stories, tips, and interviews by memoirists to inspire other writers. Wandering in Andalusia: The Soul of Southern Spain, is a tasty travel anthology about the southern region of Spain.
Her published essays, articles, poems, and photographs have appeared in literary journals and travel magazines.
Gardner lives in California, but still considers the Dominican Republic home.  Please contact her at rita@ritamgardner.com. Website: www.ritamgardner.com. Facebook Author page: www.facebook.com/ritamgardner
About THE COCONUT LATITUDES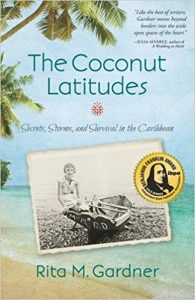 Rita M. Gardner's award-winning memoir The Coconut Latitudes is a heartbreaking account about her family's life-changing decision at the end of World War II to leave the United States and start a coconut plantation in a tropical paradise.
The author is only a few weeks old and her sister four years old when the family arrives with a pile of suitcases and books to a remote island coastline. The father plants ten thousand coconut seedlings, and declares they are the luckiest people alive.
Far from being in the envisioned Eden, they found themselves in the path of hurricanes, and in the grip of a brutal dictator. Against a backdrop of shimmering palms and kaleidoscope sunsets, a crisis causes the already fragile family to implode, and their lives are changed forever.
The Coconut Latitudes is a haunting, lyrical memoir of survival, the terrible cost of keeping secrets, and the transformative power of truth and love. It has won two national awards and is a favorite of book clubs. It has been widely reviewed. Samples:
"Gardner has written a rich, haunting book that vividly captures her childhood and makes everyday turmoil vital through precise and honest prose."
—Publishers Weekly, July 2014
"Another fine writer we can embrace as ours: an honorary Dominicana, who moves beyond borders into the wide open spaces of the heart."
—Julia Alvarez, author of A Wedding in Haiti, and How the Garcia Girls Lost Their Accent. Recipient, 2013 National Medal of Arts
Category: On Writing