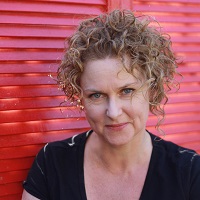 Sometimes characters reveal themselves to me after many months of work and countless drafts, sometimes they appear almost fully formed. The protagonist of my debut crime novel, Resurrection Bay, strode onto the page as though he'd been waiting impatiently for me to give him the opportunity. Caleb Zelic was a thirty-something investigator with a dry sense of humour and a prickly stubbornness. He was hyper-aware, watchful and isolated. And profoundly deaf.
I hadn't set out to write a deaf character, but my first drafts are directed by instinct, and memories of a profoundly deaf girl I'd known as a child had seeped into Caleb's character. I liked Caleb, and thought that he'd make an interesting hero, but I had a major problem – I knew very little about deafness.
I'm not a planner or a pre-plotter, and rarely use real places as settings for my novels, but the best fiction comes from a place of knowledge: not so much 'write what you know', as 'know what you write'. To write a convincing deaf character, I was going to have to do a lot more than rely on my imagination. More than that, there are dangers and responsibilities that go with writing from outside your own experience. Caleb is Caleb, not a representative of the Deaf community, but getting it wrong could hurt people. So I began what would turn out to be a five year process of writing and research.
I read books and blogs and spoke to people in the Deaf and hard-of-hearing communities. I learned the difference between being culturally Deaf, which Caleb isn't, and small 'd' deaf, which he is. I soon decided that Caleb had become deaf as a child, that his natural abilities and stubbornness made him an excellent lip-reader, and that even with the help of hearing aids, he could hear little more than murmuring sounds. But that was just background information. I needed to get inside Caleb's head if I was going to make him feel real.
Whether they're the protagonist of a novel, or the waitress serving them coffee, believable characters are the difference between a reader observing a story, and experiencing it. So I immersed myself in Caleb's world. I walked around with earplugs in my ears,  misunderstanding people in shops and on the street, on train stations and in my own home. Lip-reading, it turns out, is hard. Really hard. I never became good at it, but I learned enough to know that no matter how skilled Caleb was, things like beards and chewing gum, a turned head or rubbed nose would thwart him.
The last piece of the puzzle was sign language. The majority of deaf people in Australia don't use Australian sign language (Auslan), but the idea of it intrigued me, so I enrolled in a course. Because Caleb is so determined to live in the hearing world, I went to the first lesson unsure if he was going to use Auslan at all: ten minutes into it I knew that he had to. Auslan is a beautiful language. There's an expressiveness and freedom to it that would allow Caleb to be truly at ease in at least one area of his life. It would also be the perfect way to demonstrate his closeness with people. So he became bilingual, speaking English most of the time, but signing with those he loves.
I continued learning Auslan after that first course and, as I gained a deeper understanding of the language and culture, began to see how Caleb's loved ones would sign, too. That his beloved ex-wife would be fluent, graceful and forceful; that his estranged brother wouldn't sign with him these days, but speak out loud, only changing to Auslan as they grew closer. I even found a use for my own mistakes, dumping them onto Caleb's business partner, Frankie, a spiky 57-year-old ex-cop. Frankie and I have similar skills in Auslan, including the ability to accidentally sign foul and funny things.
Apart from the unexpected delights of learning Auslan, one thing surprised me most of all while working on Resurrection Bay –  the enormous advantages of writing a deaf character. Caleb is far more observant than I would have made a hearing character, which is a huge boon for an investigator in a crime novel, but also for me. I'm a classical musician and naturally drawn to sound. I'm a shameless eavesdropper and lover of dialogue, but cover my eyes and get me to describe the room I'm in and I'm at a loss. Or I was. These days, I'm far more observant. I notice people's expressions and body language, the light in a room, the scents and colours and textures. Now, having just finished the second novel with Caleb, And Fire Came Down, I know a lot more than when I started. Most of it will never make it directly onto the page, but it's all there, adding to Caleb's world. And to mine.
—
About And Fire Came Down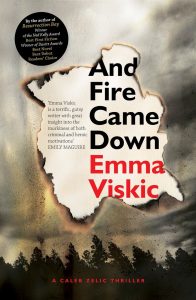 Deaf since early childhood, Caleb Zelic used to meet life head-on. Now he's struggling just to get through the day. His best mate is dead, his ex-wife, Kat, is avoiding him, and nightmares haunt his waking hours.
But when a young woman is killed after pleading for his help in sign language, Caleb is determined to find out who she was. And the trail leads straight to his hometown, Resurrection Bay.  The town is on bushfire alert and simmering with racial tensions. As he delves deeper, Caleb uncovers secrets that could threaten his life and any chance of reuniting with Kat. Driven by his demons, he pushes on. But who is he willing to sacrifice along the way?
—
Emma Viskic is an award-winning Australian crime writer. Her critically acclaimed debut novel, Resurrection Bay, won the 2016 Ned Kelly Award for Best First Fiction, as well as an unprecedented three Davitt Awards: Best Adult Novel, Best Debut, and Readers' Choice. Resurrection Bay was iBooks Australia's Crime Novel of 2015. Emma learned Auslan (Australian sign language) in order to write the character of Caleb Zelic.
Also a classically trained clarinettist, Emma's musical career has ranged from performing with José  Carreras and Dame Kiri Te Kanawa, to busking in the London Underground. She lives in Melbourne and divides her time between writing, performing and teaching.
Website: www.emma-viskic.com
Twitter: @emmaviskic
Category: Contemporary Women Writers, On Writing