We're giving away two copies of Sweta's SARIS AND A SINGLE MALT this month, TELL US WHY YOU WRITE in the comments for a chance to win!
How many times have you, the writer, been asked "Why do you write?" How often do we believe that we know why we write? But if you mindfully ponder over it (take a deep breath/meditate/stop over-analyzing yourself), you might realize that different reasons drive us each time. Sometimes the words pick us and use us as a conduit to come out; other times, we use words as our trustworthy ally and rely on them to articulate our most intimate emotions.
In summer of 2014, my mother died suddenly—she was headed to vacation with my dad and the next thing we knew, she was in the hospital. Even before the wheels of the airplane had touched the runway of the international airport in New Delhi, India, my mom was gone. I wrote a collection of poems, Saris and Single Malt, in four days. The collection chronicles my physical and emotional journey as I flew to India, tried to fight the inevitable, and succumbed to the grief of a motherless world.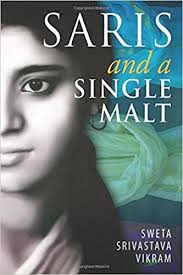 The book came out in summer of 2016 and became an Amazon best-seller. In August, 2016, my brother and sister-in-law hosted the book launch party for "Saris and a Single Malt" in Singapore. In August 2017, I am celebrating the one-year anniversary of this most personal poetry collection in California with my father, extended family, friends, and readers. But this journey of mourning to celebration has taken me three LONG years. The words in my book, which I wrote about and for my mother, have hurt a lot before they healed me. I will never be the same again.
I wrote Saris and a Single Malt because I didn't know how else to handle my feelings or grief. I wrote the book because I feel everything intensely and deeply; not everyone has the bandwidth to understand the depths of my vulnerability. Majority of those who have read the book confessed that they too felt a lot of similar feelings after losing a loved one. Saris and a Single Malt made them feel less alone and a lot less self-conscious of their grieving process.
I didn't write the book to diss anyone even if I sound angry in the book with a few people. I have always allowed myself to feel my emotions with utmost honesty instead of suppress or judge them. Isn't that how you heal? Those were my initial, raw thoughts, and I am over them. I didn't turn my grief into poems to win the daughter-of-the-year award. Saris and a Single Malt happened to me, and I am grateful that a book about my mother has found so much love in the world.
Why do you write?
—
Sweta Srivastava Vikram www.swetavikram.com, featured by Asian Fusion as "one of the most influential Asians of our time," is a bestselling author of 11 books, wellness columnist, and mindfulness writing coach. Sweta, whose work has appeared in The New York Times amongst other publications across nine countries on three continents, is an award-winning writer and a graduate of Columbia University.
She is also the CEO-Founder of www.nimmilife.com, which helps creative professionals nurture their overall health and wellness, while elevating their productivity, using alternative healing sciences like yoga, Ayurveda, holistic nutrition, mindfulness, and yoga.
~~~~Writer | Marketer | Wellness Entrepreneur~~~~
Web: http://www.swetavikram.com
Facebook: http://www.facebook.com/Words.By.Sweta
Email: sweta@swetavikram.com
Twitter: http://twitter.com/swetavikram
LinkedIn: http://www.linkedin.com/in/swetavikram
Instagram: https://www.instagram.com/swetavikram
Category: Contemporary Women Writers, On Writing