The origins of a book fascinate me. How do writers have such clever ideas? Why don't I have them first? How dare someone write a bestseller with an idea I had five years ago and never did anything about?! (It happens to us all, right?) But when it came to writing my fourth novel, a series of remarkable coincidences aligned, and if there was ever a book the universe was telling me to write, THE COTTINGLEY SECRET is it.
Having grown up in Yorkshire, England, I knew a little about the Cottingley Fairies hoax of the 1920s, when two young girls – Frances Griffiths and Elsie Wright – claimed to photograph fairies at the bottom of the garden, convincing Sir Arthur Conan Doyle, and capturing the imagination of a nation reeling in the aftermath of WW1.
But it wasn't until I attended a writing workshop in Dublin in 2013, where one of the fairy photographs was used as a writing prompt, that I first had the idea to write a novel about these events. The idea was filed away and it would be another two years before it returned, along with a collection of strange coincidences that convinced me now was the time to write this book.
Firstly, my agent mentioned the Cottingley Fairies while we were discussing possible ideas for my fourth novel. Quite the coincidence, considering that I'd never discussed my interest with her, and she knew nothing about the idea I'd filed away two years previously. Secondly, 2017 marks the centenary of the first Cottingley photographs.
When I began looking into the Cottingley events back in 2015, I knew that 2017 would be my publication year for the book – if I wrote it. Thirdly, and perhaps most astonishing, when I started researching the story in more detail, I began an email exchange with a lady called Christine Lynch, who turned out to be the daughter of Frances Griffiths, one of the little girls who took the original photographs. What's more, Christine lived only a two-hour drive from me. Of course I had to meet her, but I was nervous. How would she would react to me writing a novel about her mother? Writing historical fiction is challenging enough in itself, but to tell the story I wanted to tell, whilst knowing relatives would read the book, was an entirely new challenge.
I needn't have worried. Christine was thrilled by the idea, especially since Frances had always wanted to tell her side of the story. Getting to know Christine offered a wonderful sense of connection to the young girl in the black and white photographs. THE COTTINGLEY SECRET began to take shape.
When I visited the Cottingley collection at Leeds University, I was amazed by the sheer volume of newspaper reports and correspondence about the girls and their photographs, and I was shocked to see how quickly the story spread after Conan Doyle's Strand Magazine articles in the 1920s.
The story took on a life of its own until it must have become impossible for the girls to admit their photographs were a hoax. It would be another sixty years before they eventually told the truth and even then Frances maintained that although the photographs were fake, she really had seen fairies in Cottingley. Her belief in that never wavered. Christine still hopes that the fifth photograph (which Frances and Elsie claimed was the only one not faked) will be analyzed with modern technology to determine what it shows.
The idea of family secrets and treasured mementos intrigues me, and in writing this book I wanted to explore how global interest in the fairy photographs might have affected residents in Cottingley at the time, and might still be part of someone's family history and secrets. This led to me setting part of the book in present-day Ireland, and also allowed me to bring together both of my 'homes': Yorkshire, where I grew up, and Ireland where I now live with my own family.
Writing THE COTTINGLEY SECRET has been a magical experience, all of which started with an almost abandoned idea returning to me at just the right time.
Like all the best fairy tales, the story of the Cottingley fairies endures and changes a little in each retelling. With 2017 marking the centenary of the first two photographs, I hope a new generation will discover this fascinating story for the first time. In writing THE COTTINGLEY SECRET, I hope to have contributed my own piece of history to this wonderful fairytale.
*
ABOUT THE COTTINGLEY SECRET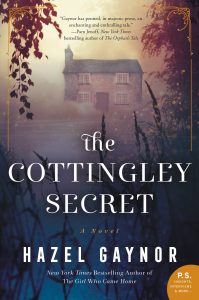 I said my story had many beginnings, and the day the camera arrived was one of them. After all, without the camera, there wouldn't have been any photographs. Without the camera, I wouldn't have a story to tell…
1917…. In a world torn apart by war, Frances Griffiths arrives in Cottingley, England where her cousin, Elsie Wright, becomes her friend and playmate. But Frances soon discovers other, secret friends … When the cousins claim to have photographed real fairies at the bottom of the garden their parents are sceptical, but the photos come to the attention of Sir Arthur Conan Doyle who declares them a marvel and entirely authentic. The 'Cottingley Fairies' – and the girls – become a national sensation. Afraid to tell the truth, Frances and Elsie will keep their secret for decades …
Present day . . . When Olivia Kavanagh inherits her grandfather's bookshop in a small Irish harbor town, she discovers far more than dusty old books. An old manuscript tells an enchanting story of a nation gripped by fairy fever, and a hauntingly familiar photograph stirs painful memories of the past. Olivia begins to understand how Frances's story intertwines with hers, connecting past to present . . . often blurring what is real, and what is imagined, along the way. While little girls might easily believe in fairies, can Olivia believe in herself?
—
Hazel Gaynor is the New York Times and USA Today bestselling author of THE GIRL WHO CAME HOME (for which she received the 2015 RNA Historical Novel of the Year award) and A MEMORY OF VIOLETS. Her third novel THE GIRL FROM THE SAVOY was an Irish Times and Globe & Mail Canada bestseller and was shortlisted for the Irish Book Awards Popular Fiction Book of the Year. Hazel's books have been translated into a number of foreign languages.
Her forthcoming titles for 2017 are THE COTTINGLEY SECRET (August) and LAST CHRISTMAS IN PARIS (October, co-written with Heather Webb). Hazel lives in Ireland with her husband and two children. She is represented by Michelle Brower of Aevitas Creative, New York. For more information, visit www.hazelgaynor.com 
Category: Contemporary Women Writers, On Writing