I think most people who come across anecdotes about the seventeenth-century English noblewoman Frances Coke Villiers, Viscountess Purbeck, would find them fascinating. Commonly told stories include the drama surrounding her marriage. Her parents disagreed on who their daughter should marry, kidnapped her back and forth, until the king and the law stepped in and enforced Frances's father's right to marry her to whom he pleased. Another anecdote includes the scandal that ensued when Frances was accused of adultery.
Frances's court case became a cause célèbre, and her persistent refusal to submit to the punishments after her conviction generated even more gossip. At one point, when Frances was scheduled to perform the shaming ritual of public penance, she evaded it with the help of a foreign dignitary, the ambassador of Savoy. The ambassador's page boy created a diversion by dressing up as a woman, rushing out of the house and speeding off in a waiting coach. The officers who had been waiting outside to arrest Frances chased after the disappearing coach, thinking it contained their target.  Meanwhile, Frances, dressed in men's clothing, was able to slip away undetected.
I first encountered Frances Coke Villiers when I was doing research for another book, Love, Lust and License in Early Modern England: Illicit Sex and the Nobility (Ashgate, 2008). In that book, I dedicated a chapter on the affair and adultery trial of Frances and Sir Robert Howard, exploring the early modern interpretations about female honor. I quickly became captivated by the dramatic events in Frances's life. I wanted to learn more, so I continued doing research. As is often the case, the more I learned, the more questions I had, and the more I wanted to know about this singular woman.
As I was exploring Frances's life further, I became convinced that the best way to tell her story would be in a biography, rather than an article or work dealing with a larger theme. However, here is where I ran into some trouble. In traditional biographies, the author usually selects subjects who created a significant amount of written material themselves, such as letters, diaries, literary works, and so on.
In the Tudor and Stuart period, which is the period I study, that usually means that when writing about women, biographers focus on female rulers or other members of the royal family, female literary figures (like poets and other writers), or noble or gentry women whose letter collections have been preserved in family archives.
Frances was neither a literary figure, nor royal. She may have kept up steady correspondence with family and friends, but if she did, those letters were either not preserved, or they have disappeared. Only very few of Frances's own letters survive in other collections. I found myself at an impasse: could I write a biography when I had so little of Frances's own writing, her own words? I did not want to fall into the trap of filling in the voids by making Frances be what I wanted her to be. I wanted to tell Frances's story on her terms, as close to how she lived it as I could.
My work on Frances lay dormant for some time, until I read Caroline Murphy's Murder of a Medici Princess (OUP, 2008). It detailed the life and tragic death of Isabella de Medici, who was probably killed by her husband, in collusion with her brother. Murphy also had limited sources written by Isabella herself, but was able to use other materials in a masterful way, bringing Isabella's story back to life and out of obscurity.
I also started to ponder the fact that in the past, historians sometimes argued that they could not write the history of certain groups, such as women and the many illiterate members of society, because these subjects did not leave many written sources behind. However, in the last half century, enterprising historians have rejected this notion, and used existing sources in innovative ways, in order to learn more than we ever thought possible about marginalized social groups.
Consequently, I became determined to write the biography, using the many varied sources I had, which mention Frances in various ways. I would build the image of Frances from the outside in, like when you start a puzzle by finding the edges and corner pieces first.
Since Frances's parents were both prominent persons at the late Elizabethan and Jacobean courts, their lives and actions are relatively well documented. The two also fought, quite publically, over matters of family finances as well as the marriage of Frances. Their epic battles generated both comments and reports in letters of their contemporaries, as well as royal petitions and even Privy Council mediation and decisions.
These family disputes could give me good insight into Frances's early life. Once Frances married, she became part of the most powerful family in Jacobean England. She married John Villiers, Viscount Purbeck, elder brother of George Villiers, Duke of Buckingham, the undisputed favorite of King James I. Many letter writers followed the actions of the powerful Villiers closely, and reported it to their friends and allies away from court, so that they could stay abreast of its complex workings. Frances's movements and actions were sometimes featured in these reports.
Frances's scandals also generated much interest among letter writers. Both friends, enemies and the curious found her actions noteworthy, and recorded them in letters, memoirs, and diaries. The petitions to King James and King Charles that both Frances and her mother wrote at various times also give insights into how they wished to present and shape their stories. Frances also petitioned the House of Lords several times, which highlighted her legal strategies to get out of trouble. While in exile in France, the English ambassador reported her movements to the annoyed Charles I, who wanted her home so he could punish her. The equally annoyed and outraged Archbishop of Canterbury, William Laud, who also tried to enforce punishment on Frances, likewise recorded her actions and his own responses.
One unexpected aspect of writing a biography was how many varied historical fields I had to learn to master. Generally, I focus primarily on the history of issues surrounding sex and gender during the Tudor and Stuart periods. Now, I found traces of Frances in so many different kinds of sources. In order to understand Frances and her lover Sir Robert Howard's petitions to Parliament, I had to learn about Parliamentary procedure, privileges, and record keeping, both in the Lords and Commons. Wills were useful documents as well, but the legal language, and the inclusion of much Latin in wills and other legal sources was a challenge.
I learned more about the financial organization of the Parliament during the Civil Wars, in order to understand the records of financial obligations of Frances and her family members during that troubled time. I studied military histories of the Civil War in order to learn about the situation in Oxford at the end of Frances's life. I read lists and reports of English ambassadors to France, and accounts on the establishment of English convents in Paris and of the French court's seasonal events.
While I often found myself having to backtrack and readjust, I enjoyed the sense of adventure that accompanied the research. Following Frances's adventures has really re-energized my love of historical research. I am very happy that I decided to take the biography-plunge, and hope that others find Frances as intriguing as I do.
—
Johanna Luthman is Associate Professor of History at the University of North Georgia. Originally from Sweden, Luthman has studied and worked in the United States since the early 1990s, receiving her Ph.D. from Emory University. Her work focuses on the Tudor and Stuart Eras, specifically on issues of love, sex, and marriage. She lives in Atlanta with her husband, fellow historian Marko Maunula.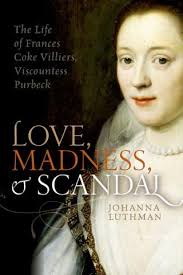 About Love, Madness and Scandal: The Life of Frances Coke Villiers, Viscountess Purbeck (Oxford University Press, July 2017).
The high society of Stuart, England found Frances, Lady Purbeck (1602-1645) an exasperating woman. She lived at a time when women were expected to be obedient, silent, and chaste, but Frances displayed none of these qualities. Her determination to stand up for herself contributed in no small measure to a life of high drama, one which encompassed kidnappings, secret rendezvous, an illegitimate child, accusations of black magic, imprisonments, disappearances, and exile, not to mention court appearances, high-speed chases, a jail-break, deadly disease, royal fury, and – by turns – religious condemnation and conversion. On one level a thrilling tale of love and sex, kidnapping and elopement, the life of Frances Coke Villiers is also the story of an exceptional woman, whose personal experiences intertwined with the court politics and religious disputes of a tumultuous and crucially formative period in English history.
Category: Contemporary Women Writers, How To and Tips