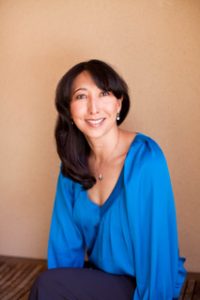 When my twin daughters were about nine months old I decided to give birth to another baby. Not just any baby, but one that I created first in my head and then ultimately transferred to paper…my first novel. To my surprise I accomplished this task in a rapid ten months. Many people debate about when is the right time to write a book- when you have some down time or are on an extended holiday? Good options, but not the path I chose.
I had just wrapped up an extremely intense stint as the chief executive of Lucy Activewear, turning around the company in record time and working with my team to get the business profitable for the first time in its twelve-year history. As if being a CEO and transforming a company wasn't enough of a challenge, my husband and I had our twin girls during that time.
By the time I left the company I was suffering from sheer exhaustion as evidenced by the dark circles under my eyes. At the time we didn't have a full time nanny but, hey, I had run a company of over 800 employees surely I could manage infant twin girls on my own, right? Those days with my daughters were glorious, but also trying, tiring, and messy (I still shudder when I recall the girls' bout with a terrible stomach flu while my husband was in Europe for an entire week). My big lesson was that running a company was somewhat easier than raising infant twins.
I have always loved a challenge and had been contemplating writing a novel for some time. I figured if I didn't get going on it, I'd never do it. So I started my highly unusual writing journey. What was atypical of my writing process was that most of the writing was done in my head. My first step (done after the girls were in bed for the night) was to create an outline or storyboard of the entire novel and once that step was completed I printed out the overall outline so I could refer back to it.
For each chapter I also had one page where I outlined the arc of the chapter or if I hadn't decided on the flow I'd just capture a few key plot points. I'd carry around that chapter notes page in my pocket and consult it to get my creative thinking juices flowing. Then when there was a break in the action I'd grab my laptop and capture everything I had just thought up…that was my introduction to speed writing.
Since the girls were usually up and hungry at around six a.m. I would get up at around five a.m. so I could shower and eat something before the twin tsunami came crashing down on me. I'd also take about fifteen minutes and check my chapter notes for that day with my assignment of what part of the story I had to write in my head.
I'd get the girls up and fed, change their clothes, and then take them out to the playground or park or one of their many classes- swimming, guided play, gymnastics, movement, singing. I was totally and joyously engaged with the girls during their waking hours, but when I was doing a task like cooking or laundry I could fully deploy my imagination to come up with ideas for the story. To keep myself on track I would make sure I was thinking through the critical aspects of the plot for that day.
When the girls were napping (at that time twice a day- how I miss those nap breaks!) I would sit in our glider chair with my laptop and a cup of green tea and enjoy the more traditional process of writing on a computer, transferring everything I had just created in my mind. Our days were packed with activities, laundry and cleaning, preparing meals (I made organic baby food from scratch), play time, reading, bathing, and finally bedtime. Once the girls were asleep my husband and I could grab a quick dinner and then I knew I'd have a couple of hours of speed writing time before I collapsed into bed.
The fun part of the process was that in thinking about the story I came up with so many ideas for subsequent parts of the book, so I captured those notes on the appropriate chapter notes pages. I was using Microsoft Word at the beginning, which was cumbersome, but later transferred my manuscript to Scrivner, which was a fantastic writing tool that I highly recommend.
All in all the actual speed writing process of capturing the story completely took ten exhausting months. But, I should add that I hired a professional editor to help me shape and improve the book and that was a painstaking process that took me over two and a half years while I was also working nearly full time, in addition to caring for my children.
As many of you writers out there know it's impossible to count the number of hours that goes into a labor of love like a novel. But I found joy in the process of writing, in bringing a character to life, and in telling a story that I felt no one had told before. So I am a proud parent to my third baby, the novel entitled The Closer, and just like with my other children I feel it's something special.
—
Shaz Kahng is a visionary leader and inventive thinker adept at turning around and scaling businesses in the retail, sports/active apparel, and footwear industries. From Global Women's Director at Nike, to CEO/President of Lucy Activewear, she has led teams to achieve success in very male-dominated industries. She has previously worked as a research scientist, a global consulting partner, a builder of e-businesses, and a brand strategist. She graduated from Cornell University and has an MBA from the Wharton School. Shaz currently works as a global startup mentor and advisor to PE and VC firms. She lives in San Francisco with her husband and twin daughters.
—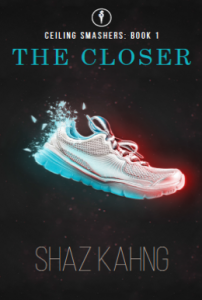 About THE CLOSER
The decision was irreversible. . .Vivien would become either the most remarkable female executive in the industry, or the biggest failure. Vivien Lee has spent her entire consulting career helping CEOs look good, so when she finally has the chance to go after her dream of running a business, she grabs it. A lifelong athlete, Vivien arrives at the Smart Sports campus in Portland, Oregon and is introduced as the first female president.
It is one of the highest-profile jobs in an industry inhospitable to women. Principled but slightly naïve, Vivien believes her male peers will give her a fair shot. Stumbling early, Vivien makes a series of rookie mistakes. With guidance from the Ceiling Smashers, a secret society of successful professional women, Vivien learns to navigate the treacherous business terrain. A tight-knit group of male sports executives is determined to show that an industry outsider cannot prevail. The challenge is all too clear: will Vivien triumph in the sports industry against impossible odds? You ll want to stay up all night to find out what happens to Vivien and share her inspiring story with your friends. This is a fresh, riveting tale about a strong woman endeavoring to succeed with smarts, scruples, and style.
Fans of Sheryl Sandberg's Lean In will love this book for its strong, talented, and likeable female characters and the supportive environment they foster through their secret society, the Ceiling Smashers. The Closer sends a message of hope and positivity to all workingwomen out there striving to achieve more.
Category: Contemporary Women Writers