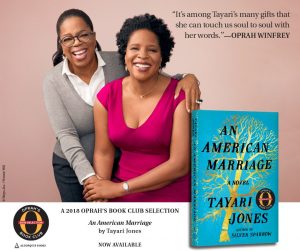 Real. Real is the best word to describe Tayari Jones' novel, An American Marriage, which was just named Oprah's latest book club pick. Roy and Celestial know love, and they struggled to be love amidst the swirling chaos that unfolded on fateful even in their new marriage. This novel captivates readers with the depths Jones explores as the novel grapples with what truly makes a marriage.
Eavesdropping played a role in your creation of this novel. How did An American marriage come to be?
Eavesdropping! You make it sounds so sinister. But yes, it's true. An overheard snippet of conversation helped me bridge the gap between the idea of the novel to the real heart of it as a story.
At the time, I was at Harvard, studying at the Radcliffe Institute. I was researching incarceration for a new novel. After months of reading, watching documentaries, examining oral histories, I felt like I'd learned a lot, but I didn't have a story- and I'm a storyteller. I was stressed out because I needed to have work to show for my time there. I am embarrassed to have only pages of notes, but no novel. I went home to Atlanta to visit my family. While I was there I went to the mall where I overheard a couple arguing. The woman was beautifully dressed but he looked less polished, not as put together. Still, I could see they were in love– and in trouble. 
The woman said, Roy you know you wouldn't have waited on me for seven years. He relied: But this wouldn't have happened to you in the first place. And with that, the novel was born. 
Studying mass incarceration also influenced your writing of An American Marriage. Why is it important to put a story to the data you collected?
For me, novelizing a current event is not like setting the idea to music. The story is at the center of the project. Celestial and Roy are the heart. The data influences the story, not vice versa. But this said, I wanted to look at the way ordinary lives are impacted by such a major cultural crisis. This is a kitchen table issue.
What do you hope this book says about marriage? Does it have to be what Olive and Big Roy share? What myths do you think surround American marriage?
One of the joys of writing this novel was looking at all of the different ways that people can commune with each other. One of the myths is that there is only one right way.  Marriage is an exercise in generosity. This is what Roy must learn, as a man. 
You paint Celestial in all her conflict without flinching from her reality. What did you want for her as a character?  Do you think she heals from this or just moves on? How does mass incarceration impact the families left behind?
I try not to interpret the characters for my readers.  I guess I want for Celestial what she wants for herself.  She wants to live her life freely. She wants access to her dreams. Some people may call her selfish, but she wants for her life the same thing you or I want. Life, liberty & the pursuit of happiness.  
This may be an unexplored effect of having an incarcerated loved one. The very things she had been praised for– her art, her ambition, her independence– are seen in a whole new way. With an incarcerated loved one, being herself is a luxury she is told she cannot afford. 
—
Tayari Jones is the author of the novels Leaving Atlanta, The Untelling, Silver Sparrow, and An American Marriage (Algonquin Books, February 2018). Her writing has appeared in Tin House, The Believer, The New York Times, and Callaloo.  A member of the Fellowship of Southern Writers, she has also been a recipient of the Hurston/Wright Legacy Award, Lifetime Achievement Award in Fine Arts from the Congressional Black Caucus Foundation, United States Artist Fellowship, NEA Fellowship and Radcliffe Institute Bunting Fellowship. 
Silver Sparrow was named a #1 Indie Next Pick by booksellers in 2011, and the NEA added it to its Big Read Library of classics in 2016. Jones is a graduate of Spelman College, University of Iowa, and Arizona State University. An Associate Professor in the MFA program at Rutgers-Newark University, she is spending the 2017-18 academic year as the Shearing Fellow for Distinguished Writers at the Beverly Rogers, Carol C. Harter Black Mountain Institute at the University of Nevada, Las Vegas.www.tayarijones.com
—
Interviewed by:
Brandi Megan Granett is an author, Kaplan University professor, and writing coach.  She earned her Ph.D. in Creative Writing at Aberystwyth University and her MFA in Fiction from Sarah Lawrence College.  Her latest novel, Triple Love Score, was published by Wyatt-Mackenzie in Fall 2016. Morrow published her first novel, My Intended, in 2000. Her short fiction appeared in Pebble Lake Review, Folio, Pleiades, and other literary magazines and is collected in the volume, Cars and Other Things That Get Around.  She writes an author interview series for the Huffington Post.  When she is not writing or teaching or mothering, you will find her on the archery range.
She can be found on Facebook https://www.facebook.com/BrandiMeganGranett/
and Twitter @brandigranett
About AN AMERICAN MARRIAGE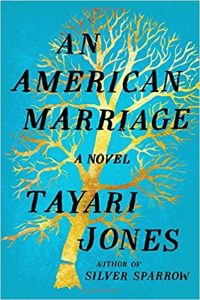 OPRAH'S BOOK CLUB 2018 SELECTION
One of the most anticipated novels of 2018 according to Entertainment Weekly * Goodreads * Esquire * Elle * Cosmopolitan *BBC * Huffington Post * Bustle * Southern Living * Newsday * Bookish * Nylon * iBooks Store
"Transcendent . . . Triumphant . . . Gorgeous."—Elle
"A stunning epic love story . . . An exquisite, timely, and powerful novel that feels both urgent and indispensable."—Edwidge Danticat
Newlyweds Celestial and Roy are the embodiment of both the American Dream and the New South. He is a young executive, and she is an artist on the brink of an exciting career. But as they settle into the routine of their life together, they are ripped apart by circumstances neither could have imagined. Roy is arrested and sentenced to twelve years for a crime Celestial knows he didn't commit. Though fiercely independent, Celestial finds herself bereft and unmoored, taking comfort in Andre, her childhood friend, and best man at their wedding. As Roy's time in prison passes, she is unable to hold on to the love that has been her center. After five years, Roy's conviction is suddenly overturned, and he returns to Atlanta ready to resume their life together.
This stirring love story is a profoundly insightful look into the hearts and minds of three people who are at once bound and separated by forces beyond their control. An American Marriage is a masterpiece of storytelling, an intimate look deep into the souls of people who must reckon with the past while moving forward–with hope and pain–into the future.
Category: Contemporary Women Writers, Interviews, On Writing, Women Writers