I am of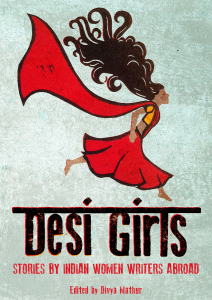 ten asked why my anthologies include solely stories by women. One reason is that women's achievements are never purely personal. Also, we continue to work phenomenally harder than men to qualify for equal recognition in many walks of life. In this day and age, women are still subjected to prejudice, violence, poorer resources and lower wages. The workplace can still feel like a man's world. Like all big social movements, feminism has run into problems, yet the campaign for the rights of women must go on.
The twenty-two writers included in this anthology – now settled in Canada, Denmark, Norway, UAE, UK and USA – were all born in different parts of India. They come from varied backgrounds, and have widely varying qualifications and professions. Between them, however, they have woven a colourful and original tapestry of human experience. The diaspora can be a challenging place! As well as contributions from award-winning and seasoned authors, I have also included stories by new and upcoming writers.
In her Foreword for the anthology, Mohini Kent writes, 'It has never been easy for women to express themselves freely, but writing is one way that they could. Jane Austen's much-loved novels, especially Pride and Prejudice, are a window to her world. Still, it was difficult for a woman to succeed in a man's world, and writers such as George Eliot had to adopt male pseudonyms. In the five decades since Women's Lib, the project of unshackling women, mentally, emotionally, physically, culturally, has made great strides, even if progress is patchy across the globe; it's a study in contrasts from Afghanistan to America, with many shades of grey in the lands in-between. In her anthology of women's writings, Divya Mathur brings us a collection of many different voices, and each one is unique.'
The stories in this book deal with issues of loss of identity, migration, betrayal, cross-cultural marriage, domestic violence, old age and death. Violence against women remains an acute problem. It is said that the origin of the phrase 'rule of thumb' lies in a law that limited the maximum thickness of a stick with which a man could beat his wife! Jane Austen's big subject was marriage, and it remains a perennial theme of life. Indian marriages are only too often broken up by other family members – possessive ma-in-law, greedy sisters and devilish step-children.
Women must now find a new model of success, of being both comfortable in their own skins and successful. Sharing stories is a good way of inspiring others to think correctly, to act, and to be part of the dialogue of growth. Real life stories of struggle and eventual redemption, honestly written, are very inspirational. Honesty is a very expensive gift, as Warren Buffet said (the full quote is: Honesty is a very expensive gift. Do not expect it from cheap people), and those brave enough to openly write about their trials can greatly empower those who read their words.
Books are like the magic flying carpets of India, transporting us to different eras, cultures, galaxies, as well as the limitless layers of our own consciousness. When life dribbles its little sorrows and anxieties into our being, it is a good book that can heal through words of wisdom from the seers. Or even just take us on vicarious adventures.
—
Buy Desi Girls HERE
Divya Mathur, MA FRSA, Founder of Vatayan: Poetry on South Bank, is an award winning author, who has been honoured by the Arts Council of England for promoting Indo-British dialogue in the UK. The UN Peace Meditation Mission honoured her as an individual of inspiration and dedication. Her aim is to address the cultural aspirations of the Indian community and promot Indo-British dialogue at the level of thoughts and shared experience since 1992s.
Category: Contemporary Women Writers, On Writing